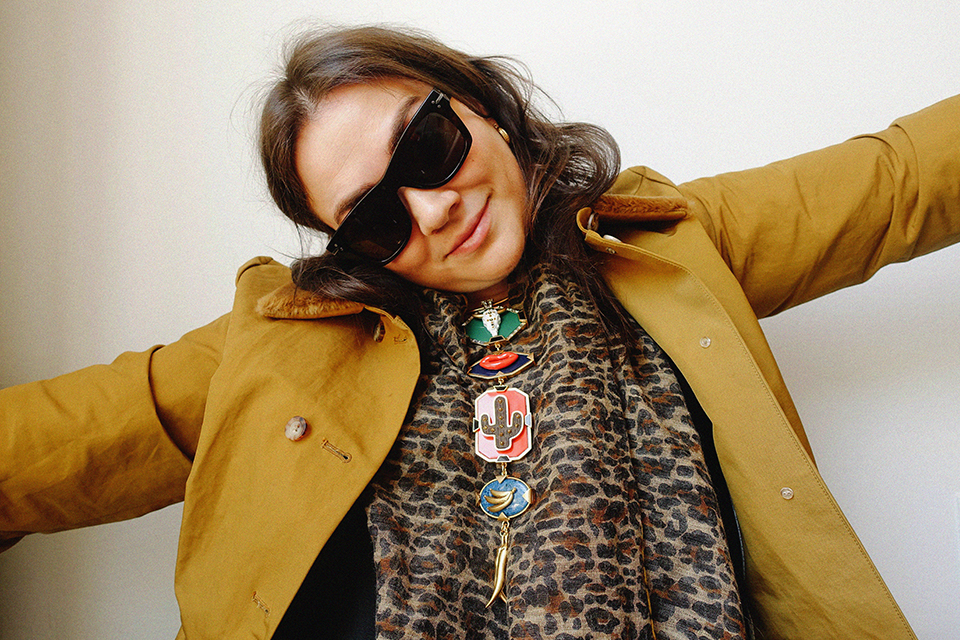 We're mad for New York artist Dana Veraldi's illustrated line of t-shirts and totes. Even if you don't recognize the name, you'll recognize the freestyle hand behind them. Veraldi, who designs under the handle DEERDANA, has had her wares picked up and worn by Jay Z, Beyoncé, Agyness Dey, Justin Bieber, Dakota Fanning, Katy Perry… Here, wearing Tory's Sylvan statement collar necklace, she talks to Tory Daily.
The art bug bit when… 
I was in middle school. I found myself most comfortable and happy in the art classroom. 
My very first art love…
I studied photography in college and my love for it was very much inspired by Richard Avedon. 
The inspiration behind DEERDANA…
I created the website deerdana.com while in high school as a place to show my photography. I liked how it sounded/looked and at the time was not thinking of being a brand. When I made shirts in college and began to sell them, it felt natural to have them be branded as DEERDANA since I already had the website. 
I love to sketch…
I love to draw hair, especially beards. Rick Rubin was really fun to draw. 
When I work, I begin with…
Spending time researching and getting inspired. This may include watching films, dining at a restaurant I may be working with, listening to the album of an artist, visiting a museum, etc. 
When I get the artist equivalent of writer's block…
I listen to loud music, go on a walk — sometimes visit a museum or explore someone's bookshelves. 
Favorite creatives to follow on Instagram…
@trdmrk, @kevintekinel and @mattrmccormick
A good work of art should always…
Illicit emotion — good or bad. 
And as an artist, I could never be without…
A camera, Muji pens, New York City and my very talented friends.