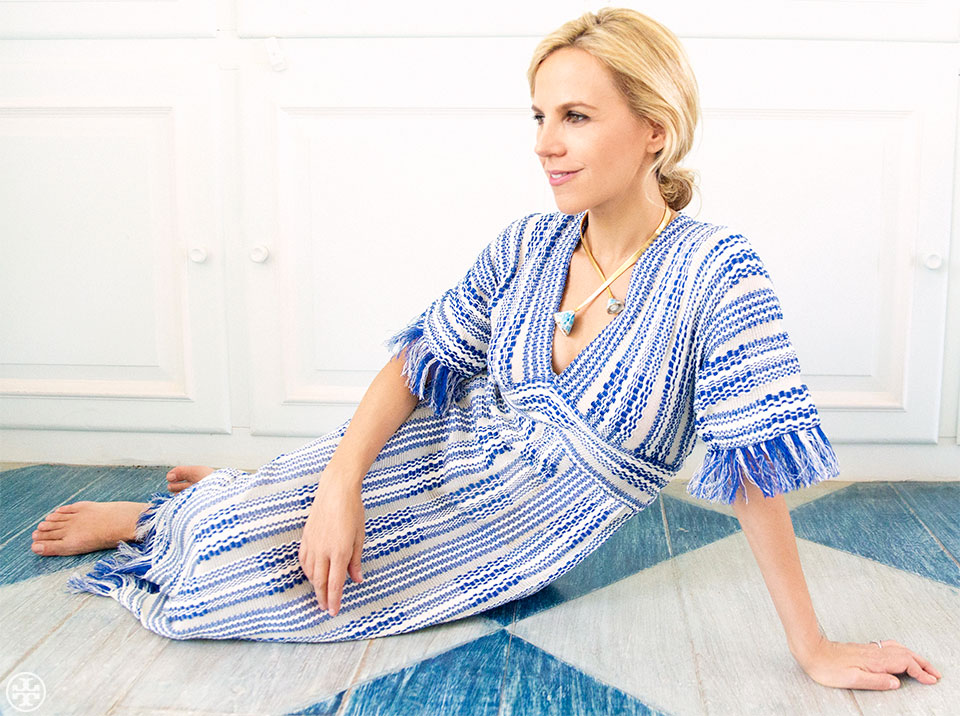 The tunic — it's a Tory Burch signature that goes back to the collection's very beginnings and we're celebrating that getaway-and-everyday favorite with a special Tunic Issue. First up: an interview with Tory on what she loves about the look, her style tips for it and whom she considers her tunic-wearing icons. Above, Tory wears the Gwen tunic and a flower bud necklace from Spring 2016. #ToryTunic
Why do you love the tunic?
The tunic was one of the first designs in our collection, inspired by a piece I found in a Paris flea market. The silhouette has become a signature now. I love how it epitomizes the bohemian glamour of the Sixties and Seventies. I always think of that chic photo of Talitha Getty in a tunic in Marrakech or of my mother and grandmother, who wore them when I was growing up.
Are tunics just for getaways and beaches?
No. At the beach I often wear a tunic as a cover-up over a bathing suit or with a pair of shorts, but I love wearing tunics in the city on the weekends. It's such a comfortable yet chic look. And I think there is also something elegant and timeless about wearing a long tunic in the evening, especially when entertaining at home.
How do you accessorize the look?
Wedges and espadrilles pair well with tunics, especially during the summer, and I love belting a longer tunic for some waist definition. And you can get so many looks out of a tunic just by alternating the jewelry — chunky necklaces, long pendants, stacked beaded bracelets or a simple gold cuff. I usually only pull out the statement earrings for the evening.
Who are your favorite tunic style icons?
Aside from my mother and grandmother? All those chic ladies of the Seventies who infused bohemian style with an electrifying glamour, like Marisa Berenson and Talitha Getty. There were stylish men, too: Egon von Furstenberg, Yves Saint Laurent and my father Buddy, who used to pair long tunics with espadrilles.