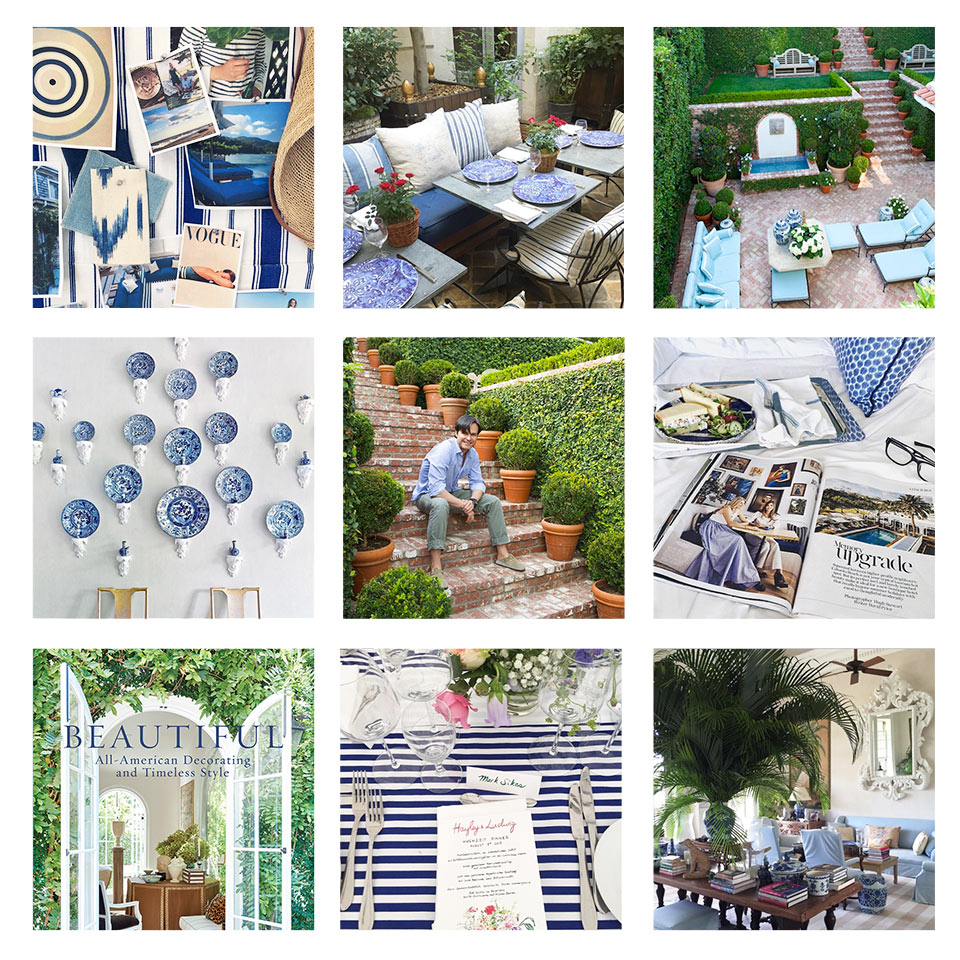 My interior style is…
I call it "California Beautiful" — classic, all-American interiors that mix traditional and modern furnishings together to create comfortable and inviting homes. The best thing about living in California is the weather. Whenever I can, I design spaces that open up and connect with outdoors.
Favorite interior designers…
I'm very inspired by the work of Mark Hampton, Billy Baldwin and Renzo Mongiardino. Current designers I admire Stephen Sills, Bruce Budd, Studio Peregalli and Atelier AM.
Favorite room in the entire world…
Bunny Williams and John Rosselli's living room at their home, La Colina, in Punta Cana. It's large and airy with triple-hung windows that connect to the ocean and the gardens. The room is anchored with very large hand-painted panels of large birds and white plaster Rocco-esque mirrors. Everything in the room is upholstered or slipcovered in a solid China blue linen and all the antiques are either in mahogany or Anglo-Indian… It's the most beautiful room in the world.
My top five pro tips to update your home for the spring…
1. Slipcovers are really great and can feel and look really modern. 2. Wallpaper a room. 3. Adding a great light fixture or interesting occasional chair can update any room. 4. A lot can be done with a fresh coat of paint. 5. My grandmother used to always rearrange her furniture in the spring, and you know what, it really made everything feel fresh and new.
The idea behind my line MDS Stripes…
I always say that I'm having a love affair with stripes. I wanted to take fabrications that I have always worn personally (striped Japanese cotton knits and striped Italian shirting fabrics) and make modern and stylish clothes for women. There are so many basic stripes, but it felt like there was a need for feminine stripes.
My favorite online design resources…
I find myself on Pinterest a lot. I have so many Pinterest boards based around things and themes I love. The best thing about Pinterest is the private boards you can create — I have one for every client. For shopping it's 1stdibs. I'm also crazy right now about Serena and Lily.
My upcoming book Beautiful: All-American Decorating and Timeless Style is…
A celebration of American style today. It's all about what I find beautiful and about the things that inspire me, past and present. There are eight chapters that feature my interior design (about 15 projects). The chapters are broken out into themes and color stories that I love. There's a "Blue and White Forever" chapter, a "Garden Green" chapter, a "Timeless Neutrals" chapter, and "A Red my Way" chapter. For those that follow my blog, Mark D. Sikes: Chic People, Glamorous Places and Stylish Things, and follow me on social media these themes will sound familiar. I talk about them a lot, now everyone will see how these themes come to life in my design work.