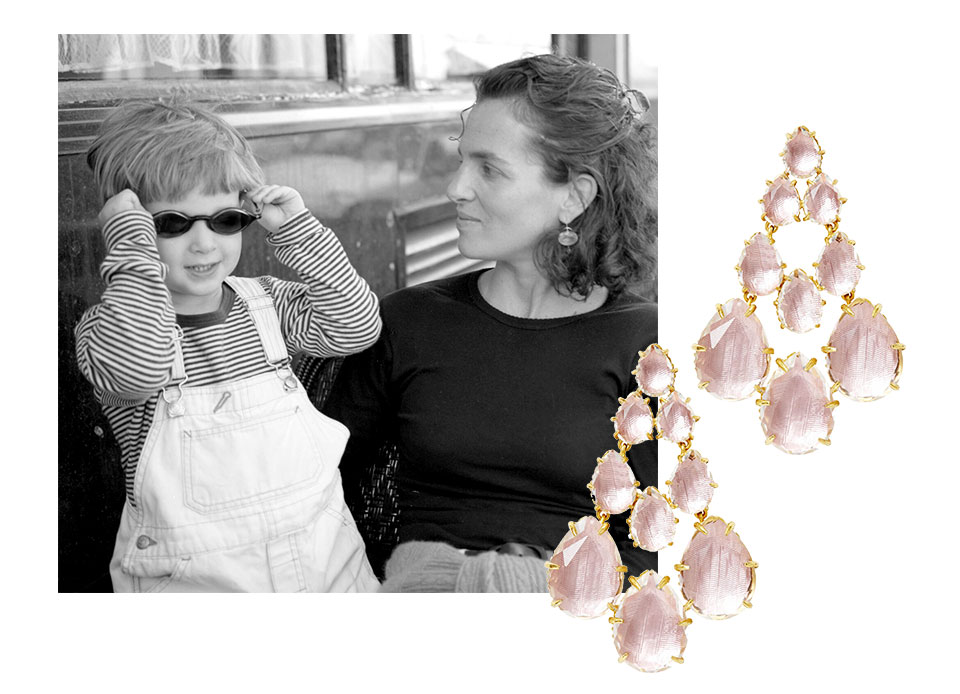 For her latest collection, Caterina, Larkspur & Hawk jewelry designer Emily Satloff found a close collaborator — close as in family-household close. Emily teamed up with none other than her son, Theo, 19. Featuring the house's signature metallic foiling technique in a palette of soft ombré pinks, blues, dove grays and whites, the offerings speaks to both generations of Satloffs. "He brings a fresh, youthful eye to the line," says Emily, "and because he has literally grown up around antique and modern jewelry, I was not surprised by the sophisticated use of color and the interesting shapes he chose to work with in this collection." So is Theo headed towards a career following in mom's footsteps? Well, first, he has a more pressing matter: graduating from Colby College in Maine (he's just a freshman). Here, as part of our annual Mother's Day Issue, we speak to Emily about this new creative partnership and her own holiday traditions.
The inspiration behind my collaboration with Theo…
A pair of 18th-century chandelier earrings that I had always admired and which I saw in a photograph. I knew that Theo had time over the summer before heading to college and believed that if I gave him the project of looking at these earrings through the eyes of a young Larkspur & Hawk designer, something compelling would develop.
And the collection itself…
The main ideas were to add a younger perspective while making the designs wearable by women of all ages. I believe Theo imagined the women he knows wearing various designs that he tried out, rejecting those he felt did not fit his aesthetic and perfecting those that did. Theo sketched things patiently and was willing to make modifications to his designs in order to increase their wearablity.
Working with Theo was…
Invigorating. It was fascinating to see him develop a collection without any preconceived restrictions or boundaries. If a designer is constrained by thoughts of expense or difficulty, his or her creative energy can be constrained, yet it is natural for designers to consider these items. However, these were not the thoughts on Theo's mind when he began to sketch the collection, and it was wonderful to see free and expressive design without these constraints.
My Mother's Day traditions growing up…
We always had dinner with my mother, grandmother and even my great-grandmother. I remember these dinners fondly from being a little girl to even today, where my sister and I have dinner with my mother especially for Mother's Day.
My other celebrations today…
Now as a mother myself, I receive cards and flowers from my husband, and cards from my two sons and even from my cats.
Best Mother's Day gift received…
I always love the homemade gifts, and I have a particular fondness for my collection of pipe cleaner-beaded jewels and tumbled pebbles (the week of clanking from the rock-tumbler was worth it in the end).
Favorite thing to do with my children…
We do so many things as a family, from skiing out west in Colorado to traveling to both new and familiar places to just staying home. At home, we like to binge-watch our favorite shows together.
One life lesson I learned from my mom…
I learned about the importance of manners and punctuality, and I learned about taste. I also learned that being an artist (because she, too is an artist) is intensely personal, and it means putting yourself into every piece you make. I can also see that in Theo's Caterina collection.
And one lesson I hope to pass on to my children…
Confidence. I want my sons to have the confidence to express themselves in their ar and to find reasons that their efforts can be successful. I also want them to have the freedom to express their feelings — good and bad — and that no problem is ever too large to fix.
Read more features from our Mother's Day Issues, past and present.