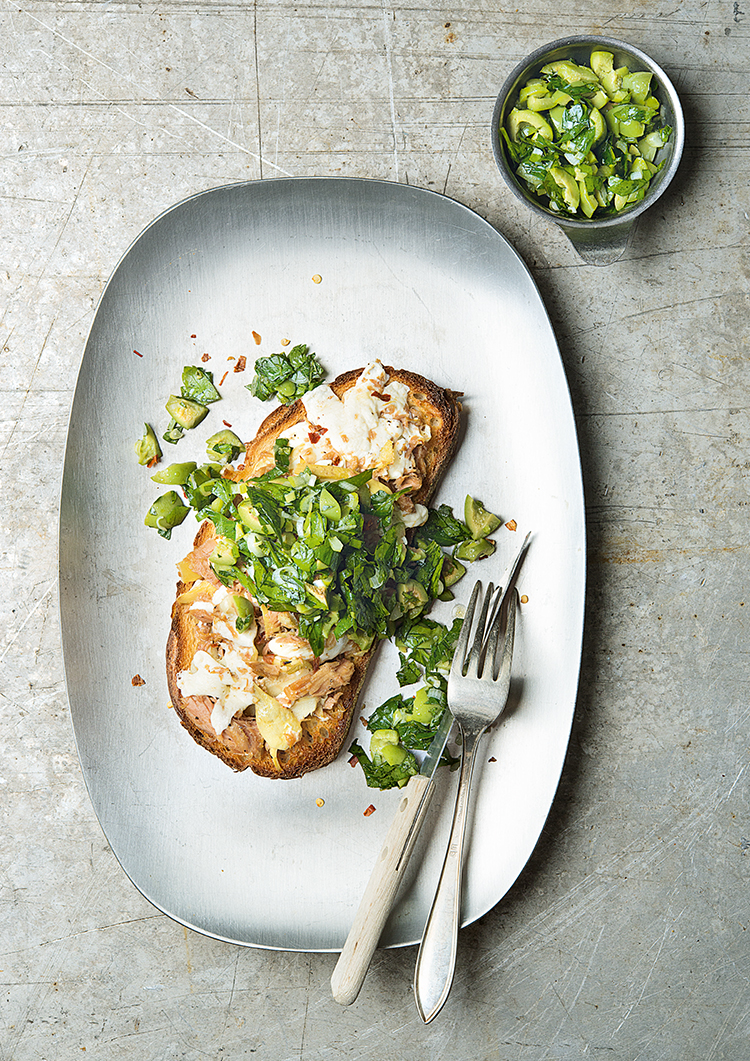 You know that old adage, two is better than one? Well, not always when it comes to culinary matters. Toast: The Cookbook is Raquel Pelzel's ode to the sweet and savory possibilities of a single slice of grilled, pan-fried or broiled bread. She offers up 50 creative seasonal recipes, including favorites by some of the nation's top chefs, from Dan Kluger and Hugh Acheson to Bill Granger, whose tuna melt recipe we've shared here. "[Granger] loves the tuna melt toast straight from the oven while the cheese is still lovely and oozy, and says that it's way better (and faster!) than even dialing for pizza," writes Pelzel.
Ingredients
1 small bunch fresh flat-leaf parsley, chopped
3 scallions (spring onions), light green and white parts only, finely chopped
¼ c pitted green olives (preferably Lucques), roughly chopped
Juice of ½ lemon
Kosher (coarse) salt (optional)
8 oz. (225 g) oil-packed canned (tinned) tuna, drained and flaked
4 marinated artichoke hearts, drained and thinly sliced
Heaping ¼ c shredded fresh mozzarella cheese (preferably buffalo mozzarella)
Scant ¼ c grated mozzarella cheese (not fresh mozzarella)
1 tsp freshly ground black pepper
For the toast:
Four ¾-inch (2 cm) thick slices sourdough bread
Pinch of red pepper flakes
Directions
For the olive salsa and tuna: In a small bowl, mix together the parsley, scallions, olives, olive oil and lemon juice. Taste and season with salt if needed. In a separate bowl, stir together the tuna, artichokes, both mozzarellas and black pepper until everything is evenly mixed.
To make the toast, preheat the broiler (grill) to high. Arrange the bread on a foil-lined rimmed baking sheet. Toast the bread lightly on both sides, 1–2 minutes per side, until golden brown. Top each toast with the tuna mixture and sprinkle with some red pepper flakes. Broil until the cheese is melted and bubbling on top, 2–3 minutes. Serve hot, topped with the salsa. Serves 4.
Explore more sport features in Inside Track.