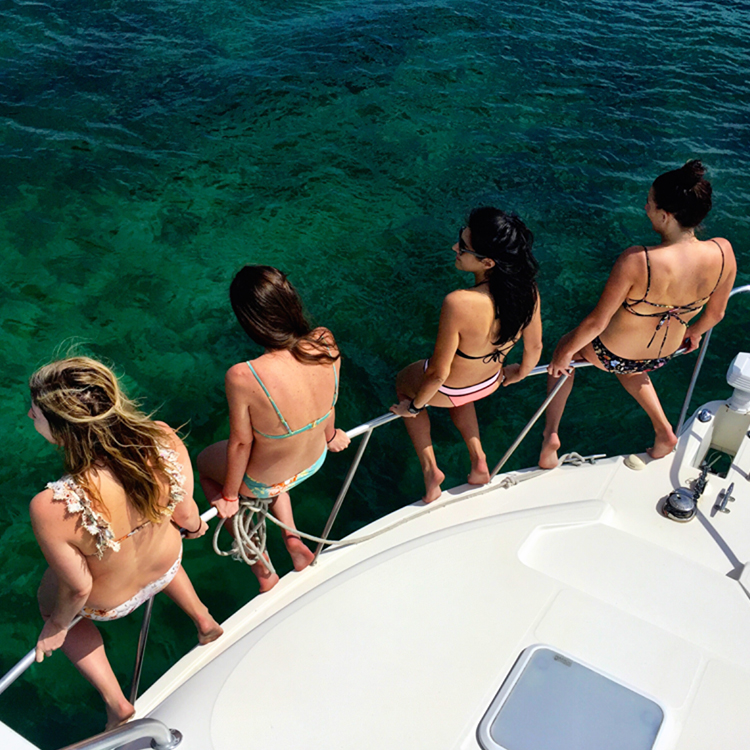 The Local Foreigner — the term sounds like an oxymoron, but it's the new bespoke travel company founded by four female entrepreneurs, Alexandra Youdeem, Barkley Hickox, Brooke Lavery and Alexandra Erdman. Once you get to know the conceit behind the firm — an intimate, personal, curated vacation experience — the name clicks into place. Here, we talk to the foursome about their business and the best places to hit up this summer.
The Local Foreigner is…
A consultancy specializing in curated travel experiences. We are four women with stamps from over 80 countries and we're constantly scouting to stay on top of new openings and strengthen relationships with our global network of partners, hoteliers and plugged-in locals. Our clients are discerning couples, families and solo adventurers, and we organize everything from a long weekend in Tuscany to family trip to Tanzania — including hand-picked hotels, experiences with interesting locals, and details down to curating every meal from the Michelin-starred lunch to a street food tour for dinner.
And the initial inspiration behind it…
Our clients' most precious asset is their time. They don't want to spend hours researching hotels and guides and restaurants, and they certainly don't want to spend their limited vacation time testing out their internet discoveries. They want to rely on someone they trust with personal experience, and that's what we deliver.
How we met each other…
It all began in 1990, when Alex Erdman and Barkley Hickox met as four year olds at summer camp in Connecticut. By coincidence they ended up working together again in 2010 at another travel company, where they met Brooke Lavery. Alex Youdeem came in to the fold when she met Barkley while traveling in Patagonia.
The most exciting part about owning our own business…
Our ability to create something new and shape the future. Our clients trust us with their time, and we in turn deliver an experience where every single day is reinvigorating.
And the most challenging…
It's tough to be ambitious and patient. Building takes time.
We overcome the above by…
We've learned to prioritize, divide, conquer, and hold each other accountable.
The key to working seamlessly as a group…
Communication is key — and we stick to a regular strategy meeting to stay on track. We also work with a strategy coach whom we meet with several times a year, and having that outside perspective is something we really value.
Best business advice received…
The business advice comes out of the woodwork when you start a company — and it's important to be receptive but also trust your instincts. The most valuable advice we've taken is that if you don't value your time, neither will others. We charge for our services, we are not cheap, and we're not apologetic.
Recs for an up-and-coming vacation spot…
There was a period of time when clients were addicted to remote, far-flung destinations—but now we're noticing a trend to return to the classics, in a new way. Provence and the Riviera are regions in France high-end travelers will always return to, but over the last year, our clients have been itching for new territory. Somewhat surprisingly, many Francophiles have never ventured outside Paris or the French Mediterranean and there is so much happening on the Atlantic Coast. Bordeaux in particular has had a complete transformation over the last few years and between 2016-17 several more revitalization projects should further enhance the city. These include the opening of the Cite du Vin (a monument to commemorate the traditions of winemaking in the region), the construction of the Maison de l'Économie Créative (a contemporary and performing art center) and the completion of the TGV will put Bordeaux two hours from Paris. With fabulous hotels to choose from (our best kept secret is La Grande Maison), countless restaurants, and local flare, Bordeaux is one of France's most interesting cities. When it comes to planning itineraries, aside from the requisite route de Chateaux and St. Emilion day trips, we particularly love Bordeaux's proximity to other equally fun and fascinating regions in France. One hour to the west is Arcachon Bay, where locals bask in the sand dunes during low tide and shuck oysters on local fishing boats; two hours' north sits Il de Re, France's Nantucket equivalent, and two hours south you'll the French Basque Country, namely Biarritz, a surfer and foodie's paradise.
Our favorite beach destinations…
Maldives, Anguilla, St. Barths, Jose Ignacio, Sumba Island.
Our carry-on essentials include…
There are a few items we all consider essential for making a long flight feel cozy: cashmere blanket and scarf, fuzzy socks. Alex Erdman always brings her noise-cancelling headphones, while Barkley secretly brings her own pillow. Alex Youdeem is the techie of the group up-to-date on the latest gadgets and Brooke, a new mom, now brings baby toys and bananas.
Our top travel tip…
Less is more. Americans need to drop the idea that they have to see as much as possible in a limited amount of time. It's not about ticking boxes, it's about having a fulfilling experience to feel grateful for.
Sign up for The Local Foreigner newsletter.
Read more features from the Beach Bohemia Issue.