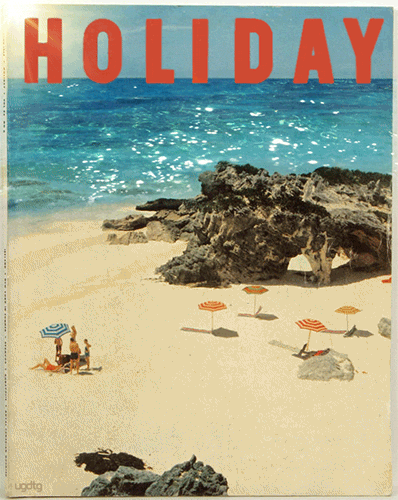 Back before the internet, before jumping on a plane was a commonplace occurrence,
Holiday
magazine afforded its readers the opportunity to jet set around the world — without ever leaving the comfort of their armchairs.
Holiday
was about glamorous travel. It was about leisure. It was about escape. And the New York publication, which ran from 1946 to 1977, covered those topics very, very well. "What
Vogue
did for fashion,
Holiday
did for destinations," wrote Michael Callahan in
Vanity Fair
.
Holiday was revolutionary in its photography and layouts and famously hired the literary elite to write the feature articles — think Ernest Hemingway, William Faulkner and Colette. Some of the most celebrated essays today — the iconic ones writers continue to reference — began as a Holiday commission. Like "Notes from a Native Daughter" from Joan Didion, on Sacramento. And E. B. White's "Here Is New York." And while chic globetrotting made up the core of the magazine's mission, the breadth of its articles was as far-flung as the destinations it covered, from space travel to Irish fashion.
Today, there's a new chapter to that old favorite: Paris creative agency Atelier Franck Durand relaunched Holiday in 2014 and even spun off a Holiday Café in the 16th arrondissement.