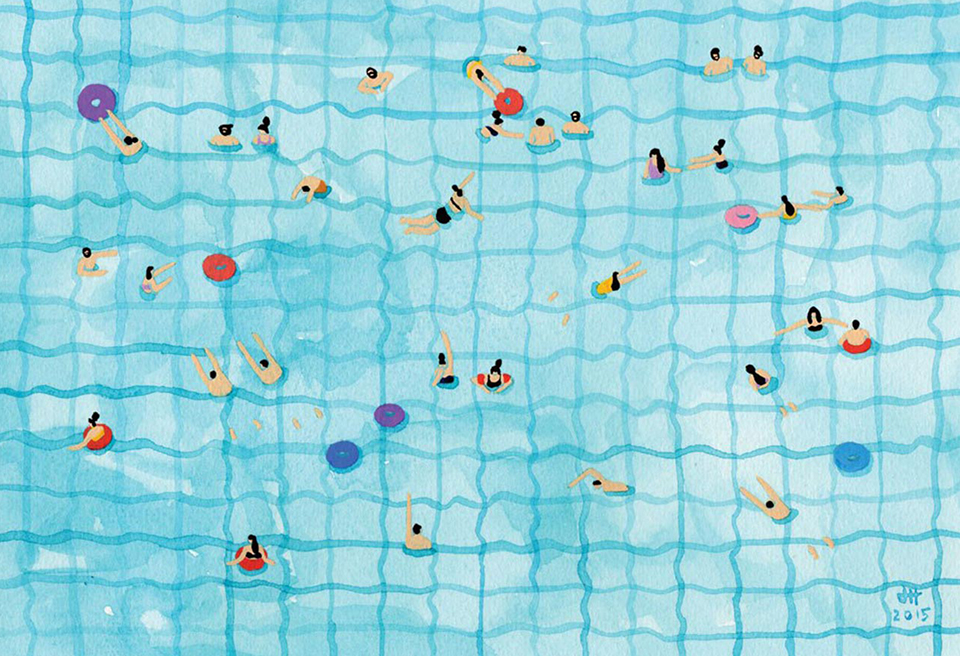 The art bug bit when…
I would say the art bug bit very early on in my life. My Dad is great at drawing and was a draftsman and my sister and her husband are both amazing naturally gifted artists. I was always "arty" as a kid although my older sister was great with anything artistic so it was never really my thing until I was a bit older. Although I chose all the arts subjects during high school and I studied five years of architecture, it was not until about eight years ago that I first moved out of home and started painting to adorn the walls of our flat. I couldn't find art that I liked or could afford so I starting painting large-scale pieces that didn't cost the world to make. I also worked at an art and gift store during my time studying so was constantly being exposed to New Zealand artists, which made me desperate to create my own work.
My very first art love…
It could have been nail polish colors, fashion and illustrated children's books as a child. Later in life it was Jeremy Fish's work, which gave me inspiration.
The artists who inspire me the most…
I have quite the list, but my artist idols are Monica Ramos, Laura Berger, Audrey Kawasaki and Ruby Taylor. I have also been recently obsessed with Kirsten Sims' work. It is so dark and beautiful. I also feel the most inspired by these female artists because they seem like such cool people on their social media, which is so motivating. Male artists who have also really inspired my work over the years have been David Hockney, Gray Malin, Yosuke Yamaguchi, Yoko Honda and Andy Warhol.
I'd best describe my signature style as…
Where you would want to be right now.
And how I came to it…
It was what I was thinking and dreaming about at the time — be it relaxing by the pool, floating in some tropical river, eating donuts, sunbathing at the beach… that was where I wanted to be so I painted it!
Favorite subjects to paint and why…
As you can probably already tell my favorite subject to paint is probably water: lakes, pools, ocean, etc. I also love painting foliage: leaves, flowers plants, etc. My other love is actually packaging and food.
And my preferred medium/tools…
Hands down, my favorite medium is the paint I use. It is an acrylic gouache made in Japan that only comes is small tubes and costs a fortune to ship to New Zealand. But it has been life changing (seems dramatic but true). It is very opaque, which means less layers of paint; dries matte, which I love; is very thin so I can use it on paper, and can be watered down to create very thin and detailed lines. It is also not a straight gouache; it is also an acrylic paint, which means it doesn't pick up the paint underneath so you can apply layer upon layer and the colors don't get all muddled like they do with regular gouache.
When I get the artist equivalent of writer's block…
YouTube videos for general motivation; Pinterest for art inspiration. I also just start painting and drawing… Even though they will not be pieces I ever use ,it helps.
A good work of art should always…
Make me excited and inspired.
And as an artist, I could never be without…
The internet, silence, warmth.