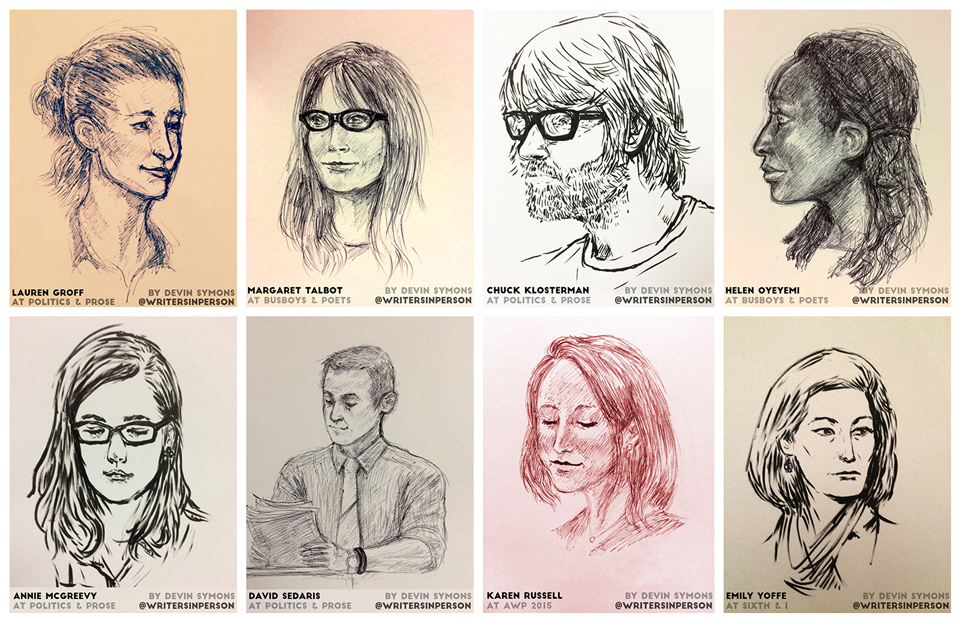 Devin Symons combines his love of the literary with his love of the visual in Writers in Person, a portrait series featuring writers, poets, novelists and authors that Symons illustrates live during their book readings and events. Here, we talk to the Washington D.C. resident, who's equal parts artist and writer (and a Japanese poetry translator to boot).
The origin of my Writers in Person illustrations…
The series started almost by accident. I was getting my MFA in creative writing at the time, and found myself meeting a lot of writers at readings and events. I'm used to carrying a sketchbook with me — I've been making art and drawing portraits for as long as I can remember — and I started sketching the writers as a way to capture something of the experience. It also served to distract the visual parts of my brain, which helped me focus on what was being said. Afterwards, when I was getting my book signed, I'd show the writer the portrait, and if they wanted it I'd tear it out and give it to them. (Eventually I started bringing precut pages.) Over time, that exchange became a way to engage with writers — people usually encountered on the page rather than in person — at a deeper level than would otherwise have been possible. Drawing these portraits, like giving a reading in public, makes the (usually solitary) intimacy of reading a shared experience; the writers see themselves briefly through my eyes and get to take home a tangible representation of that moment.
And process behind these portraits…
I always draw in pen, usually on squares of Bristol board or another heavy paper that I've cut to size. Depending on what I think will work best for the portrait, I use anything from brush pens I bought in Japan, to Faber-Castell or Micron art pens, to a basic ballpoint pen I picked up in a bank in Wyoming. The portraits usually take anywhere from 15 minutes to half an hour. I've mapped out the best seats for sketching at my favorite venues — close to the front, with a good angle on the seat or podium, and the shortest distance to the signing line afterwards.
Favorite author reaction I've had…
There have been a lot of great responses, but there are a couple that really stand out. Lauren Groff was so thrilled with her portrait that she hugged me right on the spot, and then wanted to take a photo together. This is someone whose work I've admired since I read her first short-story collection, and now she knows who I am and is supportive and encouraging of my work, thanks to this project. Another particularly memorable encounter was with David Sedaris, who took his portrait and sighed, saying, "I wish I looked this good." "From the back of the room, you do," I replied, and he laughed — supremely gratifying in itself, as he's someone who has made me laugh many times. Then as I was about to leave, he called me back up to the front and gave me a draft of the piece he'd read from that night, an essay he was going to publish in the New Yorker the following month. The draft had notes for revision and marks he'd made in response to the audience's reactions. Not only was it a unique and incredibly trusting gift, but it was also valuable for me as a writer to get a glimpse into the process of a writer I respect and enjoy.
The author, living or dead, I'd most want to illustrate in person…
Of the dead, the unnamed poet who wrote Beowulf. I'm curious about the mind that composed one of the oldest surviving pieces of English literature, and the face that goes along with it. Or Shakespeare, so that mine would become the definitive portrait, dispelling all doubts. Or Murasaki Shikibu, the woman who wrote the world's first novel, or Gabriel García Márquez, or James Baldwin, both literary and personal heroes of mine. Alive? I'd go with Neil Gaiman, one of our greatest living storytellers, whose books I return to again and again whenever I need to be reminded of the joy that story can bring.
Being a writer first vs being an artist first…
Both are essential parts of my life and identity, but I think I approach writing and art in different ways. The visual art that I do is often about capturing something of the present moment — it's immediate, and the experience of drawing or painting becomes part of the experience of that moment. Whereas writing is more of a reflection on the past, or an extrapolation into the future or an imagined present, and requires all of my attention and concentration. In the best moments of writing, I'm not aware that it's happening, or that anything exists outside of the flow.
Most memorable reading I've ever been to…
George Saunders, reading at the PEN/Malamud Award ceremony in 2012. (This is what I have instead of baseball games.) He is one of the writers who opened my eyes to what contemporary literary fiction could be — absurd, fantastic, darkly humorous, prescient and biting and uplifting all at once — and in person he lived up to the promise of his prose. His reading was also a conversation about writing, a miniature lecture on craft. While drawing his portrait, I scrambled to take notes. (I've taken many of the concepts and phrases he used then into the creative writing workshops I've run since.) After the reading, Saunders took the time to have a genuine conversation with each person who approached him to have a book signed. Being able to talk about writing is a skill distinct and separate from the writing itself, and interacting with readers is another skill altogether. Saunders handled it all with clarity and kindness. I'm more than a little in awe.
The books that changed my life…
There have been so many, any my life keeps changing. (Which I'm grateful for.) The Laura Ingalls Wilder books gave me — as a kid growing up in Washington, DC — serious rural envy. Isaac Asimov's robot stories contributed heavily to my lifelong love of robots. The Amber Spyglass by Philip Pullman was the first book I cried after finishing. Jared Diamond's Guns, Germs, and Steel made me rethink many of my ideas about the world. Jane Austen gave me an appreciation for sly humor and the crafting of character. James Baldwin's collected essays set my literary brain on fire. David Mitchell's Cloud Atlas is the book I wish I'd written. Claudia Rankine's Citizen was eye-opening and a shock to the system in a number of necessary ways.
Favorite books to give as gifts…
Tenth of December — anyone who isn't reading George Saunders is depriving themselves. Vampires in the Lemon Grove by Karen Russell, another book that opened my eyes to the wonderful and strange possibilities of contemporary fiction. Claire Vaye Watkins' Battleborn, Lauren Groff's Delicate Edible Birds, Kelly Link's Get in Trouble — I give people a lot of short-story collections. Dept. of Speculation by Jenny Offill — the person you give it to will finish it in a day and think about it for weeks afterwards. The same goes for Justin Torres' We the Animals, another book whose slimness belies its power. The Buddha in the Attic by Julie Otsuka — the poignant stories of Japanese picture brides told in their collective voice. Kate Beaton's collections of comics, Hark! A Vagrant and Step Aside, Pops, for history, feminism, and hilarity all at once — give them to any young or old person you know. Anything by Mary Roach, to anyone with even the slightest interest in science (or to inspire that interest). How I Became a Famous Novelist by Steve Hely is quite possibly the funniest book I've ever read, and for anyone even tangentially involved in the world of publishing or literature, it will be twice as funny (and painfully on-point). Life on Mars, by Tracy K. Smith, for people who think they don't like poetry. They are wrong.
My reading list for summer 2016 includes…
Helen Oyeyemi's new book What is Not Yours Is Not Yours — a collection of beautiful, haunting stories. The Last Samurai by Helen DeWitt. The Country of Ice Cream Star by Sandra Newman — I started reading it in Shakespeare & Company in Paris, and will finally take the time this summer to enjoy it properly. The Girls by Emma Cline. Siddhartha Mukherjee's The Gene: An Intimate History. Albert Camus' The Stranger (which I've never read) and Kamel Daoud's The Meursault Investigation, together as a literary pairing. The Argonauts by Maggie Nelson, which several people have independently told me I must read. Volume 6 of the ongoing series Saga by Brian K. Vaughan and Fiona Staples. The Association of Small Bombs by Karan Mahajan. The Art of the Poetic Line by James Logenbach. The New Jim Crow: Mass Incarceration in the Age of Colorblindness by Michelle Alexander.
What's next for me…
Right now I'm on residency in California, working on finishing up a short-story collection and developing a novel I've been planning to write for a while. I've also started doing more illustration and portrait work — this year the PEN/Faulkner Foundation hired me to do portraits of the nominees for their annual Award for Fiction. I'd love to do more work like that — book cover designs, portrait commissions, illustrations for journals like the New Yorker or The New York Review of Books. Anything that will allow me to combine my love of literature with my love of art.

Follow Writers in Person on Instagram.