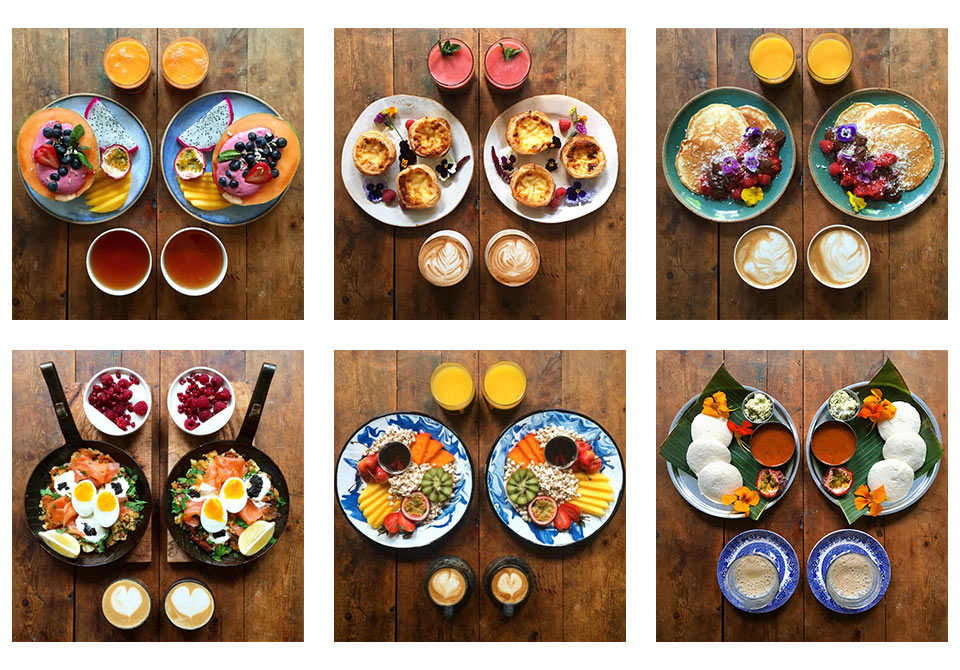 Artfully styled food on Instagram — been there, done that, right? Not if we're talking about Symmetry Breakfast, founded by Michael Zee, whose core and incredibly cool conceit centers on twin, perfectly symmetrical breakfasts — one for Zee and the second for his partner, Mark. More than stunning eye candy, the morning meals strike a certain wanderlust, too, with culinary delights around the world, from Vietnamese buns to Indian idli to kimchi cornbread. Symmetry Breakfast has drummed up such a fan base, it's now a cookbook as well (powerHouse Books) out in the U.S. this November 15. Learn more in our interview with Zee below.
The backstory behind Symmetry Breakfast…
It all started really when Mark moved in with me in 2013. He was designing Burberry Prorsum menswear and, in the six weeks running up to fashion week, he would practically live at the office. I wouldn't even see him on the weekends, but I did have 30 minutes with him at breakfast. I started getting up just before him to prepare something — they weren't as fancy as they are now, but I made the effort and still do. It wasn't long before I was making my own bread or learning how to make better coffee, and started taking photos of my accomplishments. Only when I started uploading them to
Instagram
did it all take off and then, in October 2015, I left my full time job at the Victoria & Albert Museum after signing a book deal.
The first Symmetry Breakfast…
We had bought a dining table together shortly after Mark moved in and it was a beautiful April morning; the light was perfect. I remember it was something pretty average, granola probably.
The breakfast inspiration comes from…
Ideas come from absolutely everywhere, old episodes of the Simpsons, medieval cookbooks, wanderlust of what people eat in places we've never been. I start with the idea that there is no such thing as breakfast, but it does have to past the test: would I really eat this at 7 AM? There is no reason why you can't eat liver for breakfast, but it doesn't have the same appeal as eggs Benedict.
The most challenging dish I prepared…
Idli, from South India, were an absolute nightmare to make. Using a particular type of rice and urad dal, the batter is then fermented for a few days and then steamed in a special pan. I picked up a pan from a recent visit to New Delhi, but the conditions in a typical Indian home couldn't be more different than our place in London! Many failed attempts later I worked it out.
My favorite…
We were in Japan and staying in the mountains outside of Nagano. We had eggs cooked in hot springs and it totally blew me away. There is a recipe in my book for them. I love the precision of how they are cooked more than anything and the level of care and attention given to something. Very Japanese!
And Mark's favorite…
Mark loves hagelslag. It's a Dutch favorite, regardless of age. High quality chocolate sprinkles on buttered bread. It translates literally as chocolate rain. Part of the beauty of SymmetryBreakfast is discovering not just adventurous new flavors but also the everyday and what that really means to us.
Tips for would-be food stylists and food photographers…
Don't copy others. I see a lot of reused ideas, again and again and again. I don't know who decided to cook avocado, but it needs to stop! Hot avocado is disgusting!
Sweet vs. salty…
I am definitely a savory breakfast man and Mark, being Dutch, is very sweet!
And dinner at our house…
Dinner is super social. I probably have friends over for dinner at least once a week and I have quite a large bar particularly because I can never say no to a cocktail. I'm also a bit of a geek when it comes to gadgets and appliances and just invested in a huge BBQ smoker — all we need is some sunshine!
Follow Symmetry Breakfast on Instagram.
Read more features from our Entertaining Issues, past and present.