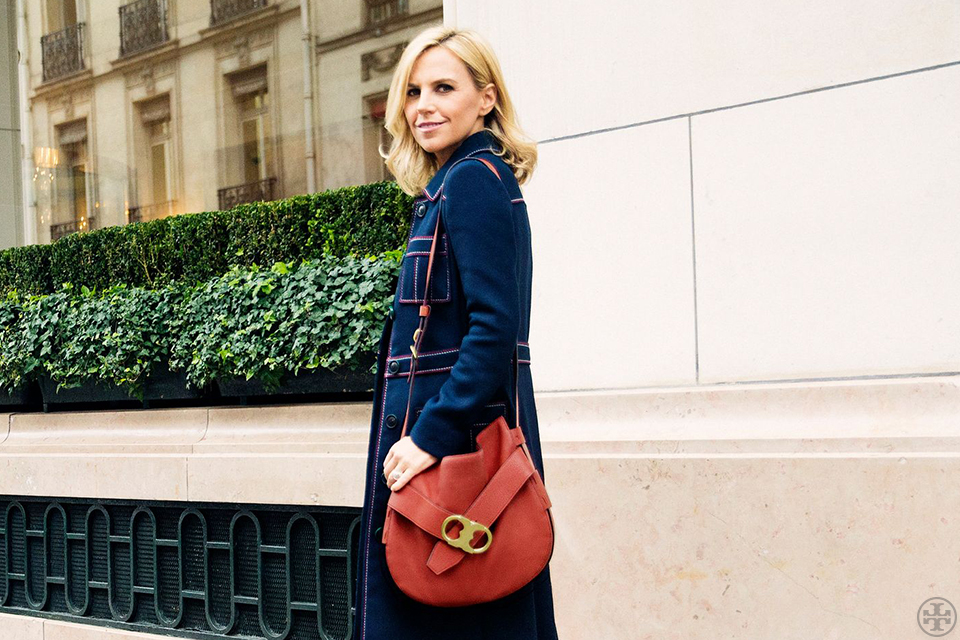 Wearing the Gemini Link shoulder bag, Tory tells us all about the new collection.
What inspired Fall 2016? 
Our Fall 2016 collection combines the nonchalance of street style — specifically inspired by the café scene in Éric Rohmer's 1972 film L'amour l'après-midi — with my childhood love of horseback riding. Think sportswear classics with equestrian details. 
How did you work equestrian details in? 
I've always loved details seen in horse racing, dressage and hunter-jumper, so we incorporated some details into the collection: coats in bold jockey-silk patterns, skinny jodhpurs, trapunto-stitch bombers, convertible harness bags and boots with removable spats. One of my favorite prints is a horse motif seen on sweaters and dresses — it's so blown up and exaggerated, it's almost abstract.
What bag are you carrying this fall? 
I love our convertible harness bags — which also tie into the equestrian story with tassel details and brass hardware. The bag converts from a shoulder bag to a clutch, and comes in suede, felt, flannel and striped eel. I named it Alastair after my first horse. 
We also saw a new graphic — the Gemini Link — on the runway. Tell us more…
I wanted to think of a new way to do our signature double-T logo but still keep it personal. We came up with the Gemini Link, linked double-Ts, which works into a statement graphic as both a print, jewelry and hardware on accessories. 
Why is it called Gemini Link? 
Two is a significant number for me. I have twins, and I'm a Gemini. Gemini also celebrates the idea that there are two sides to every story and life's dualities, especially for modern women. We all have two sides — I have a business side and a creative side. I'm a mother and an entrepreneur. Every woman I know wears two hats. And this collection reflects the multidimensional life we are all leading.