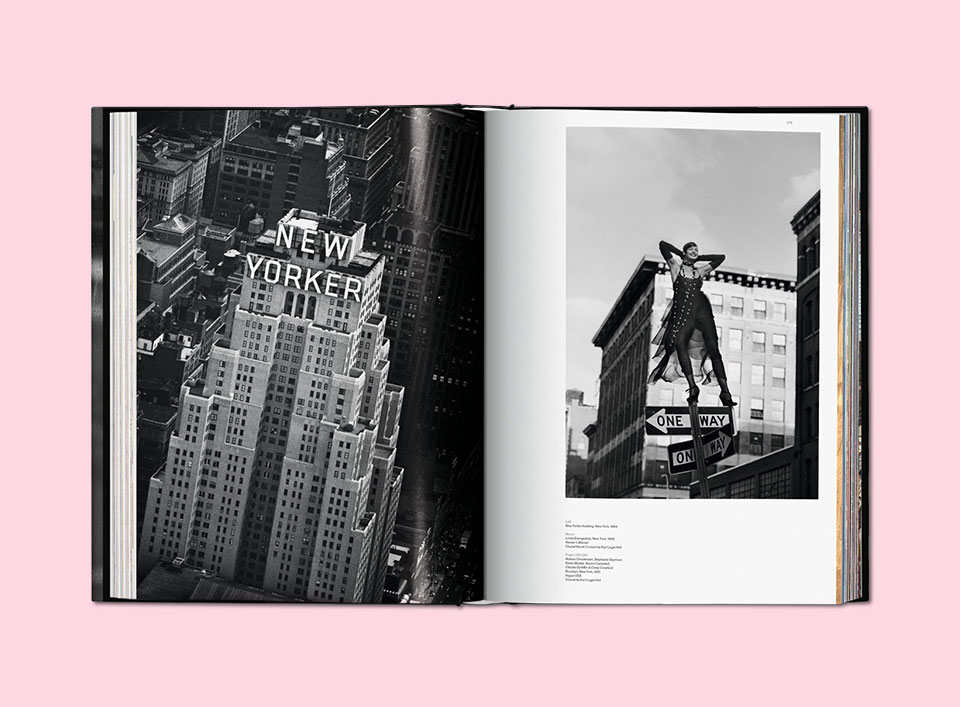 Fashion photography — there's no shortage of it these days. In this world of bloggers and Instagrams and #OOTDs, we're constantly bombarded by images of the stylish set. But flipping through Taschen's new book on Peter Lindbergh,
a beautiful hardcover ode to the legendary German lensman
, makes you wish there was Fashion Photography, with a capital F and P, because his fashion shots exist in a vaulted world of their own. They shock, arrest, capture, seduce and thrill — and all in black and white, which Lindbergh preferred because, for him, it was a closer reflection of reality.
The man himself, born Peter Brodbeck, has led a life that's as intriguing as his works — and he's the talk of the season too, with this new book, a Pirelli calendar later this fall as well as a major exhibit at Kunsthal Rotterdam in the Netherlands, opening today and running till February 12th. Here, we've compiled a Lindbergh cheat sheet so the next fashion party you hit this NYFW season, you can banter and converse with aplomb.
Whatever Happened to Baby Brodbeck?
Peter Brodbeck changed his name to Peter Lindbergh after moving to Düsseldorf in 1971 and discovering there was another photographer with the same name there.
Next Time You Jam to Freedom '90…
You can thank Lindbergh for George Michael's iconic Freedom '90 music video starring Naomi Campbell, Linda Evangelista, Tatjana Patitz, Christy Turlington and Cindy Crawford. It was inspired by the photographer's now-classic British Vogue cover, from January 1990, featuring the same supermodel quintet.
And, Oh, the Supermodel Phenomenon?
You can thank Lindbergh for that, too — he's credited with pioneering the no-last-name-required supermodel era of the Nineties. "The British Vogue cover was the image that defined the Nineties' new identity," writes Thierry-Maxime Loriot in Peter Lindbergh, "models who do not appear as mere objects, facing the viewer with confidence and pride that many could relate to."
The Super Origins, According to Lindbergh
The photographer himself traces the "supermodeldom" start not to that British Vogue shot but to a 1988 photo he took of six models, including Linda, Christy and Tatjana, on the sandy beaches of Santa Monica. There was minimal makeup, no retouching and no "fashion" — the models wore simple white button-down shirts. American Vogue, then helmed by Grace Mirabella, turned down the images. Her successor, Anna Wintour, rediscovered them.
A Crop Like No Other
Linda's groundbreaking short 'do? It was all because of Lindbergh, who recommended she get her locks chopped.
When in Post, Do… Nothing
For many contemporary photographers — not to mention newsstand glossies — retouching is de rigueur. Which is why Lindbergh's thoughts on the subject feels, well, rather refreshing: "A lot of post-production is only necessary when you have no idea about light, or when you have never heard the words authentic, interesting, inspiring and many other ones. When you can sign on to the idea that there cannot be beauty without truth, the answer is clear. How crazy and unreal is the idea of erasing all your experiences from your face? You should also know why you want to leave them," he tells Loriot. "This should be the responsibility of photographers today: to free women, and finally everyone, from the terror of youth and perfection. Beauty coming from real values is a different thing and it does not need this kind of retouching."
Wintour's Weapon
Lindbergh shot Wintour's first-ever cover for American Vogue — model Michaela Bercu in a Christian Lacroix jacket boldly emblazoned with a bejeweled gold cross. A couture jacket that Bercu, now famously, wore with stonewashed jeans belonging to stylist Carlyne Cerf de Dudzeele. As Wintour relays in Peter Lindbergh, the magazine's printers called, asking if there had been a mistake. "I couldn't blame them," she says. "It was so unlike the studied and elegant close-ups that were typical of Vogue's covers back then, with tons of makeup and major jewelry. This one broke all the rules."
Explore more features from Fashion Week Issues, past and present.