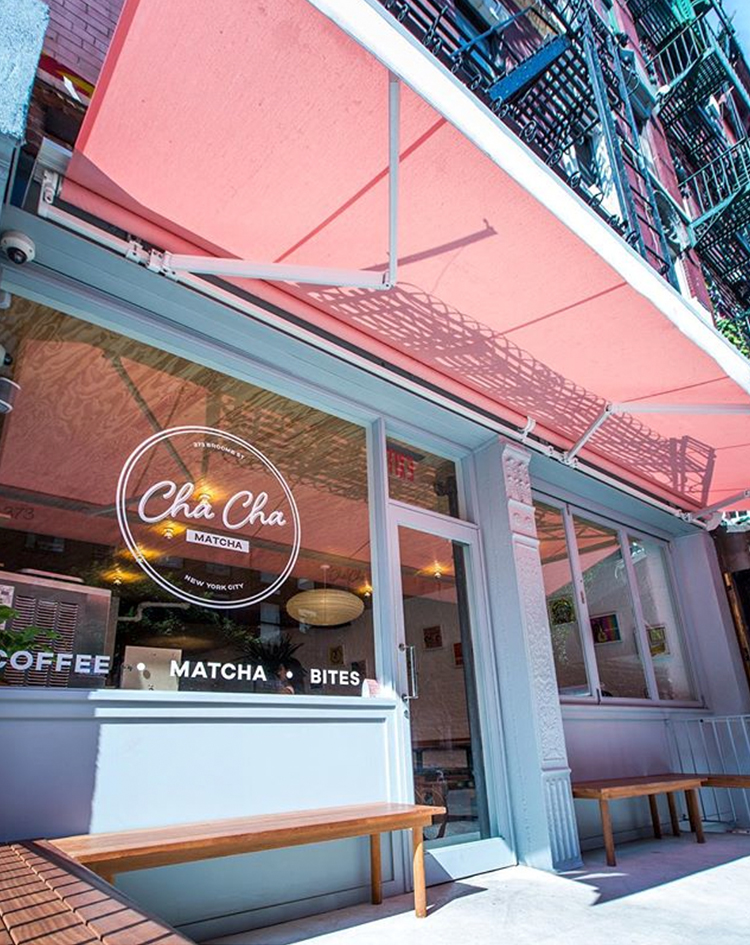 In need of a quick pick-me-up during NYFW's endless parade of shows and events? Before you make a beeline for the nearest espresso machine, let us introduce you to New York's Cha Cha Matcha, down on Broome Street. With a name that plays off the Japanese word for tea (cha), the spot offers up a cool and new (and still very caffeinated) twist on your usual coffeehouse haunt. Here, we talk to founders Matthew Morton and Conrad Sandelman, two friends who met during their coed years at NYU, about the matcha switch and what it takes to build your very own brand.
The backstory behind Cha Cha Matcha
MM: I was a five-a-day Red Bull drinker, just throwing my energy levels out of whack. Conrad introduced me to matcha…
CS: I found out about matcha because one of my friends had gone to Japan around six years ago and he's a big foodie — he told me, "Try this!" So I was drinking it on and off.
MM: We would go to Harney & Sons as well as a bunch of very different Japanese places. What we found was that all of these places were super bland — they had ambient spa music or were super traditional, with tea ceremonies. We were like, OK, why can't we get this somewhere quick, some place cool… We thought, let's combine the quality of Japanese matcha with a place our friends and we would want to hang out in.
Our matcha research involved…
MM: We tried almost 100 different types of matcha in the U.S. In Japan, we went to the best places to have the traditional tea ceremony — Kyoto, Shizuok, Uji… In Uji we found a farm that's been doing it for over a thousand years! We worked with them to build a specific flavor profile of matcha, called Cha Cha. It's a 100 percent organic ceremonial-grade matcha.
Our Cha Cha blend is different because…
MM: It is a combination from a couple of different fields in the area. I can't go into so much detail, but we had our matcha tested in two different labs and our matcha has an insanely high caffeine content along with high antioxidants. And it has a super smooth flavor.
CS: With coffee, you can affect the flavor of the bean by roasting it and putting different stuff on the bean — so a bunch of coffee companies can buy the same bean and make it taste completely different. But with matcha, it's a green tea plant, so each farm of each area has its own plant taste. It's all about choosing the right farm that fits your palate.
The health benefits of drinking matcha…
MM: They're endless. Matcha lowers your cholesterol, speeds up your metabolism, it's unbelievable for your skin, great for detoxing and the antioxidants speak for themselves.
CS: It has 137 times the antioxidants of green tea, açaí, goji berries. The equation that a lot of people often use is that one cup of matcha equals ten cups of green tea. It's a super green tea — everything that green tea does, times ten.
MM: I stopped drinking Red Bull three years ago and haven't looked back. The caffeine that grows naturally in green tea and matcha — it allows for a much more even distribution rather than a quick burst and plummet. It's an extended release.
The most exciting part of owning your own business…
CS: The process — coming up with a concept and seeing it the whole way through. That first day, when you open the doors and you have your first customer, you can see what you've been working on for a whole year become reality. It's a really good feeling.
MM: You can look at the place and the furniture in it for days, but you'll never know how people will interact. We never realized that there would be 20 people hanging out for three hours, having really good conversations, taking a meeting, really enjoying the tea. That's my favorite part: watching people interact.
And the most challenging…
MM: Building a cohesive team that can work well together. When you are two young kids from NYU and only have a broken-down nail salon and graphic design notes, it's hard to bring people on to believe in something — especially when it's a new product that's not ubiquitous like coffee.
CS: During our first staff interviews, we didn't even have a floor in our store.
Best advice to would-be entrepreneurs…
MM: There are no shortcuts. There's no easy way out. You have to put in the time.
CS: If you really want the place to be the way you envisioned it, you have to be here all day, every day. Constantly going over the staff, talking to the customers, making it your place…
My favorite Cha Cha Matcha drink…
MM: Two shots of matcha, straight up.
CS: Matcha iced because I'm drinking it all day. But when I do want a treat, matcha lemonade is my favorite.
And first-time matcha drinkers should try…
CS: A coconut matcha latte or a matcha lemonade.
MM: And once you've fallen in love with matcha, try the soft serve — it's to die for.
Explore more features from Fashion Week Issues, past and present.