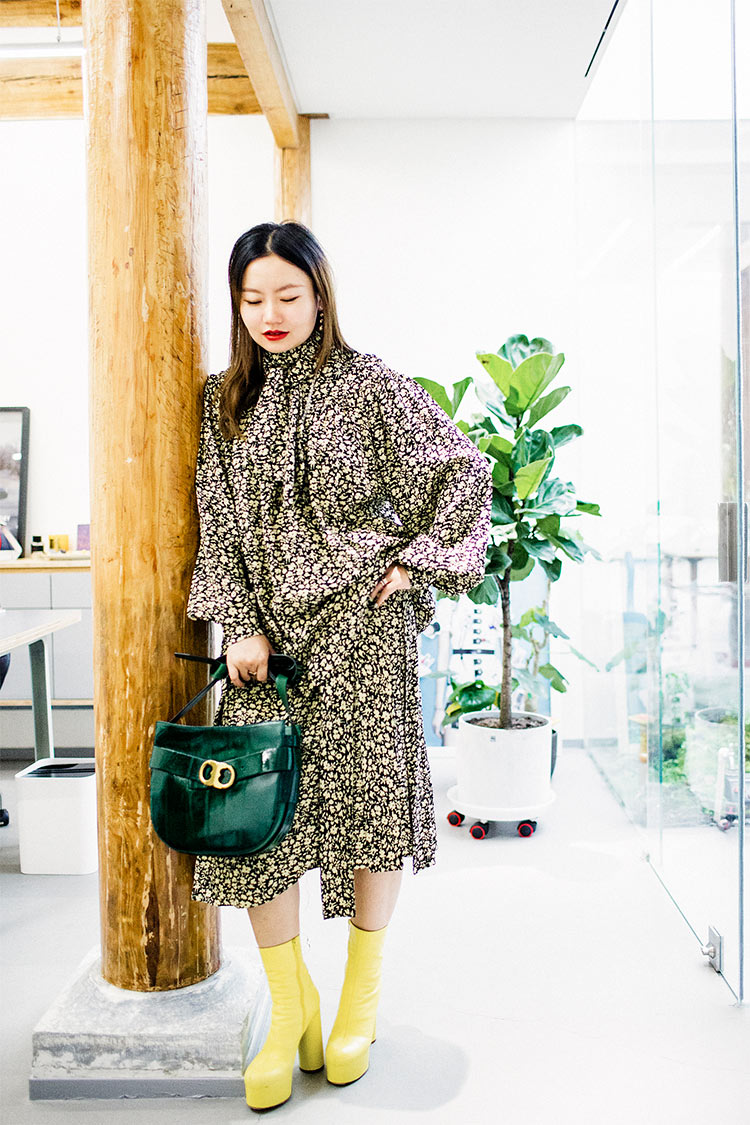 Down a narrow Beijing alleyway, past a trove of bicycles and recycling crates, is the sleek, modern façade of the Ballroom, the courtyard headquarters of superstar Chinese stylist Lucia Liu, whose celebrity clientele includes mega-actresses Yao Chen, Zhou Dongyu and Ma Sichun. She's also the fashion director and deputy editor-in-chief of T Magazine in China, the Eastern iteration of the lush, lifestyle glossy from The New York Times. Titles aside, this Sichuanese firecracker greets us with open arms and a welcome smile, giving us a tour through her new office digs, a veritable playground where clothes fill her sample closet to the brim, and where My Little Ponies and Japanese Monchhichi dolls keep constant companion on top of oak drawers.
Celebrating her 10-year anniversary as a stylist in 2017, Liu's been busy producing cover shoots for T Magazine, crafting wardrobes for blockbuster television series and red-carpet appearances alike, and working on new business opportunities to create branded, editorial content for major luxury brands from Chanel and Balenciaga to Michael Kors. Usually behind the scenes, Liu has made a recurring cameo as a judge in China's Next Top Model, and even attended the 67th Cannes Film Festival alongside her husband, celebrated filmmaker and artist Ran Huang, whose work The Administration of Glory was shortlisted for the Short Film Palm d'Or. Suffice it to say, if anyone has been around the proverbial fashion block in China and beyond, it's her. But just how did a small-town girl from Xichang, Sichuan, rise through the global fashion ranks?
"In my hometown, high fashion is not at all prevalent," says Liu, above wearing Tory's Gemini Link shoulder bag. "My career was entirely by accident, going from Xichang, to Beijing, then London." Studying British English at a local Sichuan university, Liu was drawn to the arts instead. "After reading Shakespeare every day, for one year, I was like 'Oh, god. This is not something I want to do.'" In order to change courses, she knew that she had to draw well and moved to Beijing to study a short course at Tsinghua. Later, she went on to graduate from the Birmingham Institute of Art and Design in the UK with a BA in fashion design in 2006, and dabbled in styling while assisting friends on photo shoots in London. In 2009, she returned to Beijing, where Su Mang, the chief editor of Harper's Bazaar in China, rang her to offer her a job. There, Liu worked with celebrities styling cover stories and well as a fashion director, and gradually began to build her repertoire with her signature flair, always a sumptuous, visual feat with a quality, cool, avant-garde edge.
"My strength is being creative," she explains. "I'm also very flexible and am always thinking about newness. I like cool kids and young stuff. In China, after the age of 35, people usually become obstinate and stop growing. They're resistant to new technology or taking in new information, but I'm always up for it. It's about staying young on the inside." In addition to her youthful spirit, she cites self-motivation as central to her success. "Being self-taught is a very good skill," she offers. "You have to be very self-driven. Sometimes people ask, 'I have no background, how can I start?' Buy a book, learn history, start styling. It doesn't have to be taught. You have to open your eyes. It also helps to travel more and see things, meet people." Only then, is the world your oyster.