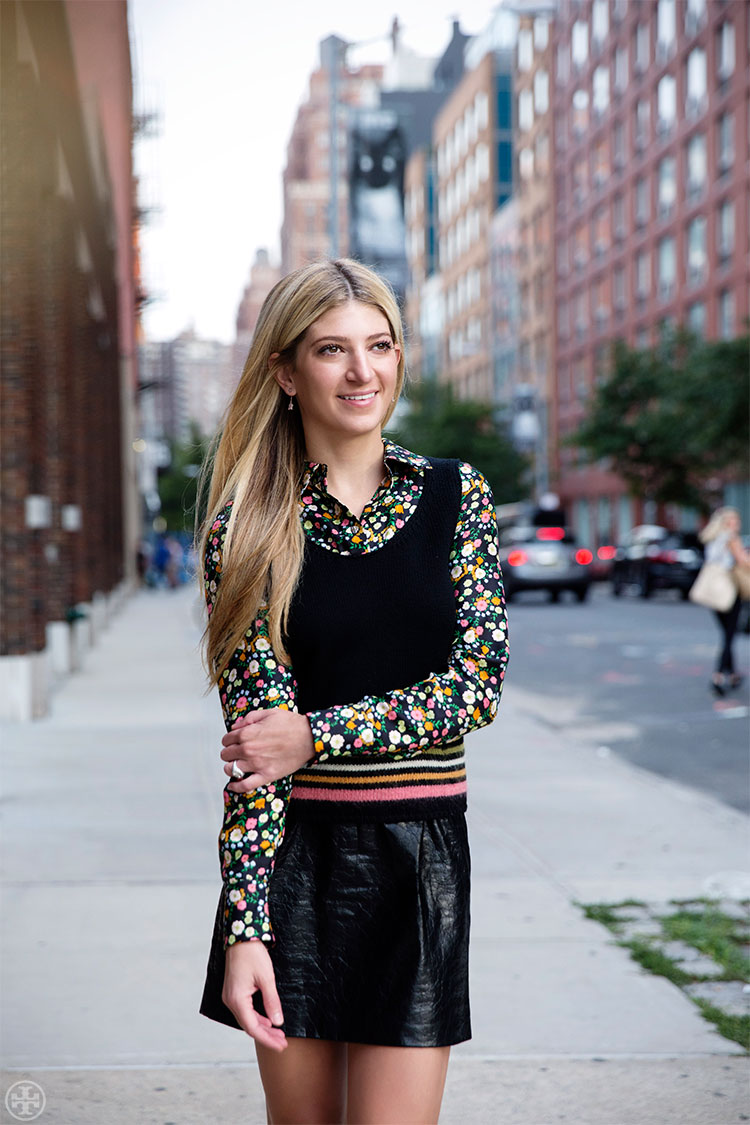 We spend some time with Gagosian Gallery's Sarah Hoover and learn what it takes to make it in the art world. Here wearing Tory's Hallandale Dickey sweater, she covers everything from her favorite reads and festivals to a typical day at work.
My interest in the arts began when…
I was a little girl. My grandfather would take me to the museum of art in Indianapolis (where I am from) almost every weekend. I memorized where every painting was, the artist and everything about it. The museum hasn't changed tremendously and I still know my way around it like the back of my hand. It completely set the tone for me and I have so many super specific memories of my time there with him.
My very first art love…
As a kid I loved Degas because I studied ballet very seriously until I went to college.
Artists who changed the way I see the world…
In undergrad and actually continuing into graduate school I studied the International Situationists, a group of avant-garde artists working mainly in Paris in the Sixties. Their skepticism about commodity culture, advertising and the political system was so clever and really made me think critically about a lot of things I'd just accepted my entire life.
Emerging artists on my roster now…
Pat McCarthy, Elsa Hansen, Genieve Figgis.
To stay nimble in the ever­-changing art industry…
Be open-minded — good artists are geniuses. I am not a genius. Their ideas seem weird and often unpalatable until my civilian brain catches up. Also I try to always be nice. On top of just being easier and more fun, it allows you to slip into more situations and friend groups and such and know a wider breadth of people in the industry.
My criteria to recognizing when an artist has "it"…
For me something has to either be so beautiful I want to own it immediately, or so smart I'm impressed immediately. I'm not necessarily obsessed with the "new," the next idea, and innovation, but I think if something borrows from the past it has to be transcendent.
My favorite art fair/festival…
Rio for sure. Not only is the city super fun and the food wonderful, but Brazilian artists (particularly women artists) are right up my alley. The architecture in and near Rio is also fantastic and unusual.
My go-to look for art openings…
Tailored with a little twist. I love Céline pants with Chanel blouses so I feel professional, and then I like to wear fun shoes, something with a platform so I can stand all day. I have one Junya Watanabe leather jacket that I bring in case it's cold inside. It's unexpected — no one ever knows who the designer is, which I like.
Favorite art publications and sites…
San Francisco Arts Quarterly, Artforum, Purple Magazine.
A typical work day includes…
I get up early and look through my emails to see if anything came in from Europe that needs attending (one of the artists I work with is in Europe so, for example, she might have something time-sensitive that I need to do). Then I go for a run or to Pilates if I don't have anything super pressing, have my tea, and get ready for work. I spend the morning doing emails and correspondence, checking in with my assistant, getting ready for afternoon meetings and viewings (sometimes that entails research, reading, consulting old auction catalogues, etc). I try to take a lunch with a client or colleague daily; I have to eat anyway so I try to make the time worthwhile. In the afternoons I might show clients a work of art or meet with one of the artists that I manage. And at night I will often go to an art-related event like an opening and dinner, a museum benefit, or share a meal with clients. It's an around the clock job — good thing I love it!
Follow Sarah Hoover on Instagram.
Follow Gagosian Gallery on Instagram.