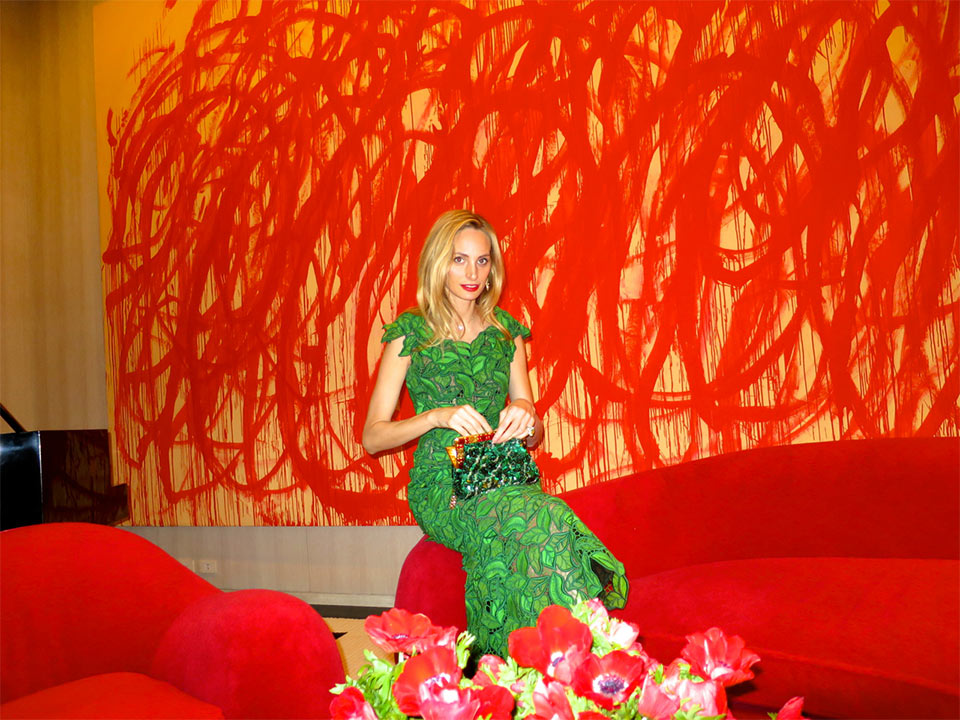 Paper whites, gingerbread houses, light-wrapped branches… Here's a sneak peek at what the holidays are like at Lauren Santo Domingo's home. Plus, we couldn't resist asking what's on the Moda Operandi co-founder's gift list — it includes everything from exquisite hand-painted tumblers to an animal menagerie (sort of).

This Christmas I'll be…
In Cartagena, Colombia.
I love to decorate the tree with…
Personal and collected ornaments. I prefer the look of a cluttered old-school tree. For years, I have been longing to do a tree with retro-colored lights and streams of tinsel, but my husband won't allow it. Tip: I learned a few years ago to tightly wrap each and every branch with strings of lights for the best effect. (Or does everyone already know this?)
I will fill the house with…
Pots of paperwhite flowers — the smell, more so than even the scent of pine or chestnuts roasting on an open fire, transports me.
Now that I have children I love to…
Collect ornaments on our travels or make new ones out of the children's arts-and-crafts projects at school.
Christmas morning is always spent…
Opening presents. It takes under an hour, but then it seems it takes hours to assemble all the toys.
I decorate the table with…
Homemade gingerbread houses made by my two small children. After setting the table with my formal china or silver and the most exquisite embroidered linens, i find they're a nice way to bring it all together in a way that is cozy and familial.
My favorite childhood memories of Christmas…
Writing letters to Santa Claus. I took my wish lists very seriously. It's important to have dreams (still is).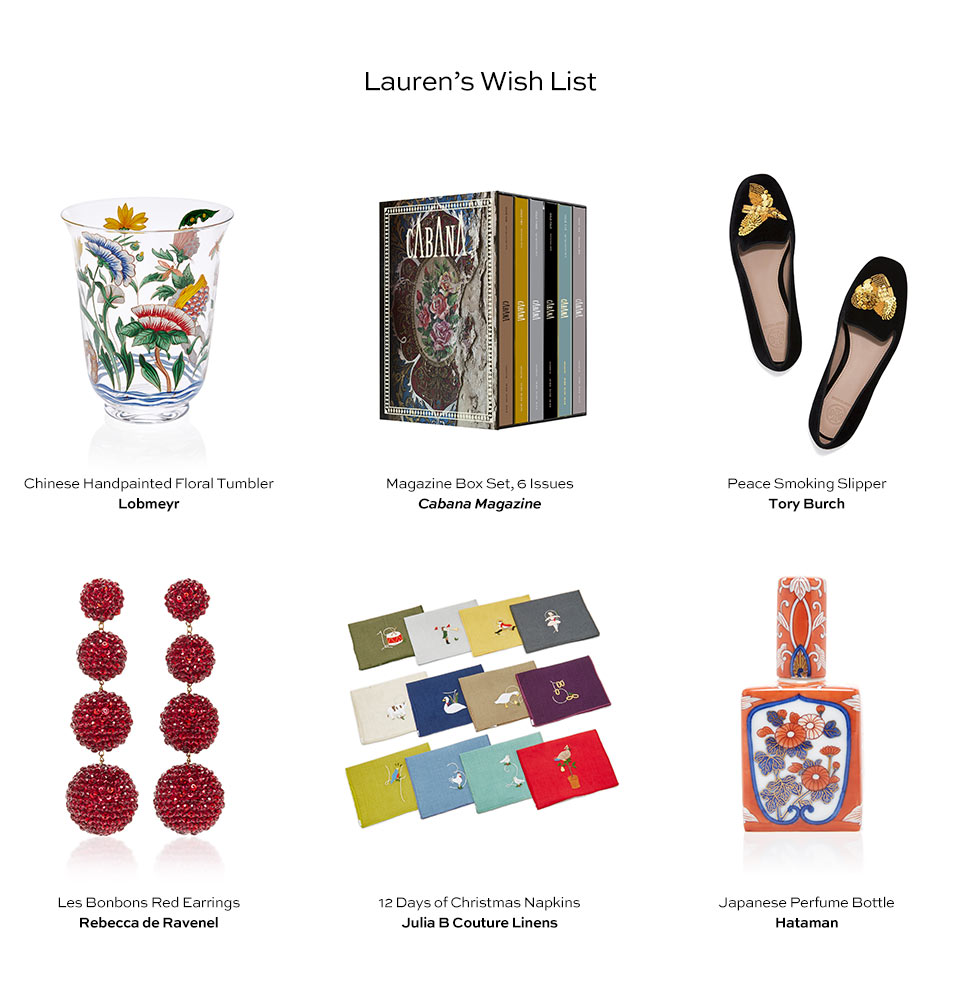 My tips on creating a chic holiday card…
I have no tips. I have never made one myself. I find it a bit embarrassing and also I would never get my children to sit still.
Go-to holiday outfits for night and day…
Silk pajamas from Restless Sleepers — for both!
Tips for surviving the holiday party season…
Don't drink and drive. If possible, don't drink.
My wish list…
The holidays are more about the children now, but I can still find time for a grown up wish list: Tory's Peace smoking slipper, Buccellati's Hawaii short pendant earrings in white gold, Cabana Magazine box set, Hataman perfume bottle, 12 Days of Christmas napkins from Julia B. Couture linens, a hand-painted floral tumbler from J. & L. Lobmeyr and Les Bonbons earrings from Rebecca de Ravenel.
And gifts I'm giving my children…
I enjoy choosing presents for family and friends, but especially the children. I do it with great care, shopping throughout the year so there is no rush when the holidays arrive. I go back to being a child and the excitement of the holidays, thinking what would be special to open for my own children. This year the list includes Asprey's egg cup and spoon, an extra-large flamingo and giraffe from Hansa Toys, the complete Harry Potter series, Miki junior sunglasses from Kyme, smocked dress from La Coqueta, Lingua Franca's OG cashmere sweater and Misha Lampert's pomster beanie.
My Christmas Eve traditions…
As a child, Christmas was spent in Beaver Creek, Colorado, a ski resort in the Rocky Mountains. Christmas Eve was action packed! We would drive around with my father tuned into the local military base's radar tracking Santa's sleigh, only to come home and find the presents under the tree! We would open our presents at night and attend Midnight Mass. All this freed us up to ski the next morning; we usually had the mountain to ourselves.
My New Year's Eve plans…
New Year's is spent on an island off of Cartagena. We plan to stay home on New Year's Eve and skip all the festivities for a change.
And my New Year's resolutions…
Not a one.