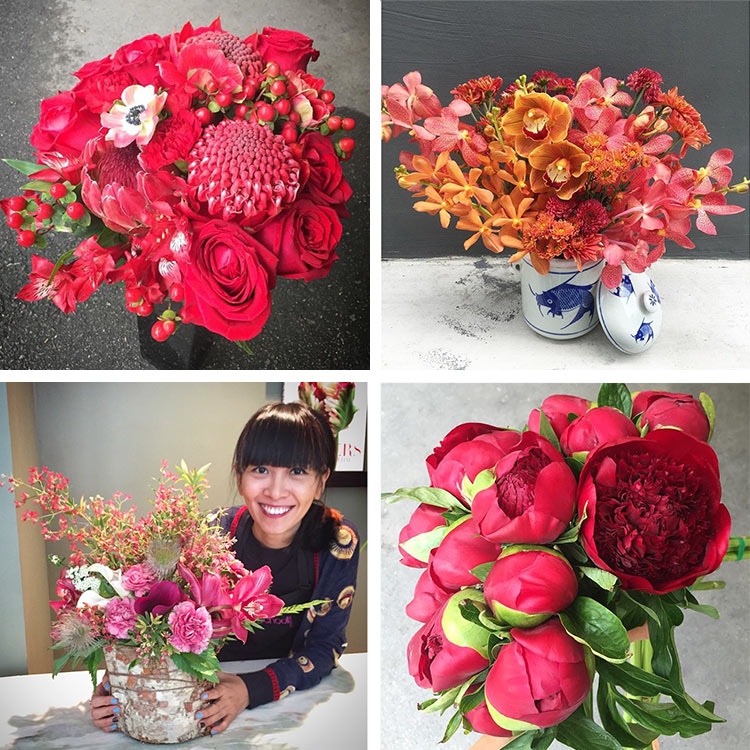 No new year celebration would be complete without a beautiful floral arrangement. Here, we chat with florist Yi Lian Ng — a former fashion editor with Harper's Bazaar Singapore — on the best blooms to ring in the year of the rooster. Plus, learn all about traditions like red packets, pineapple tarts and — our favorite — wearing new clothes.
Growing up, my favorite Lunar New Year traditions included…
New clothes, new shoes, new pajamas, new underwear, new everything AND red packets filled with money — what's not to like?! Also, the snacks of pineapple tarts, egg rolls and hotpot meals… SO MANY THINGS TO LOVE!
And new traditions I've started myself…
It's technically not a "new" tradition, but I've started giving the elders red packets during Chinese New Year — why not since I'm financially independent? I'm also contemplating to start giving my nieces and nephews red packets too this CNY even though I'm unmarried (Chinese traditions are such that as long as you aren't married, you are supposed to receive red packets, not give). But I think I'll consult my mum first and see if she thinks it's an "inauspicious" thing to do. Haha!
This year I'll celebrate by…
Wearing brand new clothes on the first day of CNY again! Ever since I became a working adult who can afford new things, erm, all the time, the appeal of getting new clothes only on CNY got lost on me so I haven't been bothered wearing new clothes on the first day of CNY, but I've already ordered the customized pieces for this year so I can't wait!
Most popular flowers for a New Year celebration (and why)…
Pussy willows and lucky bamboos — they represent luck and prosperity and what Chinese person doesn't dig that stuff?
And to celebrate the year of the rooster, I recommend…
Celosia! It has always reminded me of the comb of the rooster so that will be super appropriate for the year of the rooster. Also, a colorful palette consisting of the rooster's colors, such as red and gold, and perhaps some feathers?
The lucky colors…
Red, pink, orange, yellow and gold.
The New Year superstitions I never fail to follow…
Never sweeping the floor with a broom on the first day of CNY!
I was inspired to become a florist when…
My bridesmaid duty was to look after the floral aspects of my good friend's wedding four years ago. I had a few really nice compliments and my friends were egging me to do that as a real business. I put it off for a year before I finally decided to do it, but while juggling a full-time job for over a year I finally took the leap to handle the business full time! Now, I'll have my first full-time employee coming onboard next month so, wow, life can be amazingly unexpected if you allow it to unravel in its own ways.
My tips to create a professional-looking arrangement at home…
Always mix the big highlight flowers with the small filler blooms to create depth to your arrangement. And always add foliage throughout and around the arrangement to create a sense of statement, so the results look bigger and more impressive!
My Chinese zodiac sign is…
The loyal dog!
Explore more features from the Lunar New Year Issue, past and present.
在新年的纷繁装饰里,总少不了花朵带来的清香与生气。我们邀请到了花艺师Yi Lian Ng分享如何用鲜花点缀生气勃勃的新年。作为前新加坡《时尚芭莎》杂志时尚编辑,Yi Lian还与我们畅聊了有趣的新年习俗——红包、点心,还有大家最爱的新衣话题。
从小到大,我最喜欢的新年习俗……
关于新的一切,衣服、鞋子、睡衣、内衣……当然少不了人人都爱的红包!还有零食糕点:凤梨酥、鸡蛋卷,火锅……太令人期待了!
属于我的新年"新"习俗……
严格来说这不算一个"新"习俗吧,但是我也开始在新年给长辈派发红包。为什么不从经济独立就开始发红包?因为中国传统是没有结婚就不可以发红包,只能收红包。但是我要先去问一下我妈妈啦,哈哈!
今年我这样庆祝新年……
当然我会在大年初一穿着全新的衣服!今年我订购了度身订造的衣服,我已经迫不及待想穿了!
最适合新年的花是什么?为什么?
小杨柳和好运竹——它们代表着好运和富贵——这是中国人都喜欢的祝愿啦。
适合鸡年的花,我建议……
鸡冠花!它总让我想起来雄鸡头顶的冠,又非常吻合鸡年的寓意。除此之外,在色调上选用红色和金色搭配,再饰之以羽毛还会更精彩!
新年幸运色……
红,粉,橘,黄和金色。
一个我不信的新年迷信……
大年初一不能拖地。
我从何时想要成为花艺师……
四年前我为好友的的婚礼担任伴娘,同时亦为他们负责花艺设计,幸运地我的作品被朋友们大力称赞,大家还纷纷建议我可以考虑在此领域发展。经过一年的谨慎思考,我决定专心从事这项我喜爱的事业。下个月,我将迎来我的第一位全职员工。WOW,生活的惊喜总在意想不到之处发生,只要你准许自己遇见未知。
如何让家庭花艺看起来很专业?
用醒目的花朵予以装饰性的花蕊衬托,来打造花艺的景深。也一定要添加枝叶去强调整体造型的风格,让你的花艺看起来更加大气和惊艳。
我的生肖是?
忠诚的狗狗!