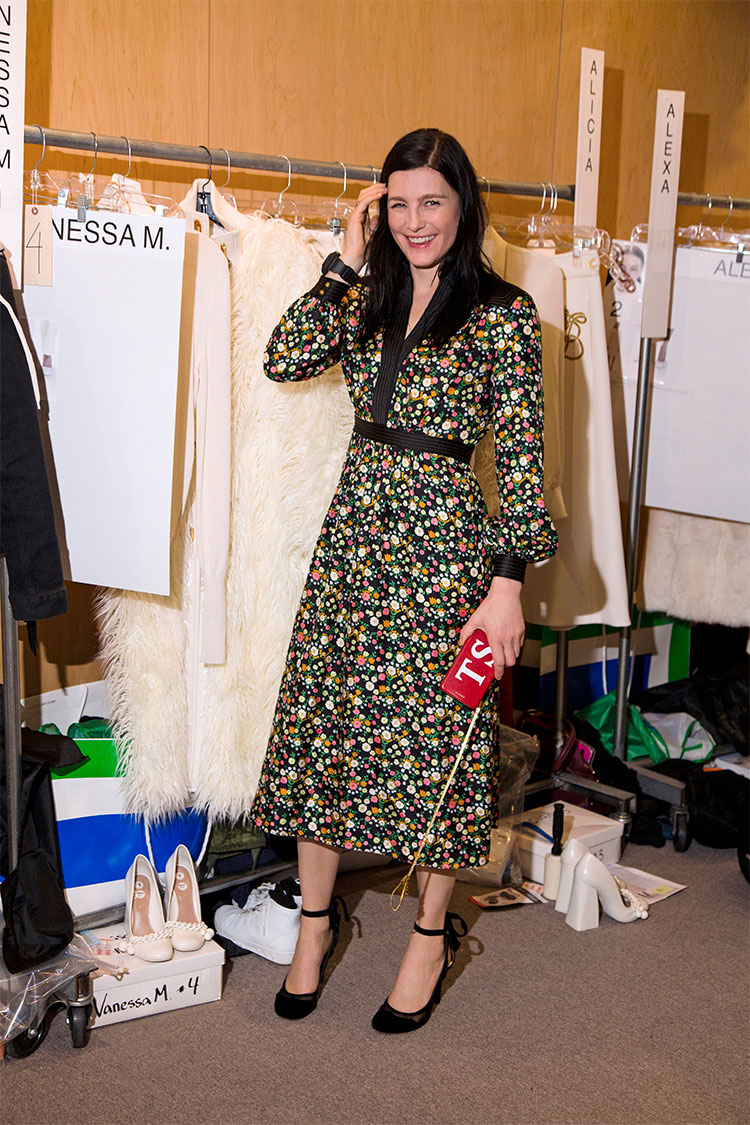 After the Fall/Winter 2017 runway show, we chatted with stylist — and shoe designer extraordinaire — Tabitha Simmons. Here, wearing a Tory Burch dress and her own Eloise shoe, she shares style tips and entrepreneurial advice.
A quick styling tip when it comes to shoes…
A new pair of shoes can completely recycle a wardrobe. You can always have an old dress that you've worn many, many times and then, with just a new pair of shoes, it can change everything.
A pro tip when it comes to pairing heel heights with hem lengths…
A three-quarter-length jean with a strappy shoe is a really good look at the moment.
The very first shoe I fell in love with…
Manolo Blahnik black patent high heel shoes that I absolutely saved up for and bought.
And as for shoe regrets…
I don't have any.
The shoes I'm wearing now…
The style I'm wearing now is called the Eloise and it was inspired by dragonflies and the Art Nouveau designer Émile Gallé. He used to do these incredible pieces of furniture that were very organic, so there's no sort of straight lines on the shoe. It's all curved and very, very feminine.
The most exciting part about owning your own business…
Seeing it grow and watching it develop.
And the most challenging…
The back end of it: making sure the product gets into stores and that the price point is right.
One thing I wish I knew when starting out…
Price points and getting all your merchandise into the stores on time.
As an entrepreneur, never be afraid to…
If you have a dream, go for it. If you believe in it, just go for it — don't be afraid. And never give up.
If I could walk in somebody else's shoes for a day…
Elizabeth Taylor's. She seems like she had a lot of fun.
Follow Tabitha Simmons on Instagram.
Explore more features from Fashion Week Issues, past and present.