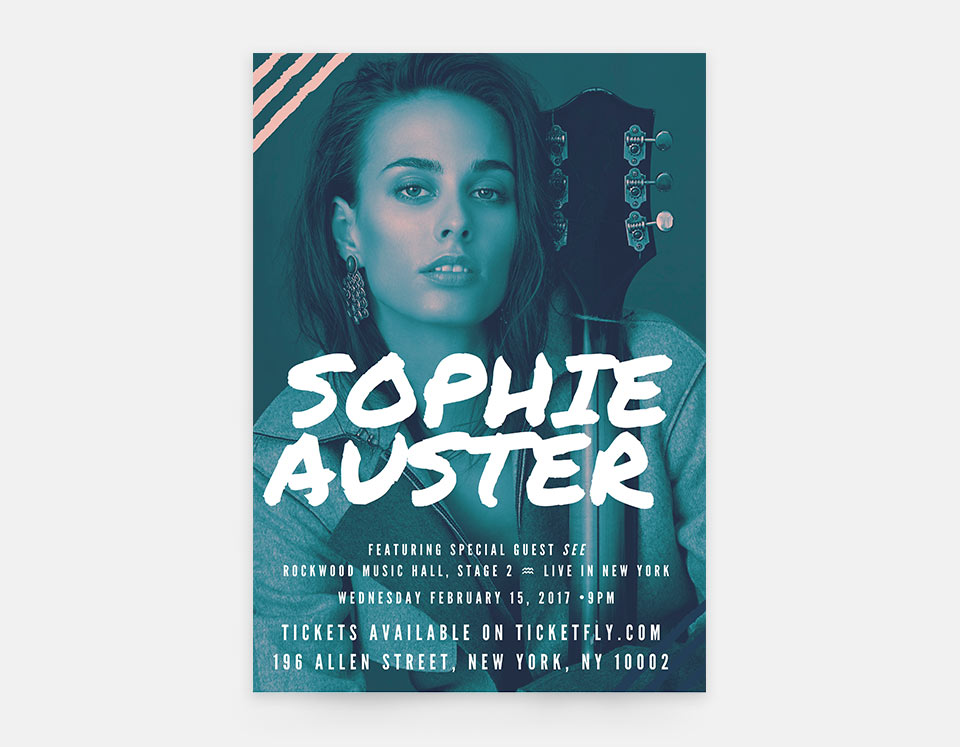 Fashion week isn't all runways and trends. On Wednesday, February 15th, singer-songwriter Sophie Auster will be taking over Rockwood Music Hall on the Lower East Side to preview songs from her upcoming album, Next Time. Here, Auster gives us some insight into the project and opens up about this new musical chapter in her life.
About my upcoming album…
My next record was conceived from two years of writing. In that time, I was writing my way through a breakup and, as I felt myself recovering from it, the work took on a different tone. I wrote a lot of bad breakup songs to eventually land on the material that is on the forthcoming album. I met my producer, Tore Johansson (New Order, Franz Ferdinand, The Cardigans, Martha Wainwright) through an introduction by friend and fellow songwriter, Nicole Atkins, and we began working together over long distance. Tore is based in Sweden and I am based in New York. I began by sending him rough demos and he would come back to me with arrangements, tempo changes and sometimes wildly different interpretations of my original work. It was exciting to begin this process with someone who thought outside the box, but who also listened to me when I felt he had stretched the song too far. Over the past year, along with Tore's musical parter, Martin Gjerstad, we delved through about 100 songs, whittling down the list to 12. We recorded everything in the Swedish countryside and slept, ate and breathed music all day and all night. It was my first time not being "on the clock" while I was recording and the whole experience was extremely freeing. For me, this record harkens back to Sixties girl groups, Peggy Lee and Seventies soul. All the music I grew up loving and listening to. The album is a reflection of moving on and getting back up again. Sometimes humorous, sometimes serious, but the thread that ties the work together is the idea that next time I'll be better. Next time I'll learn from my mistakes.
And the title I chose…
The album is called
Next Time
and it feels like the culmination of the other records I've done thus far. Thematically, I deal with similar stories about love and loss, but I feel more emboldened now. I don't think I would have been able to make this album if I hadn't learned and gotten to know myself on the others. That's why the title feels so fitting to me.
Favorite song from it…
"Bang Bang Baby Goodbye" is one of my favorite songs on the record and the most fun to perform. When I write I let my imagination wander and while it was wandering I imagined a story about a gangster and his girlfriend leaving him. I was probably inspired by Born Yesterday with Judy Holliday and William Holden, which is one of my favorite movies by George Cukor. If you haven't seen it, do yourself a favor and see it!
Learn more about Sophie Auster.
Explore more features from Fashion Week Issues, past and present.