Candice Miller and Jenna Crespi are the sisters behind the popular Mama & Tata blog — or as they call it, "an insider's guide to what every mama needs in NYC." While they cover a whole host of categories on their site, from beauty to family, they caught our eye for their column on well-being, which spotlights a number of fitness classes — outdoor yoga in the middle of a winery, anyone? — as well as healthy living professionals. Here, Miller (A.K.A. Mama) and Crespi (A.K.A. Tata, "auntie" in French) share their insight on the best resources for discovering both outer and inner strength.
Favorite studio classes in the city…
Jenna Crespi: ModelFIT is an incredibly beautiful studio that is airy and immaculate; light fills the room. The exercises really help tone and work your body on a micro level. The owner, who just opened a new studio in L.A., is an old friend and I am so impressed with her concept and execution.
Candice Miller: Tracy Anderson's dance cardio, TAva and Attain Definition classes are definitely my favorites! I take these classes five times a week, typically an hour and a half per day, and they give me the energy to be the best mom, wife and creative force for Mama & Tata. The dance cardio is the most fun way to sweat and burn calories. I feel like a performer, and I really get to challenge myself by making the dances my own. Attain Definition makes my body toned, without getting bulky. I build muscle easily, and Tracy Anderson is really the only method that has helped my body look longer and leaner. The music in each of these classes takes the experience to the next level, and really allows you to tune out and let your mind relax.
And the most unsual/surprising classes we've tried…
JC: Y7 Yoga is a unique experience because of the hip hop music and the dark candlelit setting. It is not the typical yoga experience and I highly recommend this style since it brings a whole different energy and vibe.
CM: Ballet Beautiful, which is a great complement to the workout I do at Tracy Anderson. It's unusual for me to work out in silence, so that made this experience very unique.
And when it comes to inner healing and strength…
JC: I have always considered my mother, who is a psychotherapist (and who we will be featuring in coming weeks), to be my key to inner healing. Talking through anything with her helps me overcome any obstacle I may face and helps make me a better person.
CM: I have a few tricks up my sleeve when it comes to mental health and well-being. First, my healer, Louise Amar! She has taught me so much about how to work on myself, and improve. She taught me how to meditate and create space for myself amidst my busy family, work and social life. Then I have my acupuncturist, Paulina Niessenblatt. In addition to her needling, her breathing techniques, herbal prescriptions and natural oils assist me in staying cool and calm. Lastly, my physical therapist and dear friend, Natalie Kinghorn, has helped my body stay healthy and strong through cupping and deep tissue massage. With all of the high impact exercise I do on a daily basis, she is a necessity!
My favorite quick routine or pose to do at home…
JC: Pigeon pose really helps me open my hips and is a great daily stretch to do at home.
CM: When I am at home, I will do Tracy Anderson streaming on the TV in my living room. It's a great way to get a quick workout in and the kids watch me and try to follow along! It's pretty hysterical. There are also times when I'll feel the need to do extra ab exercises, and I do a short series I learned at Ballet Beautiful.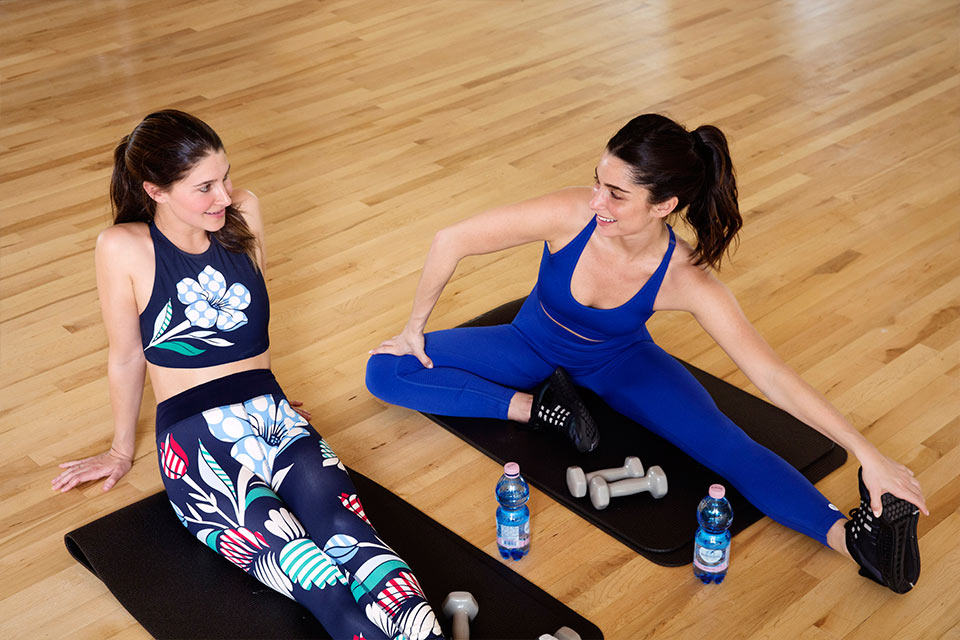 Favorite healthy snacks/drinks…
JC:
Ginger steamer (fresh ginger, lemon juice and honey with hot water) from my favorite coffee shop,
The Elk
, and an apple with natural almond butter for a snack.
CM:
I exclusively drink water and chamomile tea. I abandoned coffee two years ago after having my babies. While some may think that is crazy, it's actually helped me feel better throughout the day and my sleep has drastically improved. I love the peanut oat balls and matcha balls made fresh every day at
Kaffe 1668
. They are a favorite morning snack. In the afternoon I make myself a plate of beet chips with a pinch of sea salt and olive oil, and they serve as a delicious, healthy alternative to potato chips.
My motivation mantra…
JC:
Be yourself, have confidence in who you are and what you do, and don't be afraid to try.
CM:
Just do it!
I define wellness as…
JC: A combination of mental and physical health, which includes eating well, exercise and finding happiness within yourself. For me, I feel healthiest and happiest when I sleep well, get a large dose of veggies and water in my day, a workout and my precious time with my family.
CM: A happy balance in life. Learning to do everything in moderation, and dedicating a good amount of time to your family, your work and yourself.
To me, embracing ambition means…
JC: Setting goals for yourself and going after them. Embracing ambition is about not being afraid to try. Mama & Tata has been just that — my sister and I embraced ambition by putting in our all to execute our ideas!
CM: Bringing your creative concepts and ideas to fruition, by living from love instead of fear. It only took a month from when my sister and I initially discussed launching Mama & Tata to it becoming a live, functioning business! We brainstormed ideas and then we made them a reality, and never looked back. You cannot sit on your thoughts; you need to act on them.