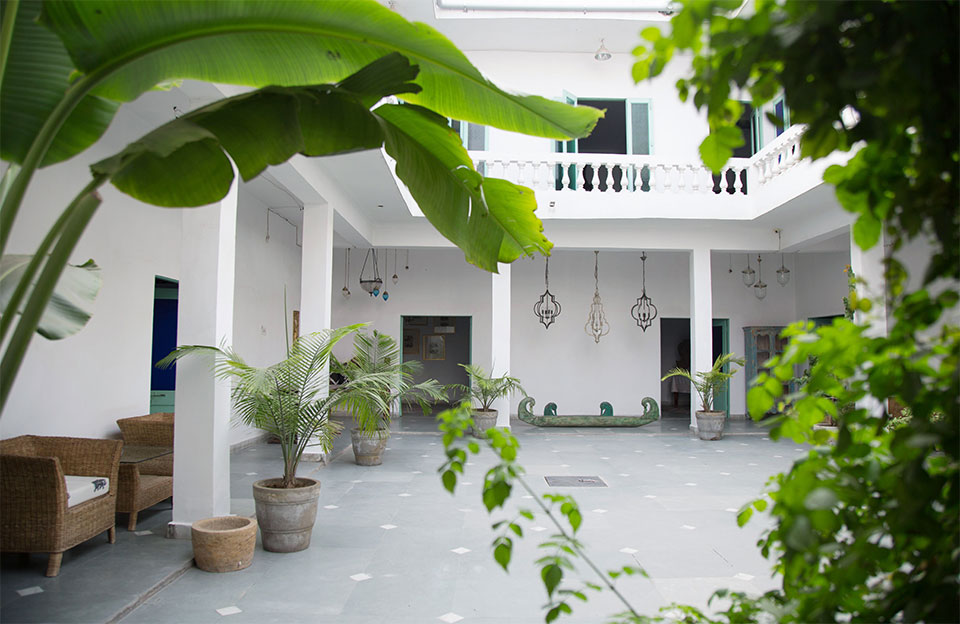 New Delhi is about as fast-paced and frenetic as a global epicenter gets. And yet, if you know where to go, it's also a hotbed for great design, incredible food, inspiring culture and an oasis for calm. In the historic area known as Mehrauli, where the iconic Qtub Minar towers, textile and furniture designer Kuldeep Kaur welcomes visitors to Serendipity Delhi for tea with a side of modern-meets-exotic décor and art. Housed in a restored three-story haveli with a beautiful courtyard, Serendipity Delhi brings together East and West, old and new. A rococo chair might be redone in a bold ikat while mid-Century pieces are hand-blocked in prints that recall Morocco, Mexico and Mughal empires. Elsewhere, vintage wood rocking chairs look like they could have been the playthings of 18th Century maharajas, while cotton bed linens feature hand-block prints that blend influences from India's complex history: British and French colonial, Islam and Hindu traditions. For the traveler in search of something different, this is it. Here, Kaur speaks to us more about her own inspiration.

The inspiration behind Serendipity Delhi…
The concept of a lifestyle store inspired by travel happened rather serendipitously in 2014. The space was originally a haveli or traditional style home with an open central courtyard with rooms surrounding it. Over the years it had been neglected, rented out as a warehouse and chopped up into small quarters for daily workers. The central courtyard had been dug up and was just an uneven mud pile where trucks would roll in for loading and unloading of goods.
Recognizing the good bones the space had, combined with a recent trip to Fes, Morocco with its fabulous Riads, and other trips worldwide, resulted in a serendipitous moment of "Why not restore this space and turn it into a travel-inspired concept store — a Mughal Meets Morocco via Mexico City?"
Serendipity Delhi's style mantra…
I would say our style mantra is Global Eclectic, drawing on inspirations and craft techniques from all over the world. It's an amalgamation of nostalgia for the early years growing up in a more laid-back Delhi and retro Mumbai in the Seventies and a deep and endless fascination for art history. You can see this in the hand-block printed textiles and clothing, oversize Suzani embroidered pillows and ottomans, re-purposed mid-Century modern furniture, with the occasional art-deco pieces, vintage radios, vintage ceramic flower petal shape lighting shades in pastel colors — it all makes for an eclectic and ever changing mix here.
First time visitors to New Delhi should always see…
Humayun's Tomb (a UNESCO World Heritage Site), Purana Qila (Old Fort), Jama Masjid, and Lodi Gardens for Art, History and Culture of the Mughals. A visit to the bazaars of Old Delhi is always unique, especially the small shops behind Jama Masjid.
Best views of the city can be seen from…
For a flavor of the British legacy, visit Lutyens designed New Delhi — the view from Raisina Hill is the best view of Delhi and a good spot to watch the sunset.
Someplace only a local would know about New Delhi…
It is always a thrill to go hunting for reclaimed furniture and objet d'art in the flea markets of Old Delhi and on Asaf Ali Road.
Your favorite places to grab dinner and drinks with friends…
I don't go out that much as I am super busy, but I do let my hair down and have friends over at our Serendipity Rooftop Café for a long relaxed meal. Though I do have to say the Parsi food and kitschy décor at SodaBottleOpenerWala is worth a try if you are out shopping in Khan Market.