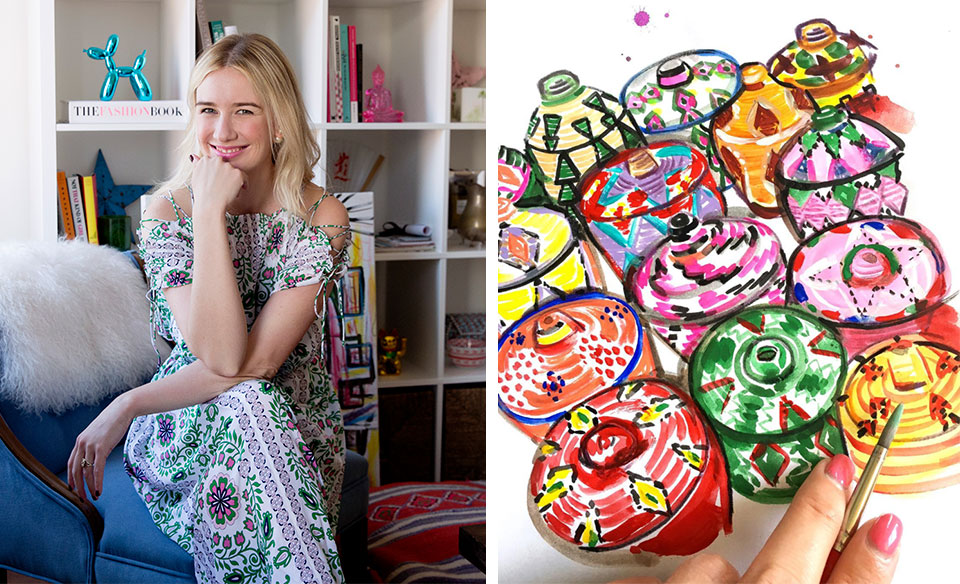 New York illustrator Meagan Morrison has carved out a niche in the fashion industry for her electric and vibrant sketches. There's an energy and verve to her stylish ladies, as seen in Women's Wear Daily, Harper's Bazaar, Vanity Fair and W. So you might ask, what is she doing in our Getaway Issue? It turns out that wanderlust is a constant refrain in her oeuvre, too, with fanciful illustrations highlighting Dubai, Tanzania, Paris, Greece and more. Plus, she's the creative brains behind the blog TravelWriteDraw. "Travel is the lifeblood of my craft," explains Morrison, here wearing Tory's Asilomar dress. We get to know her here.

The art bug bit when…
I realized I could articulate everything in my dreams onto paper with paint and a paintbrush. I remember being as young as five years old and standing in front of my kindergarten easel during art class. The possibilities felt endless. They still do!
My very first art love…
Red Coat by Alex Katz. I was around 13 when I first saw it and was totally awestruck. Up until that point I knew portraiture to be very evocative, but Katz was achieving the exact opposite in his work with his graphic style.
Favorite subjects to paint…
I love bright billowing dresses, whimsical fashion figures like Elena Perminova and sculptural accessories. I also adore blooming peonies and florals and anything related to desert destinations be it Egypt, Dubai or Morocco. I must have had a past life there. It is one region I could go to again and again and never get tired of.
My preferred medium/tools…
I'm a painter through and through. I love working with colored paper, mixing acrylics, gouache and colored pencil. I also enjoy experimenting with collage.
I'd best describe my style as…
Streamlined eclectic — ha! I love mixing prints and vintage treasures from my travels but still keeping the overall look simple and not too fussy.
The importance of travel in my work…
It is paramount! Travel is the lifeblood of my craft. As my worldview expands, so does my creative potential.
Favorite places in the world to sketch and why…
I love illustrating destinations that have a great combination of old world and new and lots of color and texture. Whether the favelas of Brazil, the souks of Marrakech, Topkapi Palace in Istanbul or the Tsukiji Fish Market in Tokyo, all are packed with loads of history and inspiration. I can use that to tell a story of where a destination is coming from and where it's going to.
My artist packing essentials when traveling…
Tombow markers, colored pencils, red and white acrylic paint, bengal rose gouache, 3/4 angular wash brush and, of course, my sketchbook.
When I get the artist equivalent of writer's block…
I'll book a flight somewhere new if time and money allows. If not, I'll head to the Chelsea galleries in New York, rummage through Pinterest for fashion editorials in exotic destinations or scour through Instagram for some of my favorite fashion heroes like Camille Charriere, Harley Viera-Newton, Natalie Joos or Giovanna Engelbert.
Favorite creatives to follow on Instagram…
Women with a specific point of view who are living life on their own terms like @SaintRecords, @Aureta and @Phamgela.