Pauline Chardin, wearing Tory Sport's performance waffle-knit sweater, seamless racerback bra and cropped leggings, at Lagoa do Fogo
Pauline Chardin, wearing Tory Sport's performance waffle-knit sweater, seamless racerback bra and cropped leggings, at Praia do Areal de Santa Bárbara
Praia do Areal de Santa Bárbara
Miradouro do Monte Santo
Miradouro do Monte Santo
Lagoa de Santiago
Blooms on the west coast of São Miguel
Pauline Chardin, wearing Tory's Hermosa dress and seashore flat sandals, in São Miguel
Pauline Chardin, wearing Tory's Hermosa dress, stone wreath statement drop earrings and seashore flat sandals, in São Miguel
Pauline Chardin, wearing Tory's Hermosa dress, stone wreath statement drop earrings and seashore flat sandals, in São Miguel
Pauline Chardin, wearing Tory's Hermosa dress, in São Miguel
Sete Cidades
​Ponta da Ferraria
Mata-Jardim José do Canto
To live a day in The Voyageur's shoes… Pauline Chardin, who's founder of the travel blog, has taken Tory Daily readers to the most unexpected far-flung locales. Like a contemporary art park in lush Inhotim, Brazil. Or a fantastical, centuries-old fortress in Granada, Spain. This year, she brings us to the Azores islands, west of Portugal. "Halfway between North America and Europe, the Azores archipelago is a story of surprising encounters," says Chardin, who spent a week on São Miguel, the largest and main island. "It's Portuguese culture transported in a subtropical climate, and it's above all an extravagant nature that goes from misty pastures to wild waterfalls and turquoise lakes in an instant."
To call Azores stunning would be an understatement, so we'll let the images speak for themselves. Vacation virtually to this magical wonderland with Chardin's photographs here and, should you find yourself lucky enough to book a trip there, keep reading for her list of what to do and see on São Miguel.

Miradouro do Monte Santo
Beautiful viewpoints called miradouro are everywhere, but climbing up to this one at sunset is a special treat. The colorful church at the top and the 360° view that offers, in one glance, the ocean, the mountains and the village of Água de Pau is really something.
Ribeira do Faial da Terra
​Hiking in the Azores is a must, more so even on São Miguel where most trails are relatively short and easy. One of my favorite paths is the one that leads to the Faial da Terra waterfall and the tiny village of Aldeia do Sanguinho. The mix of lush vegetation and adorable houses is simply enchanting.​
Picnic at ​Miradouro da Ponta da Madrugada ​ ​
​Picnicking here is something of a national​ sport and, with such beautiful landscapes, it would indeed be a crime to eat indoors. On the wilder eastern coast, you'll find a fantastic viewpoint with a terraced garden, basalt tables and ocean as far as the eye can see.
​Queijadas da Vila de Adelino Morgado e Filhas
Portuguese have brought here their love for sweets. For a melt-in-the-mouth treasure, head to this recently renovated cake shop and taste the hundred-year-old recipe perfected by the nuns.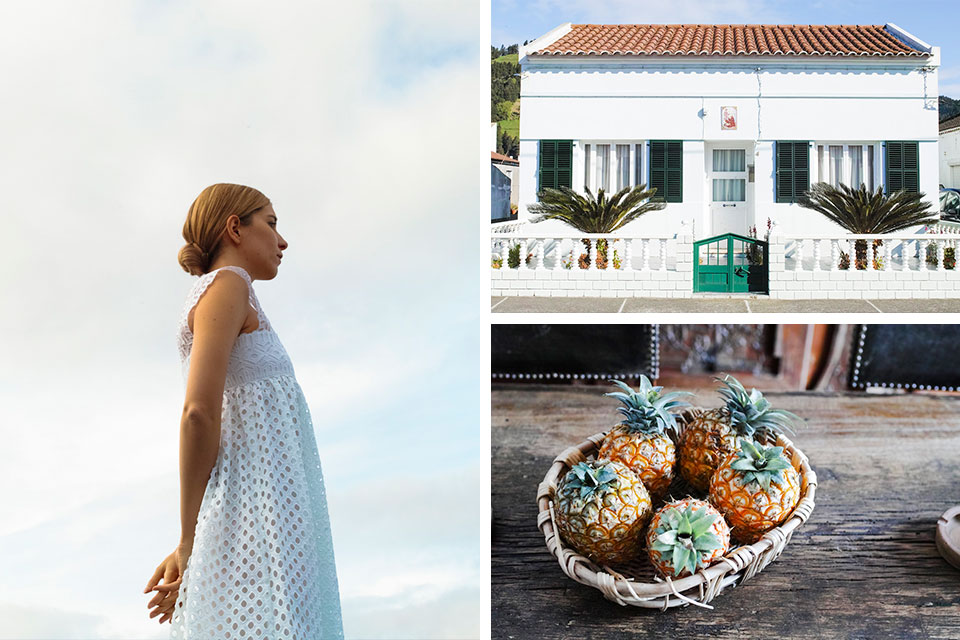 Lagoa do Fogo
São Miguel is famous for the lakes which formed in the crater of its volcanoes. The wildest and maybe most beautiful of them is Lagoa do Fogo. It tends to have its head in the clouds, so check the weather before driving there.
Mata-Jardim José do Canto
​On the shores of Lagoa das Furnas you'll see the entrance of what seems like an unassuming ​garden but turns out to be a real hidden gem. This turn-of-the-century botanical garden has all the romance you can expect from such an old park plus a private path that leads to a waterfall.
​​
Caldeira Velha
Hot springs are one of the island's main attractions. This one has an impossibly luxuriant setting and a coral-colored stone that's out of this world.
Praia do Areal de Santa Bárbara
São Miguel is a great surf spot, and this is where most of it happens. If you don't feel like braving the waves, the sparkling black sand and beautiful view are already very satisfying.
Sete Cidades
This sleepy village on Lagoa Azul is just the right kind of remote. It's a true wonder that living in the caldera of a volcano can feel so serene.
​Ponta da Ferraria
It's on the western part of the island that the traces of volcanic activity are the most obvious. The black rocks of Ponta da Ferraria form natural pools where sea water mix with hot springs.