We went straight to the experts for the inside track on the best Mother's Day blooms. Here, florist Kiana Underwood of San Francisco's Tulipina shares her recommendations on the bouquets of the season, plus her guide for at-home arrangements and navigating flower markets like a pro.
The most popular floral requests I get for Mother's Day…
For non-event work, we offer three different sizes, typically designer's choice. For Mother's Day, I really take advantage of the lush bounty that is spring in California. Poppies, ranunculus, tulips, peonies, and roses in the pastel palette of spring tend to be my go-to, with some bolder pops of color throughout.
If you want to go all out for mom, I recommend…
Peonies and garden roses are definitely the "all out" approach, and with the variety available in spring the possibilities for something amazing are endless.
Of course, you can't go wrong with a classic like…
I love white and cream garden roses and ranunculus for a classic approach to Mother's Day.
An unexpected bouquet for the mother who's seen (and received) it all…
I think that my bouquets/arrangements are a pretty unique experience for most, with asymmetry and color complexity that is almost never seen in typical Mother's Day arrangements.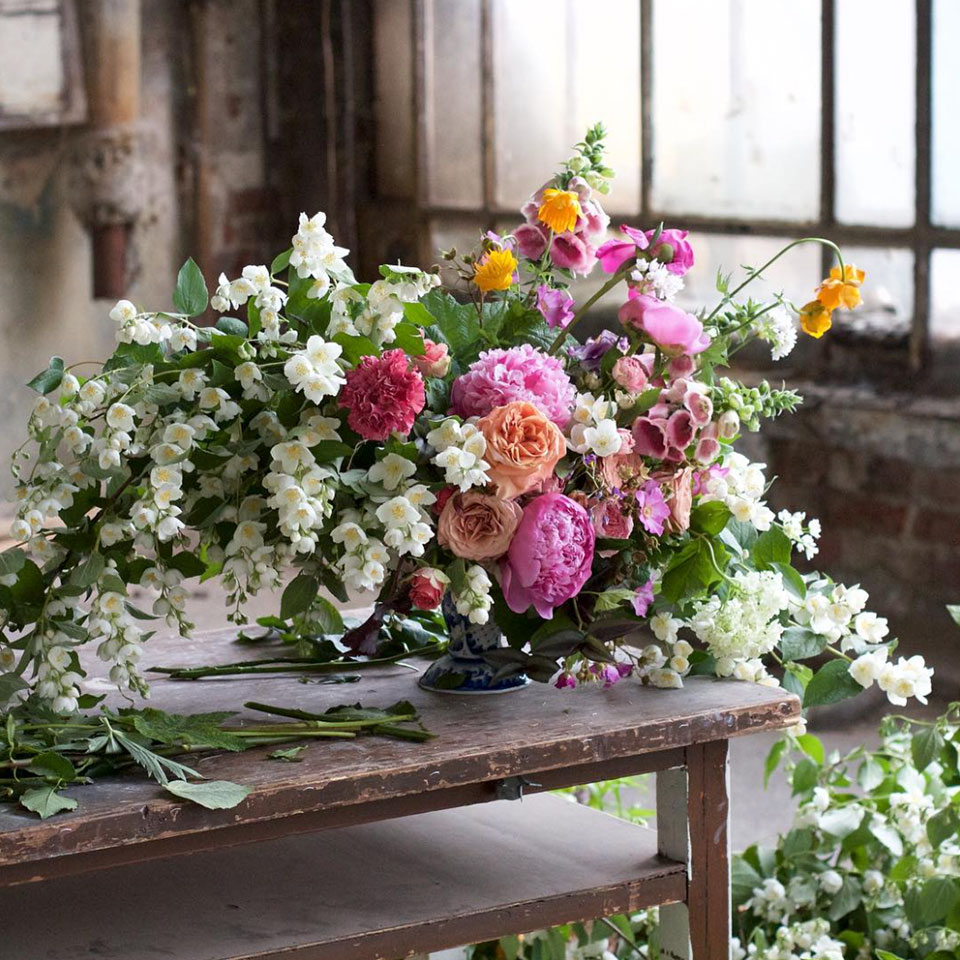 My pro tip for at-home floral arrangements…
Invest is a small cutting garden! It doesn't have to take up much space, but a few garden roses and some unique annuals and perennials will give you quite a lot to work with, and add unique elements alongside store or market-bought flowers. As always, a quick snip and fresh water will keep your cut flowers looking their best until you are ready to use them. Change the water with regularity.
My pro tips for navigating/shopping the flower markets…
From a wholesale perspective, "arrive early" is the mantra for getting the best selection. For markets that are open to the public, survey the entirety of the market before making your selections. Make a note of things that you find interesting, and potentially ask for them to be held while you determine what is available and what you really want to take home. Cut flowers are expensive (for everyone), so to stay within budget, take your time to get the best palette and selection.
Flowers I'm obsessed with right now…
I love gardenias placed in a shallow bowl. They are so delicate and feminine, and the aroma is heavenly.
Favorite bouquet I've received for Mother's Day…
Being a floral designer, not many people give me flowers! That said, I love it when my husband or kids try their hand at arranging for special occasions, and Mother's Day is no exception.