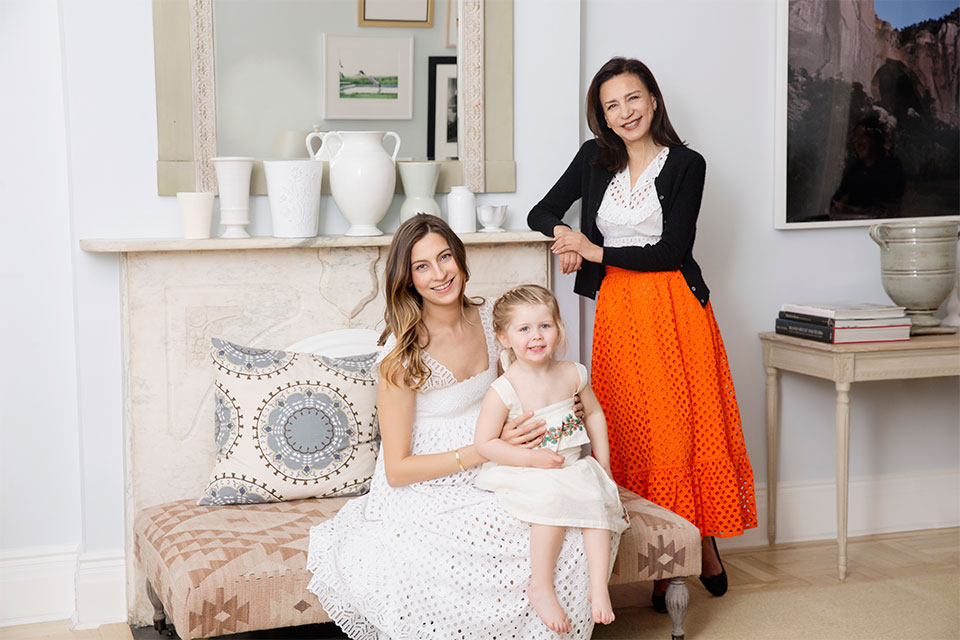 Sylvana Ward Durrett is your typical multi-tasking mom. Well, maybe not so typical. In 2016 she organized the party of the year — the Met Gala — while readying her own company for launch this year. And she got pregnant with her third child. The aforementioned company, Maisonette, an online children's boutique, has taken off, the product of smart editing, beautiful branding and an incredible eye for tot-sized clothes on the part of Durrett and her partner Luisana Mendoza Roccia. Hopefully, it allows Durrett some R&R this Mother's Day as she, her husband and children Gracie and Henry ready for baby #3. Tory Daily caught up with Durrett and her mother, actress Rosanna DeSoto, to talk about memories and motherhood.
SYLVANA WARD DURRETT
Favorite Mother's Day tradition growing up…
We always did IOU's for my mom instead of gifts so we would create a coupon card full of her favorite things like, "This is good for one foot massage" or "We'll make you dinner tonight!" All things we knew she loved!
And now…
My husband and I dress up the kids and take them to brunch — it's either mayhem or it's a total dream. Both scenarios are perfect, especially when the rosé is flowing!
One thing I learned about life when I became a mother…
My perspective on the world changed, the idea that you are responsible for another life and that life is not about you.
Something my mother taught me that I hope I am teaching my kids…
That in life there are good days and bad, and that they are both equally important. You wouldn't appreciate the good ones if you didn't have any bad ones.
A quality I really admire in my mother…
My mother has always been a survivor. She worked incredibly hard to achieve her success in life and she has instilled that work ethic in both my sister and me.
One thing I realized about my mom when I became a mom…
How hard it is to be a mom and to feel like you're doing an OK job at it. You definitely take that for granted as a kid. Parenting seems effortless, but when you become a mother the light bulb goes off!
Best style advice I received from my mom…
Always accentuate the waist line — it elongates the body and is more flattering (harder to do these days at nine months pregnant!) and… never leave the house without some lipstick on!
And best beauty advice…
Don't pick your face, ever. Always wear sunblock. And always travel with lipstick on you.
ROSANNA DESOTO, AKA "NANA"
Favorite Mother's Day tradition…
My 97-year-old mother Manuela Concepcion has never liked the way beauty salons do her hair, nor does she like to go out to dinner. She does love flowers. So traditionally when I'm in San Jose, California, I do her hair, cook linguini al pesto and make a flower arrangement for her. This makes her happy.
The most important thing I learned from my mother…
To nurture and put family first. When I was living in California and my daughters were in town, they gave me beautiful flowers with a loving message attached, and then the family would go out to dinner. Spending time together, always big with me! I recently moved to New York, so I am looking forward to Mother's Day à la East Coast. Exciting! Family, wonderful food and smelling the roses.
From my daughters I have learned…
To cultivate grace in day-to-day life and curb my hyper-vigilance.
My grandchildren are…
Sheer joy to me. Sylvana's Henry and Gracie and Daniela's Rosie, Beatrice and Walter. The best part of being a grandmother is having the best friends you could ever hope to have and learning from them remarkable magical things… They make time stop.