Typical. If there's a word that's kryptonite to mother Leslie Tcheyan and daughters Octavia and Thea Giovannini-Torelli, it's this. The New York trio is fueled by the unconventional, the offbeat, the atypical…. Just take a look at their jewelry collection, Of Rare Origin, which has been making waves across the editorial pages: Playful hand-carved birds perched on swings or housed in delicate 18-karat gold vermeil cages, surrounded by fantastical gemstone flora, tassels and beads. Exhibit B? Their business card, which outlines their titles as "Boss" (Leslie), "Bossier" (Octavia) and "Babe" (Thea). But there's perhaps no greater evidence of how they zig when everyone else zags than an actual in-person meeting. They finish each other's sentences, ping-pong the conversation around, jump to tangents and then another and back. Our Tory Daily interview, ostensibly hinged on Mother's Day, is a colorful riot of thoughts and amusing anecdotes, parts retold in a pitch-perfect mock French accent. Did you hear the one where, on a ski trip, Thea wanted to ride the ski lift alone and Octavia convinced mom she was old enough? "I was five, she was three," deadpans Octavia, A.K.A. Bossier. (Spoiler alert: Thea took a tumble.)
Although launched last year, Of Rare Origin has roots that go back decades, giving the founders a confidence and breadth of expertise over other young labels. And it's all thanks to mom Leslie, a jewelry-industry veteran who worked at Fred Leighton, had a successful packaging business for clients including Bulgari, Sotheby's, Tiffany & Co., and, eventually, entered the manufacturing and sourcing side as a consultant for Verdura. Her avian designs didn't come into the picture till 2015 — but even then they were just prototypes she gifted her daughters, more hobby than an outright concern. Only after seeing the positive reaction they got did she and Octavia, who was doing marketing and communications at Todd Williams Billie Tsien Architects, decide to go into business together; they launched last year. Thea, a former curator for Nancy Rosen Incorporated and Museum of Arts and Design, joined this month. "She's always been involved behind the scenes," adds Leslie of her youngest daughter. "Before, she was called the Ghost CEO. When we signed our names, she would sign with a little ghost emoji."
With Thea officially on board, they're getting ready to turn the page to the next chapter: adding more structure to the company. "Things happened so quickly," says Octavia, running through the list of buzzy retailers who snapped up the line: Moda Operandi, Forty Five Ten, Capitol, Hero Shop. "It was a game of keep-up. There was no time to set organization, protocols, systems. Now, we can start to think about what the future of Of Rare Origin looks like." They're also getting a chance to further refine the contours of their business (read: not familial) relationship, which, as they share in this interview, is key when working with loved ones. "It's hard," admits Leslie. "I've been on my own for 35 years in this industry and, all of a sudden, I have to give up a lot of quick decisions I could make. It's been interesting for me to no longer relate to them as my kids but as my partners."
Not that these shifts will affect the ease and unfiltered rapport with which they interact with one another, in or out of the office. Octavia and her mom drive the conversation forward, Thea's discreet reserve a nice foil to their peppy kinetic energy; the sisters occasionally hold hands in a gesture of support. It's a fun dynamic to behold as they, here, open up about maneuvering the tricky terrain of family-run businesses, share their advice on what works and what doesn't and offer a peek into their very atypical Mother's Day.
The backstory to the name Of Rare Origin…
Octavia: Half of our family is Armenian. Our grandmother had two sisters and, after the war, one moved to London, one moved to Paris and one moved to New York, so we have family scattered all over the world. My husband is Dominican; our father is Italian. So we felt that Of Rare Origin really represented who we are and where we came from. We like to say "Of Rare Origin" for the rare and the original.
And about the avian theme…
Leslie: We have a house in Montauk where we spend tons of time together. Their grandmother, my mother, would always take the leftover crumbs from the breakfast table and put them outside on the deck. The cardinals would come. We used to tease her, "When you die, you're coming back as a bird." When we made these bird earrings, it wasn't with her in mind, but we know she's behind us, we know she's there. And that's why I think they have been so appreciated. They say that cooking has to be made with love; these pieces are made with a real sentiment behind them.
Octavia: We'll start introducing other pieces, but there will always be a whimsicality, a sophistication, an element of color, materiality and handcraftsmanship. There's an antique but modern look. Our designs tap into something your grandmother might have had, but it's fun, it's a statement. The things we're working on, while not birds, have the same essence.
On our mother-daughter relationship…
Leslie: I raised them alone so we've always been a triumvirate, hooked at the hip no matter what.
Octavia: And also our grandmother, Adrienne, my mother's mom — so a quartet, really. It was always the four of us. My friends would joke, "Oh, your grandmother is here, like your purse." Our whole childhood, we were helpers to my mom, even grandma.
Leslie: She was the glorious messenger who would go around the city with things strapped to her.
Thea: When I had play dates with my friends, we would go to her office and my mom would set us up on the floor with a massive stack of receipts. We would do the petty cash.
Leslie: I'd give them a lollipop. Now her friends tease me and say it was child abuse.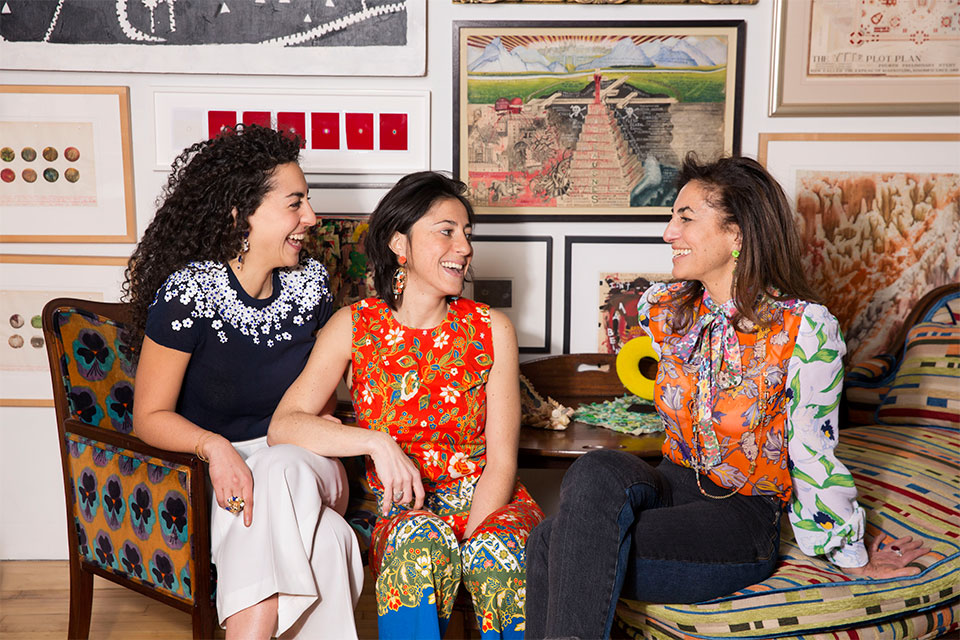 The transition from family to business…
Leslie:
These are my kids, my babies. I get to boss them around and tell them everything. Then, all of a sudden, in a working relationship, it's totally different. I can't boss them around. I can't ask them to do things for me.
Octavia:
You think you know the person and then you completely meet the person in a different, professional setting. For example, my mother is an incredible negotiator. I always knew that but to see that in action….
Most exciting part about owning your own business…
Leslie: Trust is implicit, so it's seamless from that point of view. And responsibility — each one of us has a tremendous sense of responsibility towards the business and towards one another.
Thea: We all know our skills, which doesn't always get recognized in a regular job.
Octavia: There's nothing false — none of us are afraid to speak up. We can completely be ourselves. Also, the fact that you can shape this with the people you love. The architects I worked for — they're a couple and run their firm together and I always admired this life they created for themselves.
And the biggest challenge…
Leslie: Not bringing in too much of our personal relationships and keeping it professional. When we disagree, we don't know how to resolve things without getting angry with one another.
Octavia: It's hard to keep emotion out of it. With another employer, you would have certain boundaries.
Leslie: It's been an adjustment for me to remove my role of the mother in the professional space and know I'm a mother outside of the office. Here, we're three professionals.
The secret to working with family…
Thea: Do your best to not see your family in the familiar roles that they play.
Octavia: Not typecasting.
Leslie: In a family, your roles are defined — you're the oldest or the middle child or the youngest, whatever. Don't carry those roles with you and know that you're all equals. And really treat one another with respect. Being a family, sometimes you take certain things for granted. You should never take anything for granted.
Octavia: And going along with that — make sure you are listening and hearing everyone's perspective. It's easy to jump to conclusions and think you know what someone will think. Make sure you're honoring what they're bringing to the table and, then, collectively make a decision. One thing we've heard from other people is that defining roles is really important — we're still figuring that out.
Our Mother's Day traditions…
Leslie: Arguments. Getting angry with each other. [Laughs]
Thea: Mom playing hard to get. Telling us she has other plans and then she calls us that morning: "What are you guys doing?"
Octavia: This year, I asked, "What are you doing for Mother's Day?" She said, "Oh, I'm not sure. We might have plans to be in Venice."
Leslie: I did!
Octavia: She cancelled her trip so we might get to hang with mom. But we're always together; we always spend a lot of time together. I would say we don't have traditions.
Leslie: Sometimes they'll organize a killer workout class or we'll go on bike rides. It's not just going to a restaurant and having lunch.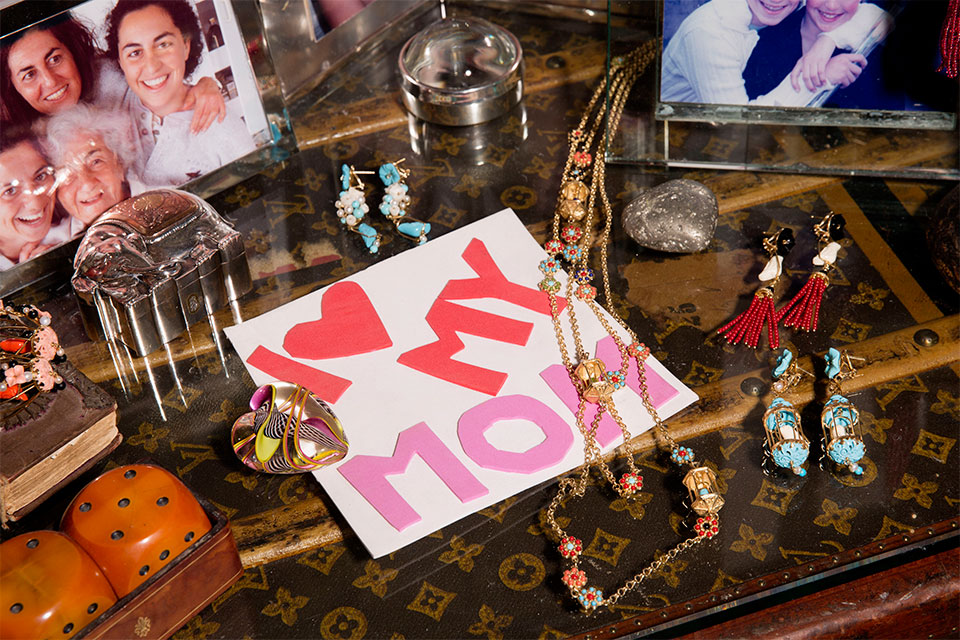 Greatest lesson learned from mom…
Octavia: We never had a formal relationship, so mom has never sat us down and given us lessons. But she's really led by example. What I see in my mom that has the biggest impact on me is her resourcefulness, adaptability and creativity. And trusting herself. Just trust your instincts. Being different and marching to the beat of your own drum is OK.
Thea: This one comes from grandma. She would always say that birds have to fly away. As in, be free to be unique, be free to be your own person, explore, travel…
Leslie: When they were in high school, I got them each a round-trip ticket to Cambodia: "You guys are going on your own!" I remember Thea just looking at me: "Mom…" I was, like, no, no, this is going to be incredible, you'll remember it for the rest of your lives. Off they went. I gave them practically no money, no reservations anywhere… They found everything on their own. They ended up working at an orphanage.
Octavia: This reminds me… One piece of advice that mom has given us is that it never hurts to ask. The worst answer you can get is no. I think that's such a healthy perspective — not to be scared to ask.
Greatest lesson learned from my daughters…
Leslie: What love is, really. Whatever happens, the love never changes.
How mom has encouraged us to embrace ambition…
Octavia: I felt like she bred us to embrace ambition. She never wanted us to be scared. It's part of never being afraid to ask for help.
Thea: Mom did a really good job of seeing our differences. Octavia was really athletic, on every sports team, a straight-A student… I wasn't like that and mom focused me more on playing guitar and being artistic. She made clear that nothing was too small.
Leslie: The beauty is in recognizing the beautiful differences that people have and encouraging those qualities.
A typical family dinner involves…
Thea: Typical? There is no such thing as typical. That doesn't exist in our home. Family dinners involve a lot of yelling. A lot of loud interrupting. A complete open-door policy. People coming in and out. Lots of mom embarrassing us by being so loud.
Octavia: My mom would even invite the interns from the architecture firm over for Thanksgiving. It would get on our nerves half the time. We'd be like, why can't we just have dinner alone with you? But we were really lucky to grow up in this environment.