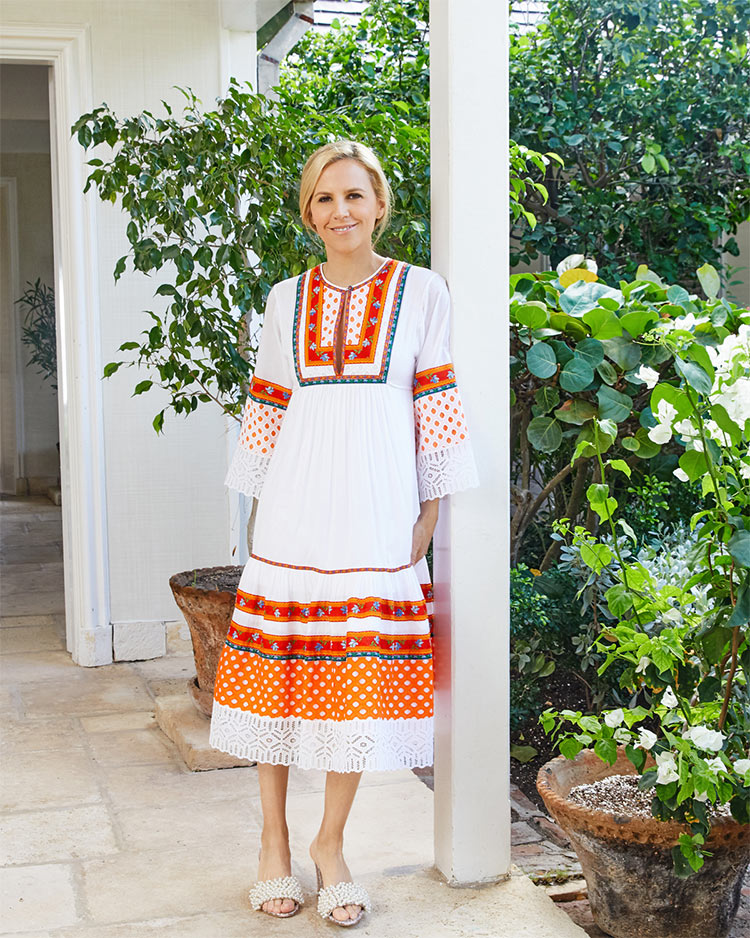 Wearing the Annalise peasant dress and Tatiana sandal, Tory talks to us about the new summer collection, inspired by the West Coast.
If the first part of the season was East Coast hostess chic, what does the current West Coast look channel?
We captured the more casual, bohemian vibe of the West Coast, of beach living. It embodies the ease of dressing. There's a touch of the Seventies hippie surfer in there. Even the colors — tangerines and orange-crush shades set against blue — speak to Malibu sunsets.
Which are your favorite pieces?
All of it! The collection really lends itself to tunics and breezy caftan-like dresses with great embroidered and patchworked details, like the Annalise peasant dress I'm wearing in this picture. Perfect for summer weather. Another favorite is the Shasta dress; it has loose ties on the shoulder that create the illusion that it's slipping off the shoulder. I like to wear it with flats for a more laid-back look. And we had fun bringing in surf culture — pairing effortless silhouettes like board shorts with silk shirts.
What do the accessories look like?
There are a lot of artisanal touches. I'm a big fan of Alexander Calder's work so, for instance, there's a brass wishbone suspended in the middle of a leather-wrapped hoop earring with beads and feathers. A nod to both Calder and music festivals. We needlepointed our Sawyer bag (named after my youngest son) with big, bold florals. Florals and fringe carry over to the Huntington booties that were worn on the runway. The Huntington is our version of the elevated festival moccasin.