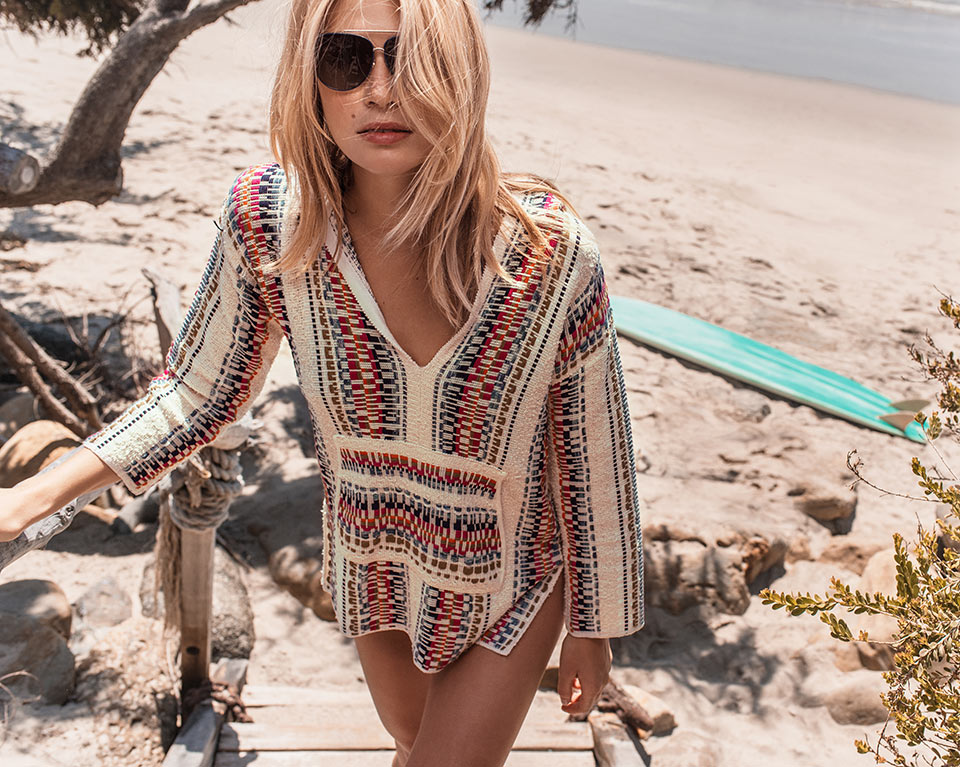 Get to know model Annie McGinty, a California girl through and through (well, by way of her native Ohio). On her recent shoot with Margaret Zhang, we spent some time with the chic Los Angeleno, here wearing Tory's Bolinas baja tunic.
I love a great tunic because…
It's the perfect piece for a hot summer day on the beach that you can get oily, get wet, then throw it back on and go to the market.
My tip to styling a tunic…
Throw on a simple long necklace and some cute gladiator sandals and you're good to go.
And my tip to make a splash with your summer style…
Be colorful! Nothing looks better against your tan summer skin than bold bright colors. Own your style.
My summer getaway…
Baja, Mexico.
And what I love to do there…
Relax by the long empty beaches with a margarita, eat the best fish tacos, surf, tan, sleep, repeat.
My favorite beach destination…
I love Jamaica — the culture is amazing. Besides being in love with the clean ocean and beaches, I love the people and the food!
Favorite beach read…
If I'm at the beach I just enjoy the sounds of the ocean and the sunshine! I save my novels for plane rides. ;)
And beach eats…
I love a big bowl of refreshing fruit.
My summer playlist includes…
I listen to a music station called Reverberation Radio. They're my friends who make the best playlist every week of music you've probably never heard of. Listen and, trust me, it's so good.
My bohemian icon…
Brigitte Bardot — she's an effortless babe.