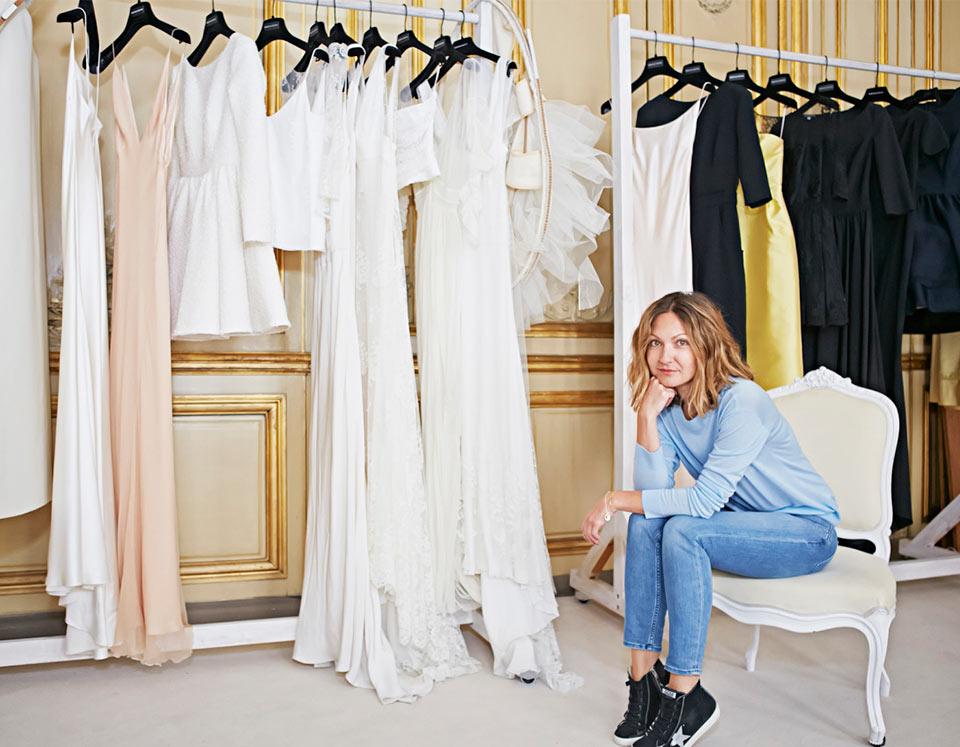 With the summer wedding season underway, Tory Daily spoke to Paris bridal designer Delphine Manivet, who's known for capturing a certain modern elegance in her collection. Here, we talked about all things nuptial, from memorable wedding dresses and weddings to her own career and the advice she shares with clients on picking the perfect gown.
The story behind the launch of my collection…
It was very selfish, really. I was looking for my own wedding dress and couldn't find one I liked. This was more than 10 years ago and, in France, the bridal proposals were quite traditional. I was a designer for Rochas and decided to design my own. Then I designed dresses for my friends, the press supported me and that's how I began. I wasn't dreaming about designing bridal at all while I was at school. But once I started, I wanted to help other women like me find something really pretty.
My design style is…
There's something very free about my dresses. It's hard for a designer to describe herself, but people say my designs are a mix of bohemian couture as well as trendy and traditional. The truth is that I'm not searching to do something trendy at all; it just appears like that, I guess. My goal is to make something modern and beautiful.
A wedding dress should…
Announce who you are. Don't try to become someone you're not. Nowadays, when you get married, it's not about a new life — it's the continuity of your life. You don't suddenly become a new woman. My work is to help women show who they are and feel more confident and special on their wedding day.
The difference between designing bridal vs. non-bridal…
You know, there's something very similar with bridal and red carpet. The event lasts for a few hours but will live forever in pictures. The only difference is that a wedding dress will be passed down and has to transmit something to the bride's future children or grandchildren. So the designer of a wedding dress has the responsibility to tell the story of the woman behind it.
My tips when choosing a dress…
I'm not one for codes — like, you're tall so you have to choose a dress like this and so on. It has to be about emotion, your heart. I know this may sound weird, but I generally tell my brides to meditate a little and think about what's happening in her life and what she wants to be. You shouldn't choose a dress because you saw someone in that style, who looked pretty, and you want to copy that; it has to be more intimate and organic. My advice is to ask yourself, What's the story you want to tell about you?
And tips on choosing the right foundation garments…
The underwear you wear for your wedding needs to be incredible simple and comfy. And it's important to choose the right nude color. Not a lot of women know that there are multiple nudes — choose the one closest to your skin. If a nude is too faint or too strong, it can be even more visible than white or black. The pretty underwear with lace and everything? Forget that. Leave that for the honeymoon.
Favorite wedding dress ever…
Carolyn Bessette-Kennedy's wedding dress. It was the first dress I had seen that was so perfect and so elegant — a simple slip, worn with very simple makeup and hair. It said, "Look, this is who I am." Even if you didn't know her — and I didn't — you could discover her and understand her through that dress. When I saw the photos, it was obvious to me why that was her dress. It's still my favorite one.
And my own personal wedding dress was…
A patchwork of vintage lace. I've always loved vintage laces. I was seven when I discovered my first piece — I was with my mom in the market — and thought it was the most beautiful thing I ever saw. So I knew I wanted a lace dress. Unfortunately, at that point, I didn't have access to lacemakers so I used laces I had been collecting to make my dress.
The most memorable wedding I've ever been to…
Was for my friend Céline Bosquet to French producer Thomas Langmann. It was at my favorite place ever, Domaine de Murtoli, in Corsica. It's not a typical wedding venue, which made it more special because she made it her own. There were a lot of people from the cinema world; I think I knew just 10 percent of the guests. But what was incredible was that, after 10 seconds, I felt like I was a part of it. They made sure everyone felt happy.