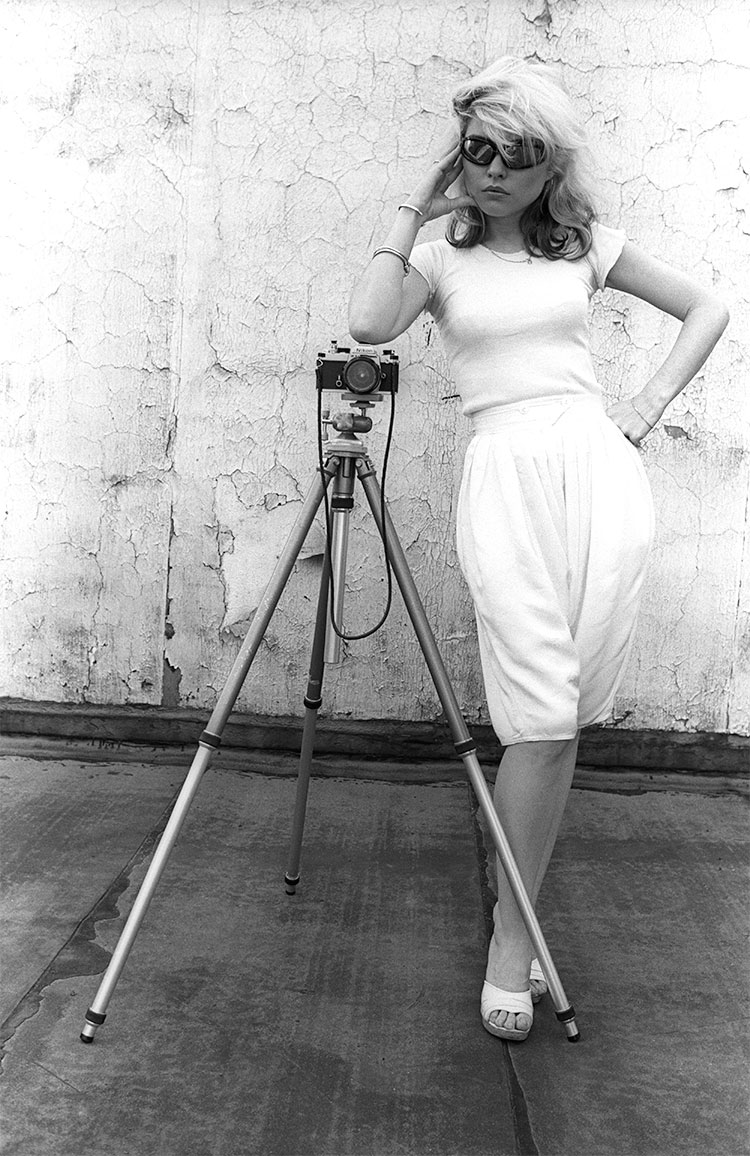 Debbie Harry's latest album, Pollinator, is every pun-loving journalist's dream. "Debbie's Queen Bee" wrote the Daily Record. "Buzz Me" declared ABC News Radio. When she wore a black-and-yellow bumblebee-theme headpiece to a London concert last month, the Daily Mirror exclaimed: "Honey, she knows how to create a buzz," under the headline "Putting the Bee in Blondie." And let's not forget this one, from the same publication: "She really is the bee's knees."
There's an added layer to this all, however, beyond the new LP (the eleventh under her band Blondie), and it's one with a feel-good element at its heart: Harry is on a mission to draw attention to the declining bee population. Really. The singer has revealed she's training to become a professional beekeeper and even launched her own campaign BEE Connected, in collaboration with Pollinator Partnership, Friends of the Earth and Greenpeace, to raise awareness of the plight and its importance — bees are integral to our ecosystem. She's also taken to performing in a slogan dress that announces "Stop F****** the Planet" — the non-asterisked version, of course.
Fearless, defiant and strong, Harry has never been afraid to speak her mind — and we love her for it. So in honor of that rebel spirit, as our 2017 Music Issue continues, we've compiled some of our favorite quotes of hers through the years. Keep reading and — ahem — bee inspired.
On Her Legacy
"On my humble side, I feel like I'm an idea whose time had come, that it was inevitable. On my egotistical side, I know how stubborn and how committed I was to presenting an image — because I come from a time when women were less outspoken, and they had to follow along and not be as individual." — Harper's Bazaar, September 2011
On Being Blonde
"The blonde symbol has always been a fascination of mine. I dyed my hair long before Blondie, I guess because I think it combines the diametrically opposed forces of innocence and sexuality. It's very electric and exciting to people — it's the halo thing, this glowing white head. Ever since I was a little girl I used to watch old actresses not just Marilyn Monroe, although I think she is brilliant, but Marlene Dietrich and Carole Lombard. They all had that wildly innocent but wildly sexual appeal and I thought it was just fabulous. I have always wanted to be a performer, period, and not just a singer." — The Sunday Times, October 8 1989, Sunday
On Stardom
"Big as we were, sometimes I am completely miserable about not becoming a giant megastar, like Beyoncé or someone. I tell myself my little art pretensions held me back, kept me at a certain level, like a cult figure, and how truly awful that is. Then I see myself in the mirror and just laugh because that stuff is just stupid, you know?" — New York Magazine, August 29, 2011
On Her Left Brain
"I always approach everything from a sales point of view because my father was a salesperson. It was a direct, obvious choice to play along with a very American image which was already implanted in everybody's mind. Sex sells." — Newsweek, August 24, 1981
On Nostalgia
"I don't like nostalgia. It doesn't appeal to me. I understand why people want to see bands they grew up with. Hearing the old songs allows them to relive a little. But our lives have always been centered around music. Thinking about the old songs doesn't do much for your creative mind. We always want to keep moving ahead." — Gulf Times, May 22, 2017
On Change
"Things are always changing. What at one time is considered daring and revolutionary or counterculture is automatically consumed and digested and spat back out. You can talk to me. I've been spat back out." — The Dallas Morning News, June 1, 1994
On What Drives her Forward
"I have a terrible ego problem! Let's face it: it's spirit and ego, ego and spirit! I'm not afraid of it any more, but I used to think how awful it was to have this ego thing. Actually, it's a good thing to have as long as you take care of it; as long as you know how to manage it and not be an asshole. Seriously, ego's got to be part of it. I'm absolutely certain that the love that comes back at you from an audience is one of the things that keeps you going — totally. But you can always play music, irrespective of your age or the size of your audience. So, ten people might show up, but… I could put together a combo and play in a small club and be very happy with that. Really, I could." — Time Out, July 18, 2007
On Being an Icon
"The word 'iconic' is used too frequently — an icon is a statue carved in wood. It was shocking at first, when I got that reference. It was a responsibility, and it's impossible to live up to — you're supposed to be dead, for one thing." — Birmingham Post, June 18, 2015
On Vino
"I was at a festival in Europe once, and the promoter brought out some Chardonnay. It was so unbelievable. I probably would have slept with it if it had been a person." — Bon Appetit, April 2017