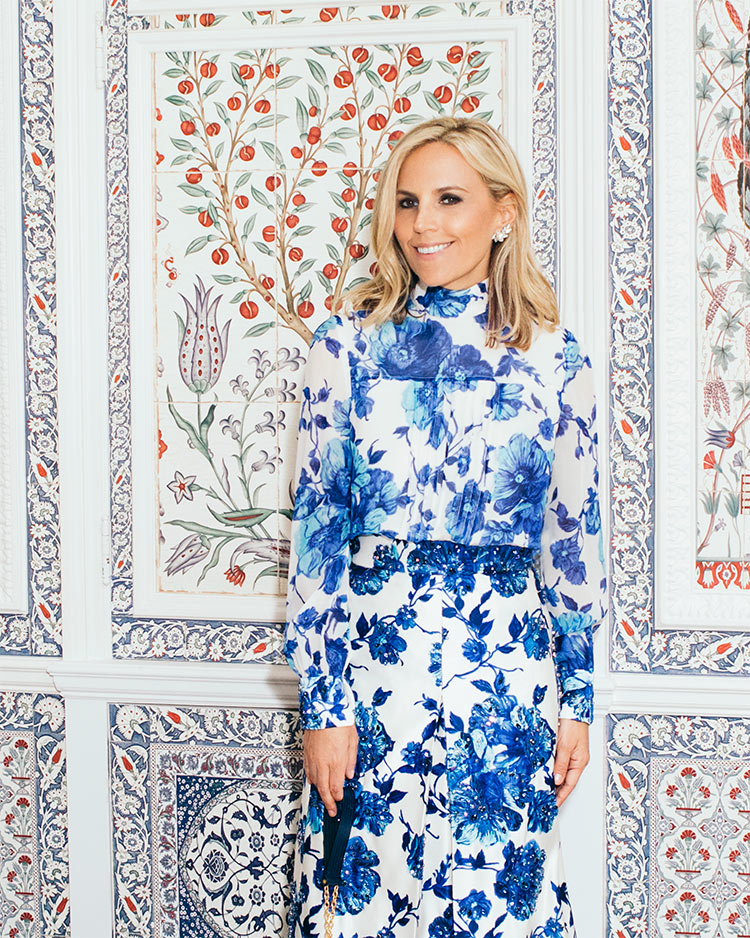 Wearing the new Rosemont floral print, Tory opens up about the season and its inspirations.
What inspired Fall/Winter 2017?
Fall 2017 started with The Philadelphia Story, a film I used to watch with my parents growing up — I love the fearlessness and irreverence of Katharine Hepburn's character. The collection also touches on on the familiar style of my own roots in Philadelphia.
How do these ideas translate to clothes?
There is a lot of play between masculine-feminine: bow blouses with menswear-inspired pants and sporty bomber jackets with pleated skirts. That came from Katharine Hepburn — even though she was tomboy, she was always sharply dressed — and my own childhood, growing up on a farm in Valley Forge, outside of Philadelphia. My parents, Buddy and Reva, were also an incredible inspiration. They got me thinking about this idea of outdoor glamour…
What is "outdoor glamour"?
We would be on the farm and my dad would get on a tractor and be perfectly dressed in a pink shirt and khakis. My mom would be in her garden for six hours a day and then she'd come in and throw on a lamé shirt and pants and just look effortless and glamorous. I wanted to recreate that in this collection. So we did familiar, nostalgic shapes, whether it's a corduroy pant or a Fair Isle sweater, and played with them in a modern way. We took a barn jacket and added a bit of patent and corduroy detailing.
Do you have a favorite print?
There's a chintz-inspired floral in classic blue and white — one of my favorite color combinations. It's what I'm wearing here with our Lili blouse and Kara skirt.