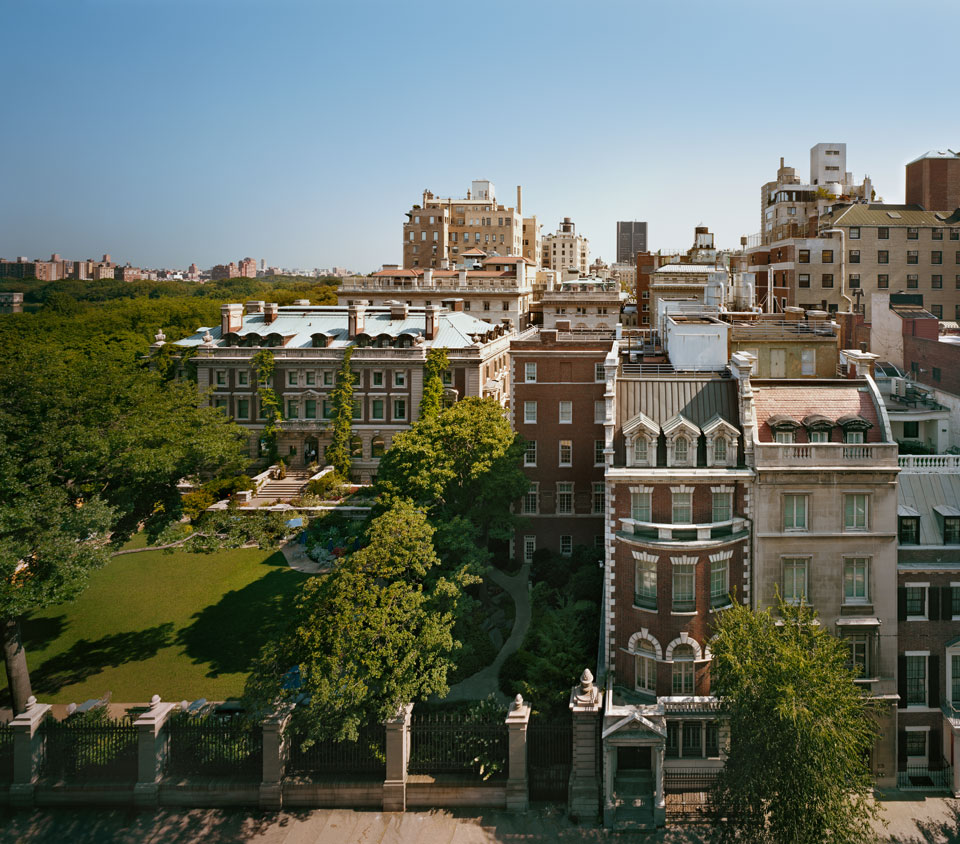 Fingers crossed for a rain-free Friday because Tory is taking her Spring/Summer 2018 runway outdoors. The show is taking place on the garden grounds of New York's Cooper Hewitt, Smithsonian Design Museum. Check back post-show to discover how we transform the space, but, in the meantime, here's a primer on that design lover's destination… 
The Stats
Located on the north end of Museum Mile, Cooper Hewitt takes up a whole block on Fifth Avenue (between East 90th and East 91st Streets) and was the first Smithsonian site outside of Washington, D.C. Its focus: design, design, design, which is as broad a category as you might imagine. The museum, which was founded in 1897, showcases everything from textiles and wallpaper to graphic and product design to, as one 1998 exhibit highlighted, the history of water fountains. 
The Backstory
Cooper Hewitt is the brainchild of Sarah and Eleanor Hewitt, the granddaughters of industrialist Peter Cooper, who founded Cooper Union college in downtown Manhattan. (Their father was no slouch, either; Abram S. Hewitt was the mayor of New York City at the time and, previously, a U.S. Congressman.) The sisters conceived the museum as "a practical working laboratory" where students and designers could go to interact with and find inspiration in actual design objects. Inspired by Paris' Musee des Arts Decoratifs, they launched the museum with an array of goods — pottery, woodwork, buttons, birdcages — many from their own personal collections; the substantial lace offerings came from their mom, Sarah Amelia Hewitt. Today, the museum boasts a collection of more than 210,000 objects spanning 30 centuries.
Living in an Uptown World
The museum was originally housed on the fourth floor of Cooper Union, until the two institutions split in the early Sixties. When the Smithsonian took over later that decade, it moved things up to Andrew Carnegie Mansion, where Cooper Hewitt has been ever since. Among the residence's historical claims to fame: It was the first private home in the U.S. to have a structural steel frame — Carnegie was a steel baron, after all.
Tech Message 
The museum has had numerous illustrious directors, but only one can claim to have invented the laptop computer. That would be Bill Moggridge, who headed the institution from 2010 till his death in 2012 and also coined the term "interaction design." Also noteworthy, especially for us here at Tory Daily (#EmbraceAmbition!) is Cooper Hewitt's long heritage of female leadership, with a combined total of nearly 80 years of women directors: Lisa Taylor, 1969–87; Dianne Pilgrim, 1988–2000; Caroline Bauman, 2013–present. During the museum's recent transformative renovation, Baumann oversaw a digital initiative, integrating many high-tech innovations to the visitor experience when the museum reopened in 2014. Which brings us to the next point… 
Back to the Future
On the outside, Cooper Hewitt exudes a Gilded Age grandeur with its rococo columns and Georgian-style architecture. But step inside this National Historic Landmark and you'll find a place that glances as much to the future as it does to the past. Few museums incorporate that word "interaction" into their DNA quite like this one. Case in point: Not only is there an "Immersion Room" where you can view an extensive wallpaper archive — we're partial to the decorative damask that uses urban motifs — but you can also draw your own wall design and see it come to life, digitally, in front of you. Doodle on one of the large touch-screen tables, meanwhile, and they'll reveal objects in the collection that match — an Art Nouveau vase for your sinuous squiggle, for instance. We also love "The Pen," which allows you to save objects you see during your visit, as well as anything you've designed on the tables, to your own page on the museum's website. Every visitor, upon entering, is handed one. Trust us, you'll fall for it, too, and wish every institution had one.
Curiouser & Curiouser 
If you like to be surprised and delighted, Cooper Hewitt is for you. Its exhibits have featured coolly designed matchbooks and lighters, exquisite porcelain finds and fine cutlery, a Rolls-Royce donated by John Lennon and Yoko Ono, a robot recreating visitor's portraits in sand ("the sand selfie")…. Swing by this fall and you can take in an impressive display of 18th-century ceramics from Moustiers-Sainte-Marie, France; Making/Breaking, an exhibit spotlighting recent acquisitions such as a free-form chair by Joseph Walsh and LED wallpaper; and, opening on September 27th, the first major U.S. exhibition of renegade Dutch designer Joris Laarman, who pushes the possibilities of design through digital and robotic technologies. The connective tissue throughout: celebrating beautiful functional objects.