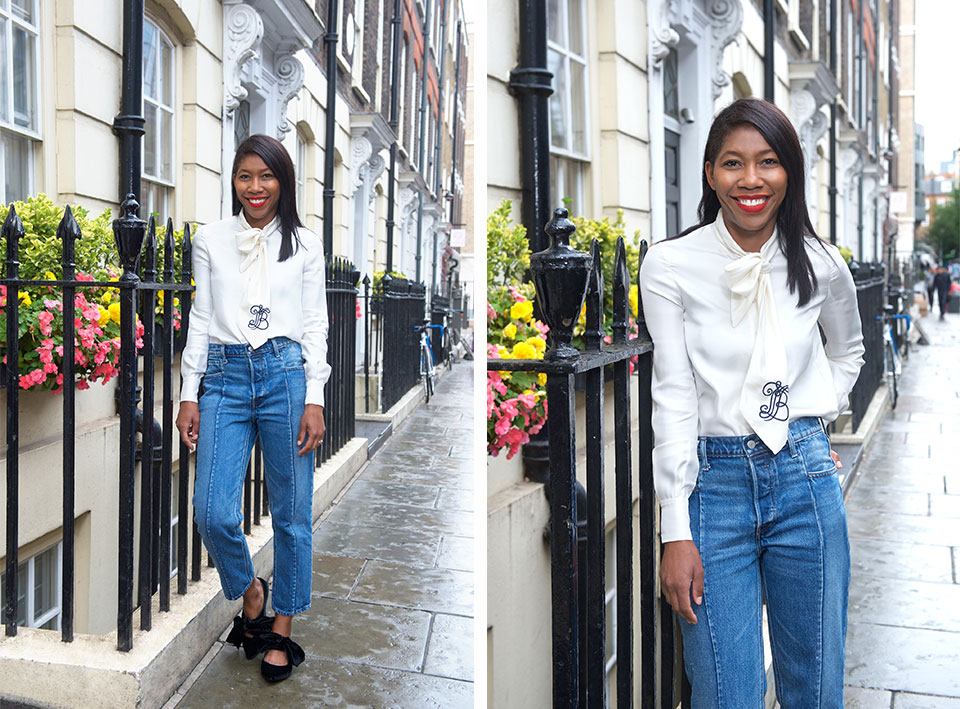 Kenya Hunt
is a familiar fashion face on both sides of the Atlantic. Currently the Fashion Features Director at
ELLE UK
, she started out in New York, at the pioneering
Jane Magazine
before compiling an impressive roster of credits in
Vogue
,
Marie Claire
,
InStyle
,
The Guardian
,
The Evening Standard
… Here, wearing Tory's
Jessica bow blouse
, the London-based American opens up about her early days attending the shows, her fashion-week routine and the allure of each fashion capital. One guess as to which is best for carb-loading?
The first fashion show I ever attended…
The Betsey Johnson show during New York Fashion Week. I was a wide-eyed junior staffer at Jane Magazine and one of the senior team members gave me her ticket. More than the clothes, I just remember how theatrical the whole experience was: the parade of peacocks hanging out in the lobby at the Bryant Park Tents, the door drama as people with standing tickets tried to hustle their way in early to steal seats, the scrum of photographers trying to shoot whomever was sitting front row. It was a lot of things! And fashion week pretty much still is lol.
And my favorite fashion week memory…
Seeing Alexander McQueen's final show, Plato's Atlantis in Paris. At the time, it felt like such a victory to get a seat at his show, which was one of the hottest tickets in Paris. And the show itself felt so revolutionary at the time, with his being the first to live stream (and crashing the ShowStudio server in the process) and debuting Lady Gaga's "Bad Romance." It felt like this bigger pop cultural moment that went beyond fashion. Though the fashion was also incredible: the Armadillo shoes! And the set — he had transformed an arena into this surreal, space-age alternate universe. It was this completely immersive experience. And when he sadly passed away months later, I felt all the more grateful to have witnessed it
My fashion week essentials…
Tic Tac mints, Rosebud lip salve, Klorane dry shampoo and a Mophie charger.
Between shows, I'll be…
In re-sees, meetings or a patisserie having a tea and a gossip with my editor-in-chief and show-season mate, Anne-Marie Curtis.
Required reading for the week…
I'm an omnivore, so I usually have to cut down my daily reads during shows because I'm doing so much writing myself. I usually start my day by waking up super early and writing up my coverage. Afterward, I'll quickly skim through the NYT, Guardian, BoF, WWD, and our own site ELLEUK.COM.
Favorite fashion Instagrams to follow…
Sidney Prawatyotin's @siduations is always good for a show season giggle.
Favorite part about NYFW…
Seeing my friends and family! I lived in NY for years before moving to London so traveling back for NYFW always feels like going home.
And LFW…
Being able to sleep in my own bed!
And MFW…
The gelato, pizza and pasta, basically the carb-loading!
And PFW…
The visual stimulation, both on the runways and off. This is always the point during the show season when I feel most inspired.
And when it's all done, I'll unwind with…
A deep tissue massage, Netflix binge and very long sleep (in that order).