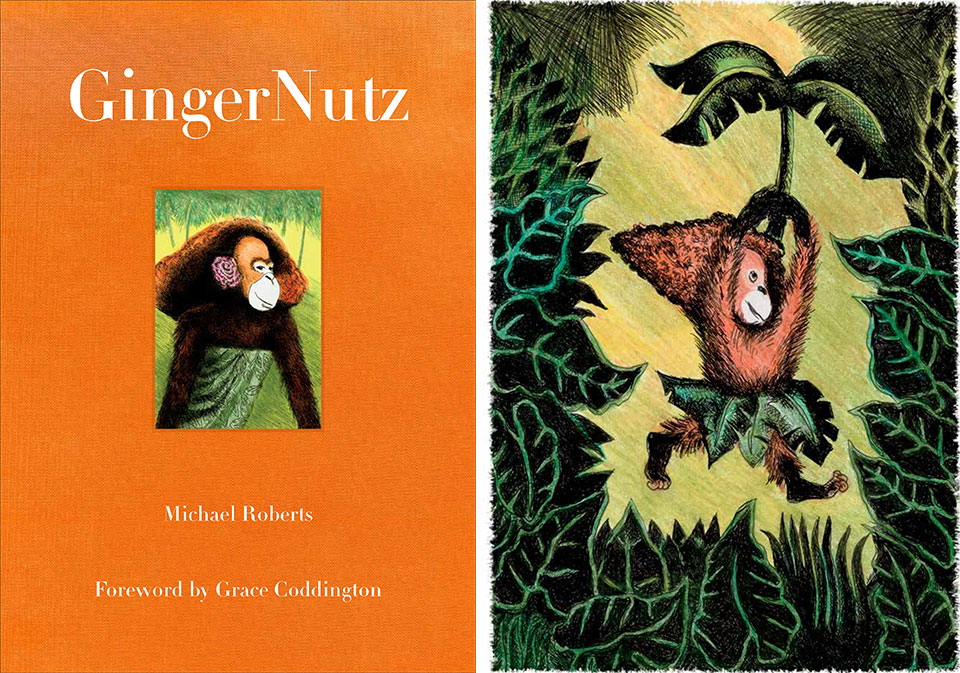 Yves Saint Laurent and Loulou de la Falaise. Kirsten Dunst and the Rodarte sisters. Carine Roitfeld and Riccardo Tisci. Close friendships in fashion often result in some wondrously creative endeavors, and the latest entry into this hall of fame is no different:
GingerNutz
, an illustrated fictional memoir by Michael Roberts inspired by Grace Coddington.
On their own, the two are legendary. Roberts previously served as fashion director for both Vanity Fair and the New Yorker, with several books under his belt. Coddington was Vogue's longtime creative director (not to mention the scene stealer of the 2009 doc, The September Issue). Their relationship goes beyond the professional; the pair have been good friends for decades. When Coddington released her memoirs in 2012, she did so with a little writerly help from pal Roberts. You could consider GingerNutz a collaborative follow up. Sort of.
GingerNutz tells the tale of a wild orangutan who, after discovering a rolled-up copy of Vogue in a glass bottle that washes up on the shore, decides she wants to become a fashion model. Her tale tracks Coddington's own — except instead of a small island in Wales, GingerNutz grows up in the jungles of Borneo. Both are flame-haired. Both are scouted and signed by a modeling agency. Both become famous editors, working in close proximity to Anna Wintour. "When a photographer friend of mine raved about her not long ago, I thought, 'Wow, she sounds a lot like me!'" quips Coddington in the foreword.
GingerNutz is a delight — we're talking both the fashion-loving orangutan and the book itself. Roberts' illustrations are colorful, warm and charming — eagle-eyed fashionistas will recognize his takes on some of Coddington's famous portraits. He drops fun details like an orangutan design duo named Disco and Grubbana and parties at The Met (that's short for Monkeys' Exclusive Teaparty). And the facial expressions he gives these creatures are priceless, to say nothing of the text. "She would be acclaimed for her ability to find her way to the end of a catwalk and back without falling off," writes Roberts. "And during interviews, she would learn to repeat in a world-weary voice, 'I never get out of bed for less than 10 mealy worms a day!'"