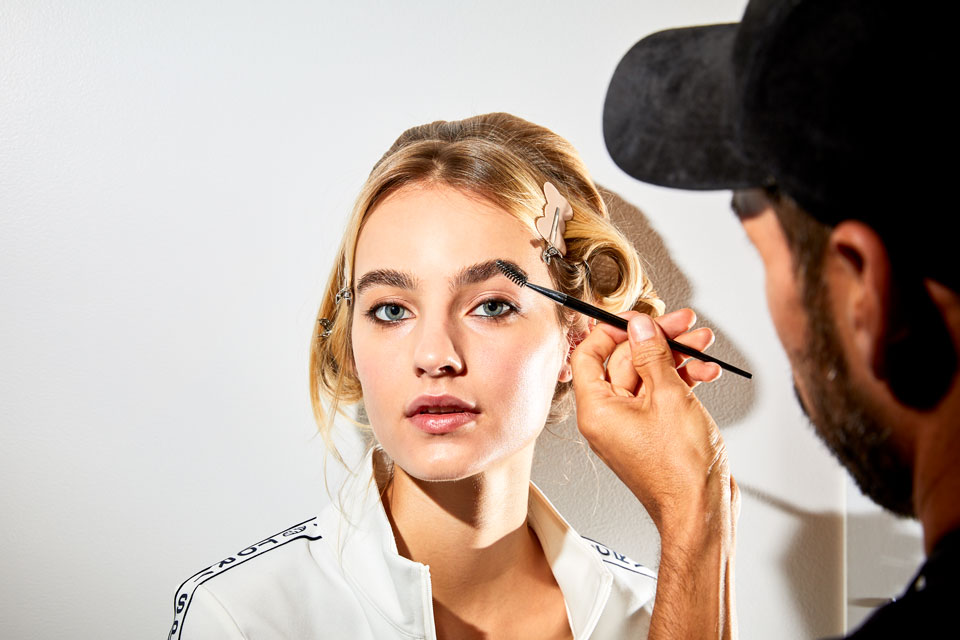 Want to recreate the au naturel look of the beauties on Tory's Spring/Summer 2018 runway? We spoke to the experts before the show to get the scoop.
The Inspiration
David Hicks was the springboard for the season, which you can see in the collection. In contrast, we wanted to keep the girls looking very fresh and modern; we didn't want them to look retro in any way.
The Look
Gorgeous, beautiful, elegant…
The Skin
Tone the skin to prep and then add concealer for any spots or blemishes. Apply a light-coverage foundation and then just powder down the T-zone.
The Eyes
Line the eyes on the inside, both underneath and on top, with a coffee-colored pencil. Afterwards, using a brush, soften slightly, blending and extending out. Apply mascara on the top of the lashes. It's a soft smokey eye.
The Cheeks
Apply a soft blush on the apple of the cheek.
The Lip
Use a round, fat pencil in nude, with a slight pink tint. Then pat the lips gently with your finger. The nude color takes the lips down a little. The look is very subtle and gives a hint of the Sixties.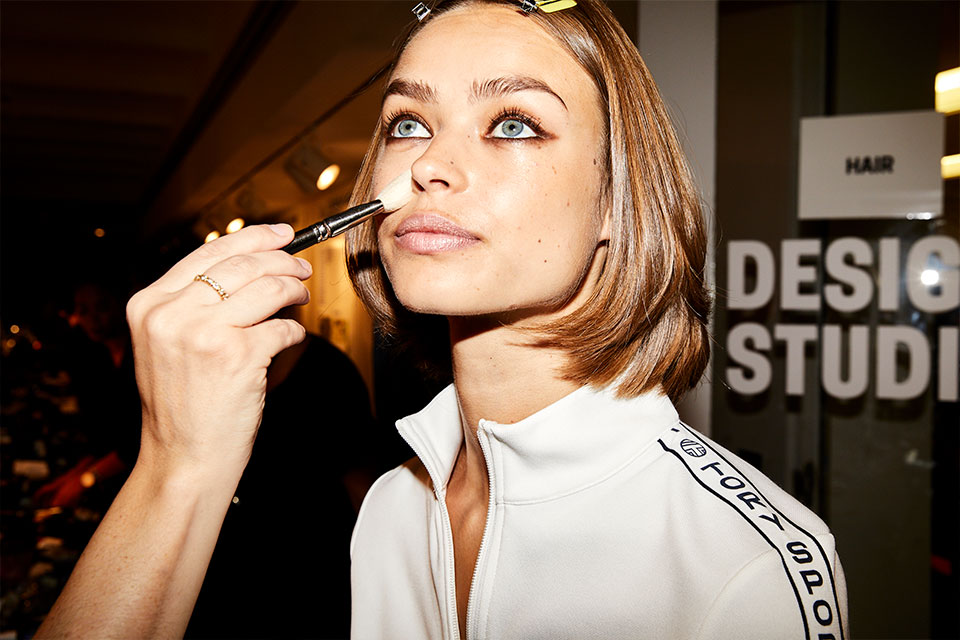 HAIR
Guido Palau for Redken
The Inspiration
We thought about the collection and the fact that the models are walking in a garden for the show — there's a lot going on — so we wanted the hair to be really simple.
The Look
Very Tory. Very easy. Very American. We did a simple blow dry to smooth the hair.
Prep
Wash your hair with Redken Diamond Oil Glow Dry Gloss Shampoo and Redken Diamond Oil Glow Dry Detangling Conditioner.
The Steps
After shampooing, create a clean center part with your fingers. Then apply a bit of Redken Satinwear 04 to the still-damp hair, section by section, to protect the hair and give it a soft hold. Using a round brush, blow dry hair in two- to three-inch sections. Leave one section on the top and blow dry vertically for a touch of volume. For body, set hair in pins for 20 minutes to cool. Once cooled, remove the hairpins and use your fingers to separate and to soften the look to obtain a bend at the end, but not a curl. Finally, tuck the hair behind the ears, leaving some baby hairs around the face.
Bonus
For added smoothness, brush hair with a boar-bristled brush before you tuck behind the ears.