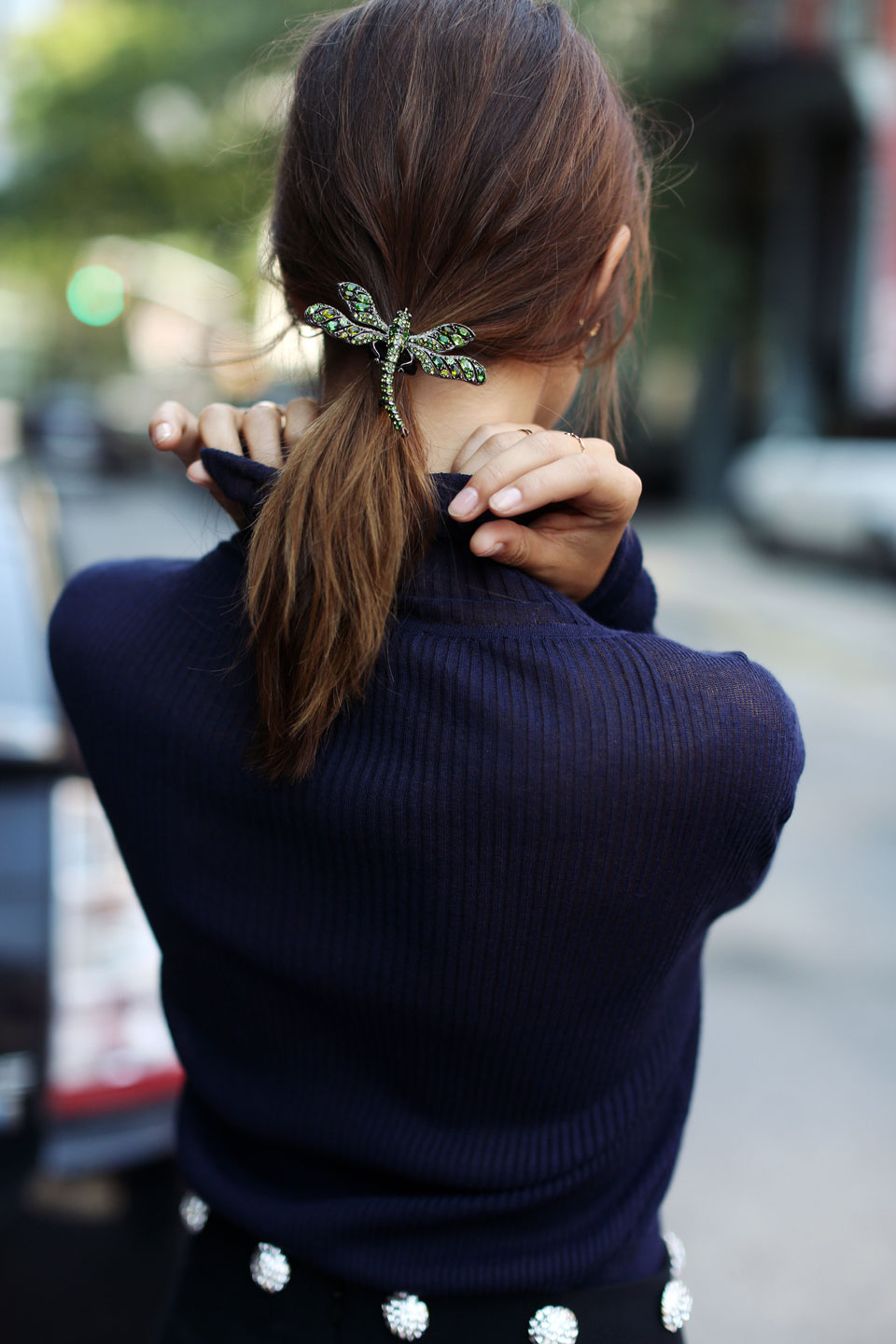 By now, you know that the inspiration behind the Fall/Winter 2017 collection consists of a cocktail of elements both familiar and beloved by Tory: her parents' take on outdoor glamour while living in the outskirts of Philadelphia, Katharine Hepburn's character in The Philadelphia Story, the Barnes Foundation and its world-renowned artworks….
Tory's newest collaboration — with Kenneth Jay Lane — comes tinged in nostalgia, too. The jewelry designer, celebrated for his fabulous life and fabulous faux finery (more on that here), was a close friend and the one who convinced Tory to change the name of her company from the original Tory by TRB to Tory Burch. This capsule collection, inspired by Lane's own archive and completed before his passing in July, features bejeweled treasures that nod to the Golden Age of Hollywood, from glittering dragonfly brooches to marquise-cut crystal earrings. "I am incredibly grateful to have had the chance to work with Kenny on this capsule," says Tory. "He was an extraordinary talent and a great friend."
Here, their last interview together.
KENNETH KAY LANE
I first met Tory Burch…
KJL: When she just had the shop on Elizabeth Street. She invited me down there one Saturday afternoon, and I was very impressed because it wasn't trendy — it was what normal women like to wear. I did a few pieces of jewelry for the shop using her logo, pearls and wooden beads, charms…
The most important thing I learned from Tory is…
KJL: That it's possible to be successful and have a life not based on ideas of what one should be. She's very real.
The best part of working on this capsule is…
KJL: That it makes me closer to Tory; it brings us together in a business way, which is nice because business makes the world go round.
If you had to describe Tory in a few words, they would be…
KJL: Adorable. Real. The best.
Great style means…
KJL: To please yourself and don't frighten the horses.
Other advice…
KJL: More women should have three-way mirrors.
These designs are perfect for…
KJL: Every age — a young girl can wear the same style as her mother or grandmother.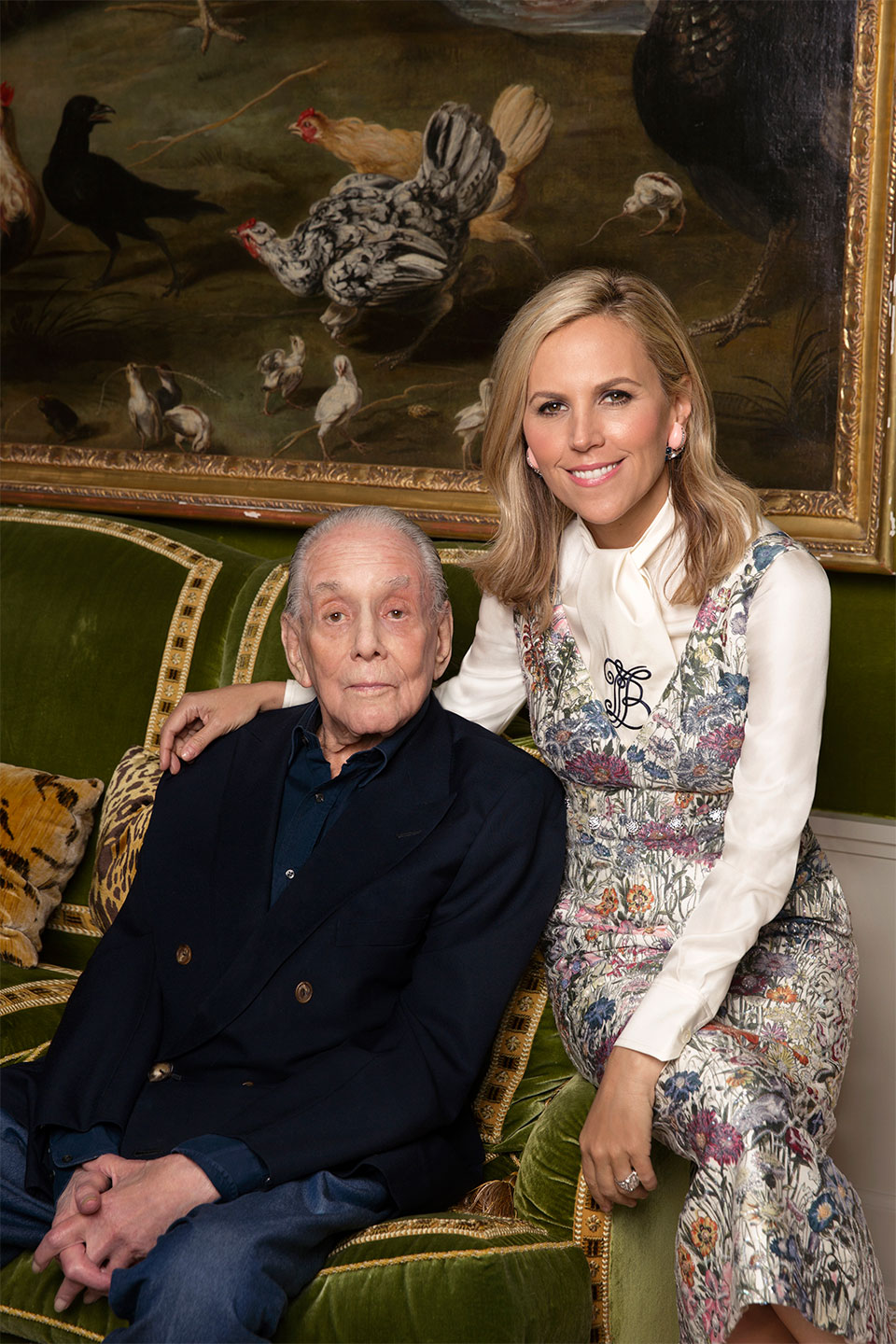 TORY BURCH
I first met Kenny…
TB: Around the time we launched our company. We didn't really have a lot of jewelry, so we sold some of his… We've always had a great connection.
The best advice I have ever received from Kenny was…
TB: To call our company Tory Burch. When we started, I didn't want to use my full name. We tried to get 10 different names, all of them were taken, so we named our company, Tory by TRB. At a dinner two years later, Kenny pulled me aside and said, use your full name—everyone is referring to it that way anyway. He was right.
Other great advice from Kenny…
TB: Sit up straight in pictures—I was slouching.
The best part of working on this capsule was…
TB: Getting to spend more time with Kenny! What was really fun was digging through all of his incredible archives.
If you had to describe Kenny in a few words, they would be…
TB: Witty, knowledgeable, loyal.
Great style means…
TB: Taking some risk with your own personal style, have confidence, but know what looks well on you.
My tip to for chic holiday dressing…
TB: Go for it.
These designs are perfect for…
TB: The holidays, but really any occasion. Kenny's designs are timeless.
#ToryDaily #ToryStories