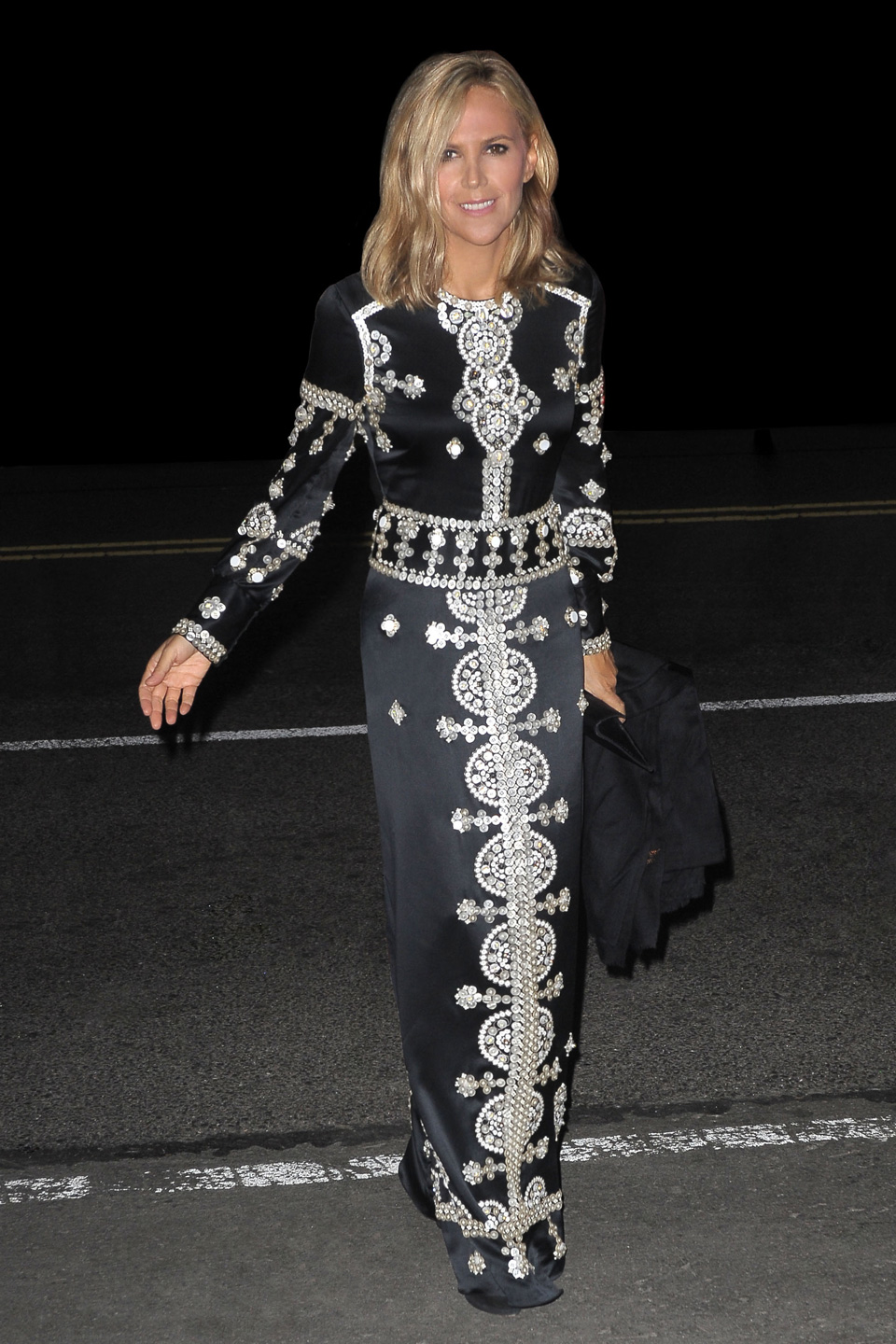 Wearing the Sylvia gown, Tory talks to us about the art of cocktail dressing and what's inspiring her for special occasions.
What do you love about cocktail style?
I love the idea of thinking about evening in a non-fussy way — how do you look super-elegant and chic but also relaxed and effortless? That's something we really thought about for this collection.
How does this idea translate to the clothes?
We were looking at Katharine Hepburn in The Philadelphia Story — she is constantly in and out in these beautiful gowns, but she's not precious about it. And I was also thinking about my mother, Reva. She would come in after gardening all day, throw on a lamé top and pants to go out, and look so stylish and effortless. For eveningwear, we did jumpsuits and easy long-sleeved gowns, which are super-elegant but in a non-fussy way. I love a jumpsuit for evening — we did one in black with beautiful rhinestone details.
What is it about black and white?
We really looked at monochromatic dressing this season — it's something I love. We started the collection with a series of winter white looks, and then we ended with a group of black-and-white styles. Black is graphic and sharp, and will always be a classic. While white — it's a statement of its own. Pure and elegant.
What about shoes and accessories?
I like to finish a cocktail look off with some great jewelry. For Fall, I wanted the jewelry to be more discreet and delicate: little dragonflies and studded orbs. The earrings are a little closer to the ear and made from diamonds and pearls. Kenneth Jay Lane was a great friend and we went into his archive — some of the pieces we did were from there. We also really experimented with flats this season — we did these pointed flats with big bows, and put them with long evening dresses. I think that's super-modern.