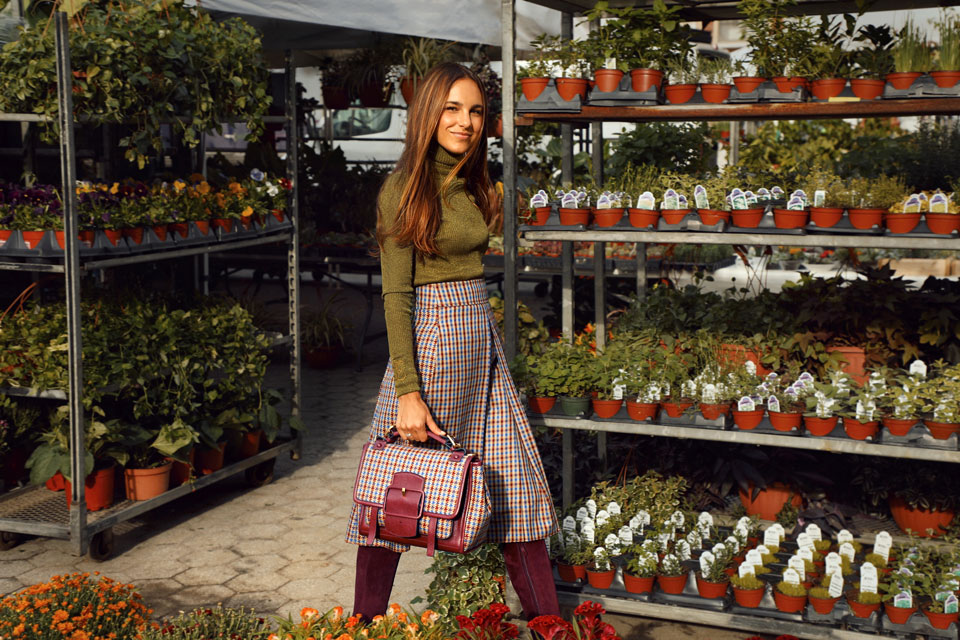 Before we enter a holiday season of feasts and sweets, here are some healthy tips to keep in mind — courtesy of dietician and Tovita founder Leah Silberman.
Tovita is…
A virtual nutrition counseling service. I see clients one-on-one via videoconference, meaning I have clients from all over the country (and some internationally too!). I help people form healthier habits and reach their nutrition and/or weight goals by taking a very individualistic approach to counseling. I create meal plans and provide an education component with my diet modifications, as I believe the more clients can understand the "why," the more sustainable their healthy lifestyle becomes.
You don't have to be a client to be a part of Tovita! I also have an Instagram account @tovitanutrition and a blog, where I share recipes, general tips and tricks for eating healthy.
And I launched it in…
2015. At the time there weren't many dietitians practicing in the virtual space and I couldn't understand why. Why limit my ability to help people feel good to just the New York area? Platforms like Instagram, FaceTime and Google Hangouts made it really easy to connect with other like-minded individuals, whether they were clients, fellow dietitians or people who just wanted a new recipe or kitchen hack.
I think often people hear the word "dietitian" and imagine an ultra-domesticated and regimented woman who spends her days slaving in the kitchen and judges others for unhealthy habits. In an effort to break that archaic and largely false stereotype, I use social media to show that, yes, I'm a dietitian, but I'm also super relatable. I like to cook, but I also love to eat out and try new restaurants. I'm on-the-go, but I know how set myself up for success. I maintain a healthy lifestyle and I don't let it compromise my social life. Oh, and I definitely have a weakness for ice cream, but I always get back on track. In other words, you really can learn to balance it all and I'm ultimately here to help.
I define wellness as…
A mind and body feeling of good health. You can eat all the greens in the world, but if you're not happy, you're not healthy, right?
A healthy kitchen should always be stocked with…
Mainly fruits, veggies and lean proteins. A little tip: If you prepare your fruits/veggies in ready-to-eat fashion by pre-cutting them, or placing them in an easy-to-reach area, you're more likely to eat them.
Best healthy snacks for those on the go…
1. Eat Enlightened Roasted Broad Bean Crisps, especially the 100 calorie bags. I love these because they're portion controlled, high in fiber and protein, and are not made with artificial ingredients.
2. Muuna plain, 2% individual cottage cheese. This is also a good on-the-go, portion-controlled snack because it's high in protein and will keep you satisfied. I like to pair it with an easy-to-carry fruit, like an apple or banana.
3. Seapoint Farms Dry Roasted Edamame. This also comes in individual bags that are easy to throw in your purse. Portion control is key!
When in need of an energy boost…
Before 3 PM, coffee. After 3 PM, green tea.
My advice to staying on track when eating out…
If you're comfortable doing so, ask that the bread basket be removed. How long can you really stare at warm focaccia bread without indulging!?
Start with a vegetable-based soup or salad and order a protein and vegetable. For example, salmon and roasted broccoli or chicken and grilled asparagus. Don't be afraid to ask to modify an order! Ask for sauces and dressings to come on the side, and olive oil over butter, always!
The top nutrition myth you'd like to dispel…
Vegan does not equal healthy. Gluten-free does not equal healthy. A gluten-free, vegan cupcake can still have loads of sugar and processed ingredients!
For beginners, some quick tips to kick-start a nutritious and healthy lifestyle…
1. Set yourself up for success by stocking your fridge or office with healthy snacks and ingredients. If you keep the ice cream in the freezer, you're going to eat it eventually.
2. Try to have an open-minded approach to health. Try a new fruit or vegetable that you never previously thought to. Try that new workout class that your friend won't stop raving about. Try that food or recipe that I keep posting on the @tovitanutrition account ;)
3. Sleep is huge and certainly affects the dietary choices we make. Make sure you're getting enough sleep and that you're actually sleeping through the night.
4. HYDRATE! You should be drinking water all day long. Dehydration is more common than most people realize, and it can make you feel tired and be less productive. Not to mention you might be eating excess calories by mistaking thirst for hunger. Keep a bottle of water in your bag or at your desk. Water not your thing? Go for flavored seltzer or unsweetened tea.
Above all else, always remember…
Everything in moderation, including moderation!
#ToryDaily #ToryStories