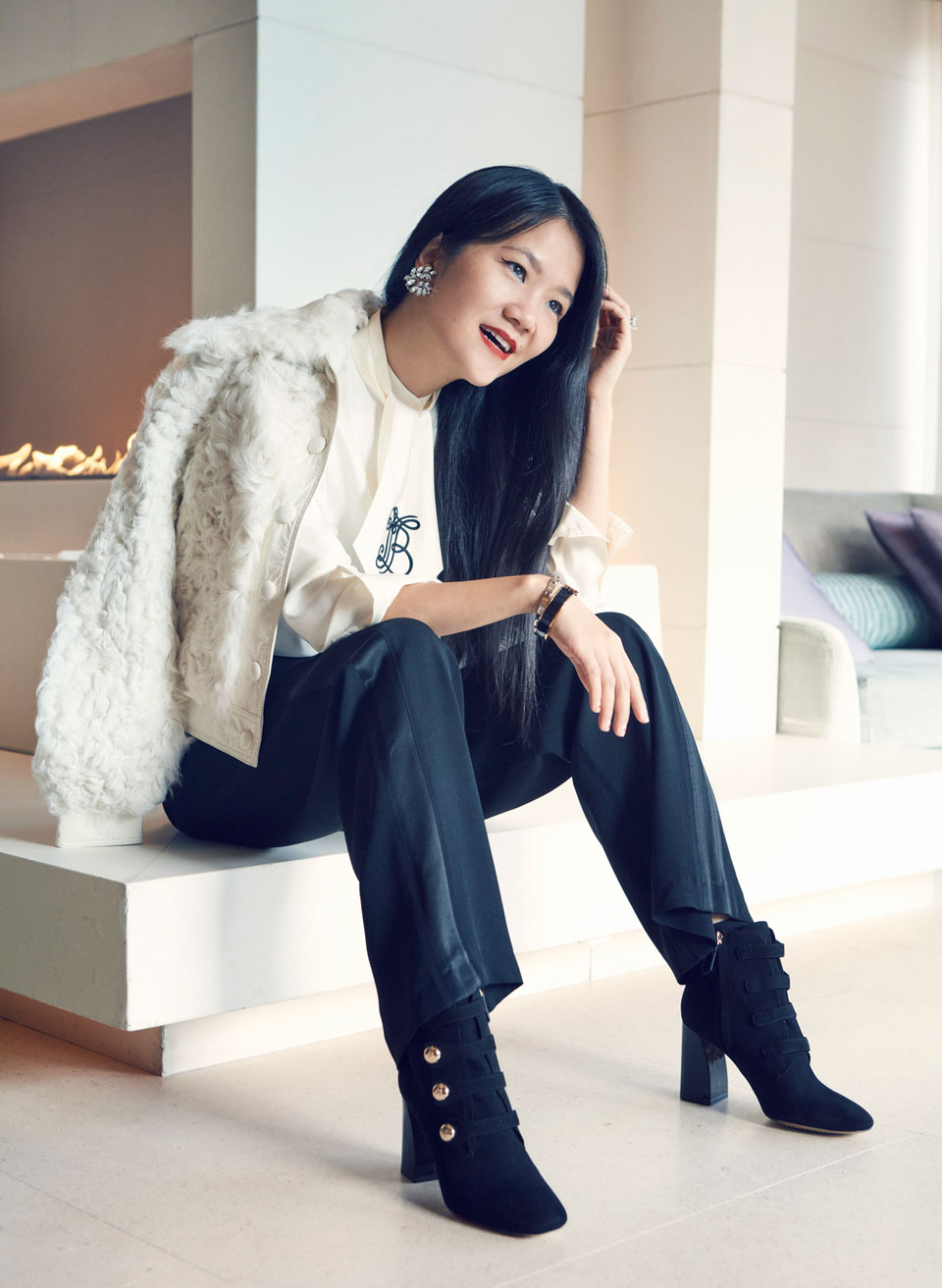 There's a safety net in working for someone else, one that may be hard to let go of when the entrepreneurial urge tugs at you. After all, flying solo and forging your own path can be thrilling — but it can also be fraught with worries and challenges, too. Just ask Hong Kong stylist Grace Lam, a fashion veteran who began her career at i-D magazine in London — as assistant to Edward Enninful, current editor-in-chief of British Vogue — before moving to Shanghai in 2005 to become one of founding editors of Vogue China, where she remained for almost a decade. Here, Lam shares her advice on what it takes to make it on your own and reveals how she's paying it forward with her new YouTube series, GRACE LAM STYLE.
GRACE LAM STYLE is…
About giving back to the Hong Kong community by using my 20 years of fashion knowledge and styling skills. I launched my Youtube channel GRACE LAM STYLE on Mother's Day back in May 2017. The series is aimed at helping underprivileged locals revamp their image in the most practical and fashionable way. In the first episode, I helped a teenage single mother and gave her a new look. I work with my fashion/beauty photographer husband, Jason Capobianco, as he directs our series. We want to boost people's confidence and help them to improve or achieve their life goals.
And I was inspired to launch it because…
I see how the world is at the moment — it's a scary selfish place not only in Hong Kong but globally. We are surrounded by a materialistic lifestyle. Social media has created a generation of self obsessed people and it seems the world needs everyone to work together more than ever to improve situations — there are many people who are going through tougher issues. And I'm a person who never turns a blind eye to unfair situations (that's my Bruce Lee spirit talking). Every day I try to help at least one person when I am out — spreading kindness is the key of living. I started my Youtube series hoping I might inspire others to start their own GRACE LAM STYLE.
I'm giving back by…
Teaching people how to revamp themselves and how to find nice clothes with a limited budget. Also, showing people how to mix and match and how to recycle clothes. Perhaps, they have a special event to attend and don't know what to wear, e.g. job interviews, graduations, family events, wedding anniversaries, etc.
I decided to strike out on my own, professionally, because…
I gave birth to my son BBT, A.K.A. Theo, who is four years old now, and I didn't want to travel too much anymore. I wanted to spend more time with him, as the first few years of his growth was so important. By then I had worked at Vogue China for almost 10 years as their Senior Fashion Style Editor so it was time to move on. For me, family comes first.
And the best advice I can share with someone looking to do the same…
Be prepared to work from the bottom, don't complain, always ask questions, be humble and don't let the glitz and glam affect you too much. Learn to say "No, thank you!" when it doesn't feel right. As a boss, I cannot stress enough that when you have a good team working for you, you must value them and treat them well. My group of very dedicated freelance fashion assistants have worked with me for over 12 years. They are very loyal because I treat them with kindness and vice versa. It's all about mutual respect. Last but not least, try to have other interests outside of fashion to keep a balanced life. For me, it's my family and my first love: Formula One Racing.
When in doubt, always remember…
It is no big deal to make mistakes.
The most exciting part about owning your own business…
I can choose projects I like and I can take time off whenever I want.
And the most challenging…
Trying to convince clients that quality work and quality people cost money. In Asia it is still difficult to make people understand that "cheaper" doesn't mean the best result. It is not easy to juggle motherhood and being a business woman. My daily schedule involves a lot of planning ahead with Jason and our nanny. I am an extremely organized person; therefore, I am the official PA to everyone in my family, haha.
As an entrepreneur, never be afraid to…
Explore ideas and do something other people wouldn't do.
Best career advice received…
Don't be a follower! You can never plan your career path too much or too well. In 1997, I had just graduated from Central Saint Martins, was living in London and had no intention of returning to Asia yet. I wanted to apply for a job in Formula One but doing what exactly I didn't know. The day before I sent my CV to an F1 magazine, I got a call from Edward Enninful to come for an interview and the next thing I knew we were in Milan working on the Jil Sander fashion shows. So I guess I was destined to work in fashion instead of F1, but I still love watching F1 races.
Ways that I embrace ambition…
With an open mind. I wouldn't say I am an extremely ambitious person, but it's great to be recognized as a professional.
What's next for me…
I am about to launch my new collaboration with an international renowned beauty brand and it is super exciting to be representing Asia! Jason and I are working on our third and fourth episodes of GRACE LAM STYLE as we are in discussion with a refugee group and a special-needs group. As this is a self-funded project, it takes longer to plan because we are producing the series by ourselves. I am also launching my new project GRACE LAM STYLE TIPS, on YouTube, Instagram and Facebook, very soon. I want to show people some cool but practical ways to dress, mixing high and low from my own closet and new buys. I'm also busy helping my Masterchef husband launch his new cooking blog, JASON CAPOBIANCO KITCHEN — by helping I mean I am participating in eating.
And the top tip in the Grace Lam style guide…
Don't follow current trends too blindly as it might not be suitable for everyone. If you wear heels, please make sure you can walk in them gracefully.