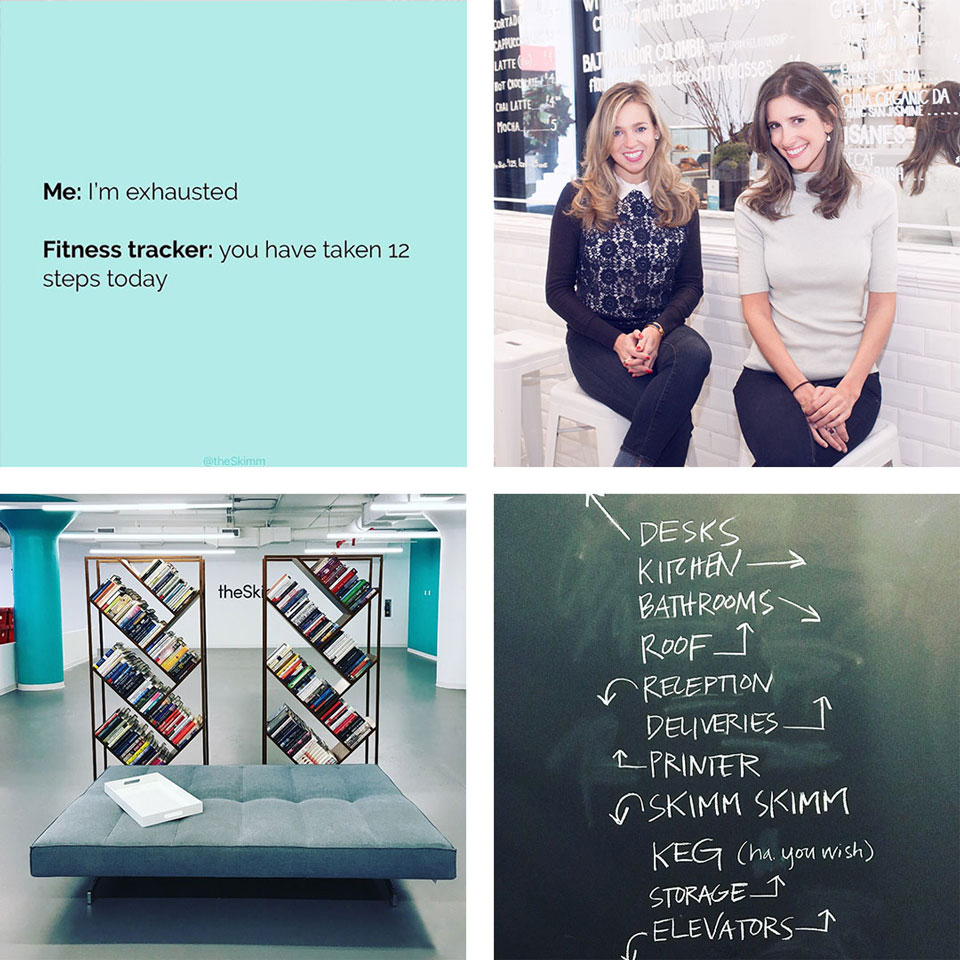 When we first met Danielle Weisberg and Carly Zakin in 2014, they were two years into the launch of theSkimm. Fast forward to now. They've turned what began as a daily newsletter of digestible news bites into a full-fledged media company, complete with its own studios. Here, the duo return to Tory Daily to share more advice for entrepreneurs, both for first-timers and those looking to bring their business to the next level.
One lesson we know now that we wish we knew when starting the business…
It's okay to fail. We are both Type-A personalities and don't like making mistakes. Launching our iPhone app took us a year when it could have taken six months because we were scared to mess up. We have tried to change and we encourage our employees to take chances as well. Each week someone from our team shares a project that didn't go as planned. This person wears our "Fail So Hard" hat and we celebrate their effort and what they learned from the experience.
Our best advice for would-be entrepreneurs…
Understand your value proposition. We launched theSkimm because, simply, we saw a void in the marketplace for news that fit into the existing routines of female millennials. We knew our audience, and we knew how they wanted to receive news and information. We built a product that resonated with them and did not take them out of the routines that already existed in their day-to-day. Five years and many new products later, our mission has not changed. TheSkimm continues to make it easier to live a smarter life.
And for entrepreneurs looking to take their business to the next level…
Once you have the idea and understand your value to your audience, the next step is to build the right team around you. Make sure that you surround yourself with people who are equally as committed to the long-term vision, and who are smart enough, scrappy enough, and dynamic enough to figure out how to get there with you. We are so proud of the incredible team we've built, and are continuing to build.
Ways that we embrace ambition…
We discovered early on that if we wanted theSkimm to succeed, we needed to become our own advocates. Neither of us were particularly outgoing when we started theSkimm — we'd built our entire careers as news producers behind the camera rather than in the spotlight. But when we launched theSkimm, we were forced to get out of our comfort zone and articulate who we were. We had to brag about ourselves. We learned quickly that if you don't advocate for yourself, who will?
And ways we stay motivated to achieve our goals…
The strongest motivating factor for us is who we are doing this for. We love reading feedback from our audience letting us know how our content or our products have empowered them in their day-to-day lives — whether it's a story in the Daily Skimm that helped them break the ice at a social event, or a campaign that changed the way they thought about an issue. We see the way our business is making an impact and it's the best possible motivator.