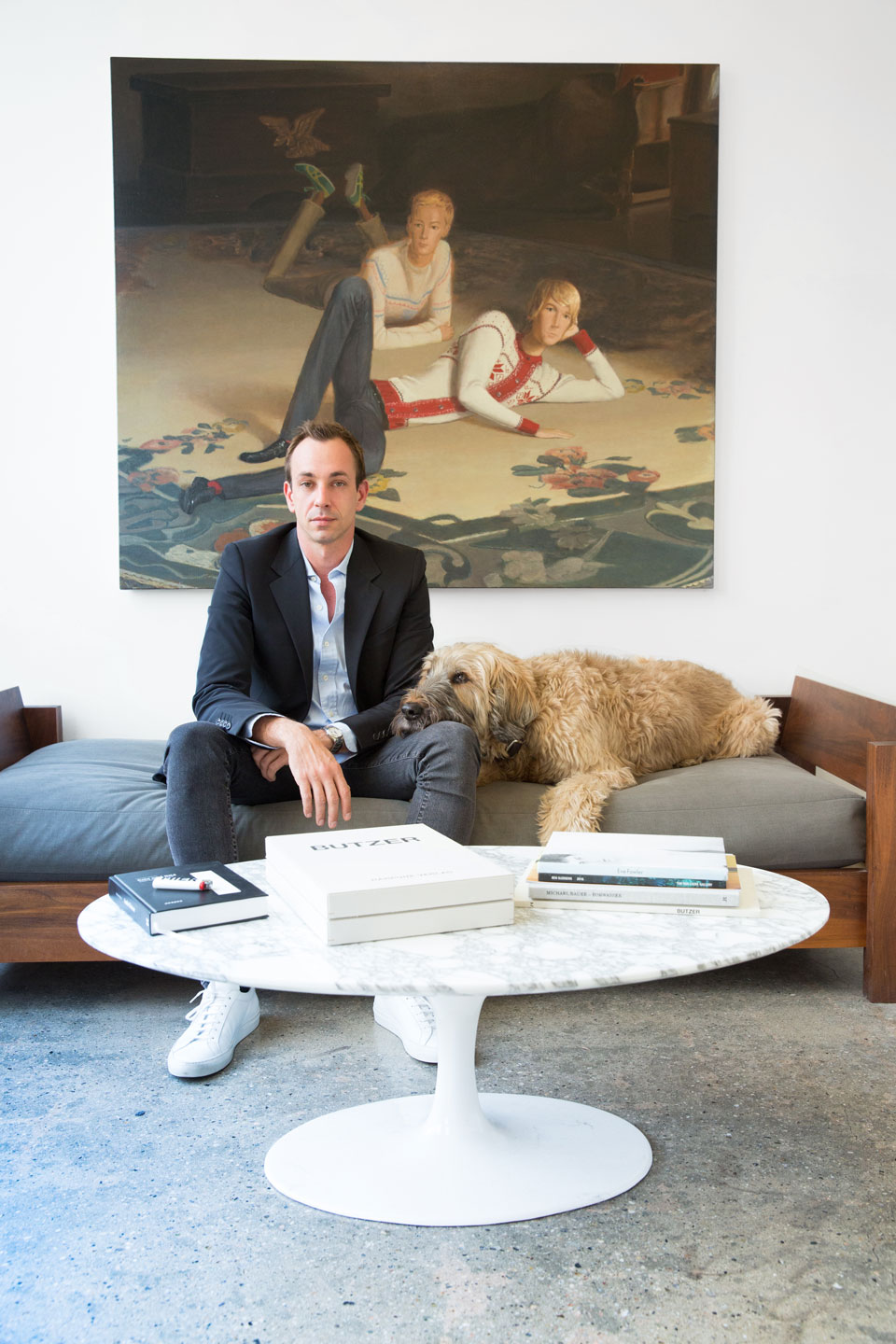 This week, the art world descends on South Florida for Miami Art Week. Los Angeles gallery owner Nino Mier is one such figure. He'll be showcasing a talented roster of painters and sculptors at NADA, which opens on Thursday at Ice Palace Film Studios. Mier took some time out to chat with Tory Daily before the trip down. Here, learn all about the life of a gallerist and the artists he represents, plus get his guide to the must-visit art events in the sunny city.

I was inspired to start my own gallery because…
I started as a collector and was then urged by friends to help with starting their collections. It developed from a hobby to a full-time passion and I started traveling to fairs and advising a select group of clients locally and internationally. Discovering new artists was exciting, but I missed the connection and the journey one has with an artist from the start. Fellow gallerists motivated me to open my own gallery and with a lot of reluctance at first, I rented a very small space and basically dove right in. I feel very lucky to be surrounded by 18 artists, all of whom make my life better.
Most exciting part about owning my own business…
Jeans every day.
And the most challenging…
Any business has its challenges. I have a great team that works beside me, although when your passion becomes your profession, it becomes hard to manage the time in your day. I have artists here in LA and also in Europe and I like to always be reachable for them — which means I am on my phone and email 24/7. The gallery schedule is a bit different from a traditional Monday to Friday job — we are open Monday through Saturday, although it is rare for me to even take a Sunday off.
The focus of the Nino Mier Gallery is…
Predominantly centered around painting. I have been attracted to the medium from the day I discovered contemporary art, and continuing to exhibit and surround myself with the great tradition of painting is a driving force. While painting is definitely at the forefront of my program, I also show other mediums such as (large- and small-scale) sculpture and mixed media.
The artists I'll be showing at NADA Miami Beach…
For this year's NADA we will present a condensed context for a dialogue between painting and sculpture, emphasizing the polyphonic references to mythology. The artists reveal themselves as investigators of their time and medium, producing alternative realities and telling stories that leave imprints of our culture. I love Michael Bauer's new paintings because they are extremely romantic; Jon Pylypchuk's new paintings, featuring light bulbs as eyes, are intensely unique and a powerful continuation of his practice. We will also have an amazing André Butzer painting and works on paper, as well as two sensational new paintings by the Polish painter Tomasz Kowalski. Celeste Dupuy-Spencer's self-portrait in the woods is spectacular and has already been placed in a great institutional collection. We recently started working with Jansson Stegner whose surreal paintings of powerful female figures are thought provoking and simply divine. Younger artists we are presenting include Ben Sledsens, an incredibly gifted Belgian painter, and Madeleine Pfull, a young figurative painter from Australia whose work I've only recently discovered and fallen in love with. Lastly, Anna Fasshauer's wall works made of bent aluminum are a nice juxtaposition to the canvas works in the booth.
What I love about NADA…
NADA is a family. They have always done the very best work when it comes to incorporating a great art fair environment with top-notch galleries balanced with smaller artist-run spaces, publishers and off spaces. It is a perfect place to discover new artists in a very relaxed way. NADA is a great place to start or continue to grow your collection.
When in town, art lovers should also visit…
1. The Moore Building Show, ABSTRACT/NOT ABSTRACT, curated by Jeffrey Deitch and Larry Gagosian — and not only because one of my artists, Jan-Ole Schiemann, will be presented there this year. ;)
2. Art Basel Miami Beach is a must-see fair, with top galleries showing the masters of Modern and contemporary art.
3. NADA Miami Beach, of course. (Nino Mier Gallery will be at Booth 3.01!)
4. Design Miami presents some of the best furniture, lighting and objets d'art in the world. Any design aficionados should absolutely stop by.
5. The Rubell Collection opens a new, exceptional exhibition each year that runs concurrent to the fairs in town and never disappoints!
6. The De La Cruz Collection is another fantastic private collection that exemplifies Miami's dedication to and passion for contemporary art.
My pro tip to navigating the various Miami art fairs this week…
Comfortable shoes!