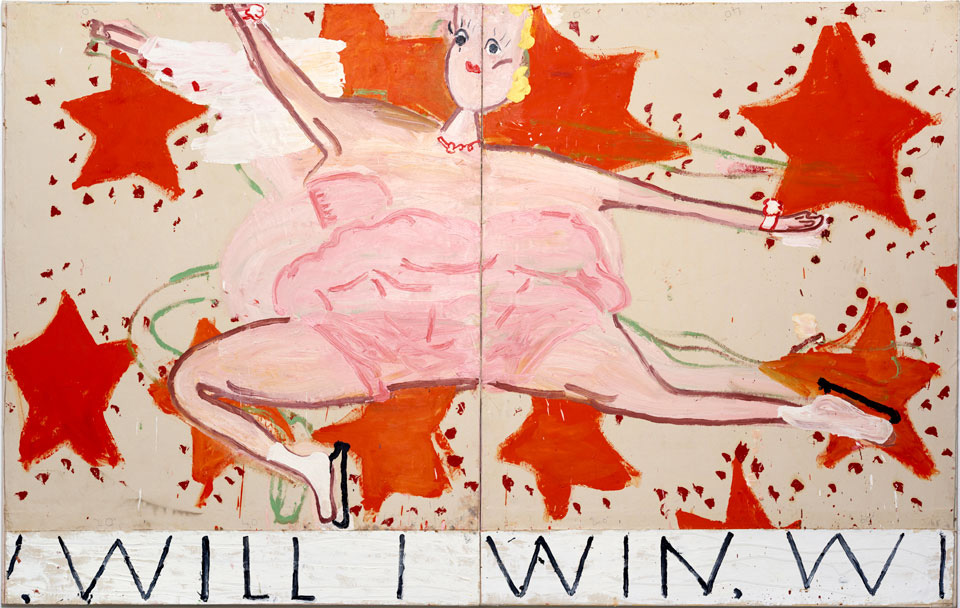 In 2010, British artist Rose Wylie participated in the
Women to Watch
exhibition at the National Museum of Women in the Arts in Washington D.C. In the seven years since, she's climbed one rung after the other towards the spotlight, with in-demand works, well-reviewed shows and countless honors, including the Paul Hamlyn prize in 2011 and the John Moores Painting Prize in 2015. This winter, she takes over London's Serpentine Sackler Gallery for
Rose Wylie: Quack, Quack
, one of the season's can't-miss exhibits. Her name couldn't be buzzier.
It's about time. Wylie was 76 when she was named one of the Women to Watch; she's now 83 and in the twilight of her career.
Wylie herself would likely loathe the above introduction. In an interview with The Guardian last month, she declared, "I want to be known for my paintings — not because I'm old." We concur. But at the same time, we can't glide over the age factor. In a culture and society that's so laser-focused on youth, it's refreshing that Wylie is finally getting her due — and she'll be glad to know it's most definitely because of her works and not because of a number. And with that aside…
Wylie's paintings are terrific. Her style is bold, raw, thrillingly free and playful. There's a naiveté in her oeuvre that — in our eyes, at least — connects back to an elemental sense of joy. We enjoy looking at her works as much as we imagine she enjoyed making them. In Quack, Quack, it's easy to lose yourself in that mood; the paintings are huge and easily engulf the viewer.
The artist covers a wide range of subjects. No filter here. You get the sense that if something piques her interest or eye, she goes for it. One painting shows a chocolate biscuit being eaten; another, a pink-frocked ice skater leaping amidst bright red stars. Among the darker subjects she tackles are her childhood memories of WWII — like Park Dogs and Air Raid, 2017, in which she juxtaposes German planes with dogs and ducks in the park. There's a sprinkling of pop culture as well — in scenes from Syriana and Kill Bill, and Nicole Kidman on the red carpet — although you probably wouldn't know the source unless you read the titles or the canvas scribbles.
Not that it matters. The immediate pleasure that Wylie's colors and shapes elicit trumps all.