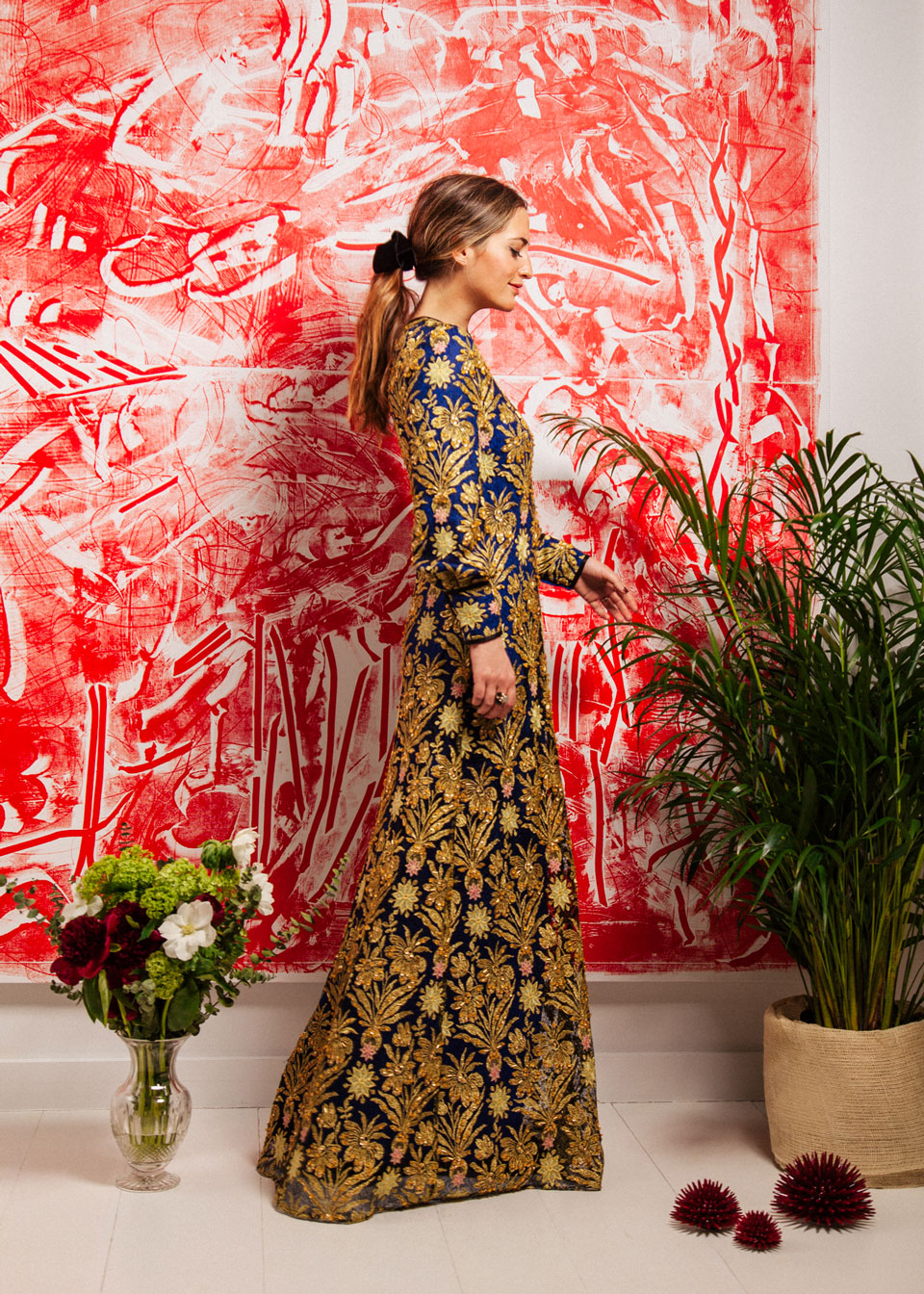 Since we last checked in with Annabelle Moehlmann, the founder of Land of Belle has opened up a home-decor pop-up shop at Communitie East in Amagansett, New York, open till December 26th. Here, she shares her favorite gifts to give — and receive — plus details own her festive traditions and decorations.
Favorite holiday memory from childhood…
When I think of the holidays, I think of Palm Beach. The enormous decorations at The Breakers, lying sunburned in pajamas listening to Christmas music, happy times with my grandparents, and so many New Year's Eve celebrations. It's a nostalgic place for me, even more so now as my husband and I met at a Christmas party there.
And holiday traditions I continue to do today…
Christmas morning present opening and brunch. The magic of beautifully wrapped presents piled high never gets old. We normally do a family sleepover in New York and wake up to exchange presents in pajamas, followed by scrambled eggs, bagels, caviar and champagne!
My holiday decorations include…
I'm not so big on seasonal decorations, but would say I rely more on scents and sounds to inform atmosphere. During the holidays, we always have a couple of Feu de Bois candles burning, Ella Fitzgerald, Chet Baker and Frank Sinatra playing in the background, and some fresh white or jewel-tone floral arrangements (but I suppose the flowers are a year round habit!). The big exception here is, of course, a Christmas tree, which is always a must.
And my Christmas tree decorations…
Go big or forget about it! White lights always, and thoughtfully placed ornaments that have been collected over time.
Our holiday dinner includes…
Family, friends, laughter, delicious food, a beautiful table setting, good lighting and probably one or two debates.
I'll decorate the table with…
Green and white table cloths by Zsuzsanna Nyul, our Carnets D'Equateur wedding china by Hermès, Murano glass tumblers in amethyst by Laguna B, white parrot tulips, black mini calla lilies and tons of candles.
Favorite holiday cocktail…
A glass of Barolo or Brunello, or a vodka martini with as many olives as possible.
And favorite holiday flowers…
Paperwhites forever.
My style tips for holiday parties…
Be festive! A touch of velvet, jewelry that sparkles and lipstick are non-negotiables. I think when we dress the part, we play it too.
Tips for surviving the holiday party season…
Layer in nights at home with good tunes, board games and classic movies. Being out and about is fun, but there are so many parties to attend, and they should be something to look forward to and not just another obligation. I think this means learning when to say no so you can actually be fully present when you say yes. Oh and, also, tons of water. I collect carafes and pitchers and always have one on my bedside table. They make me so happy, and hydrated!
My favorite gifts to give…
Beautiful home accessories, of course. I love an elegant serving tray, a pretty vase or a set of wine tumblers as a present. I also like items that make people feel cozy like cashmere sweaters, scarves, socks and pajamas. When is doubt, caviar is always a good idea.
And on my personal Wish List…
​Tory Clara flats, a set of mocha sea urchins from my shop (Merry Christmas to me!), a full day of relaxation at Rescue ​Spa in Flatiron, a new ring from Monique Pean, an "I Miss Barack" sweater by Lingua Franca, and a very happy and healthy 2018 for my family and friends.
#ToryDaily #ToryStories