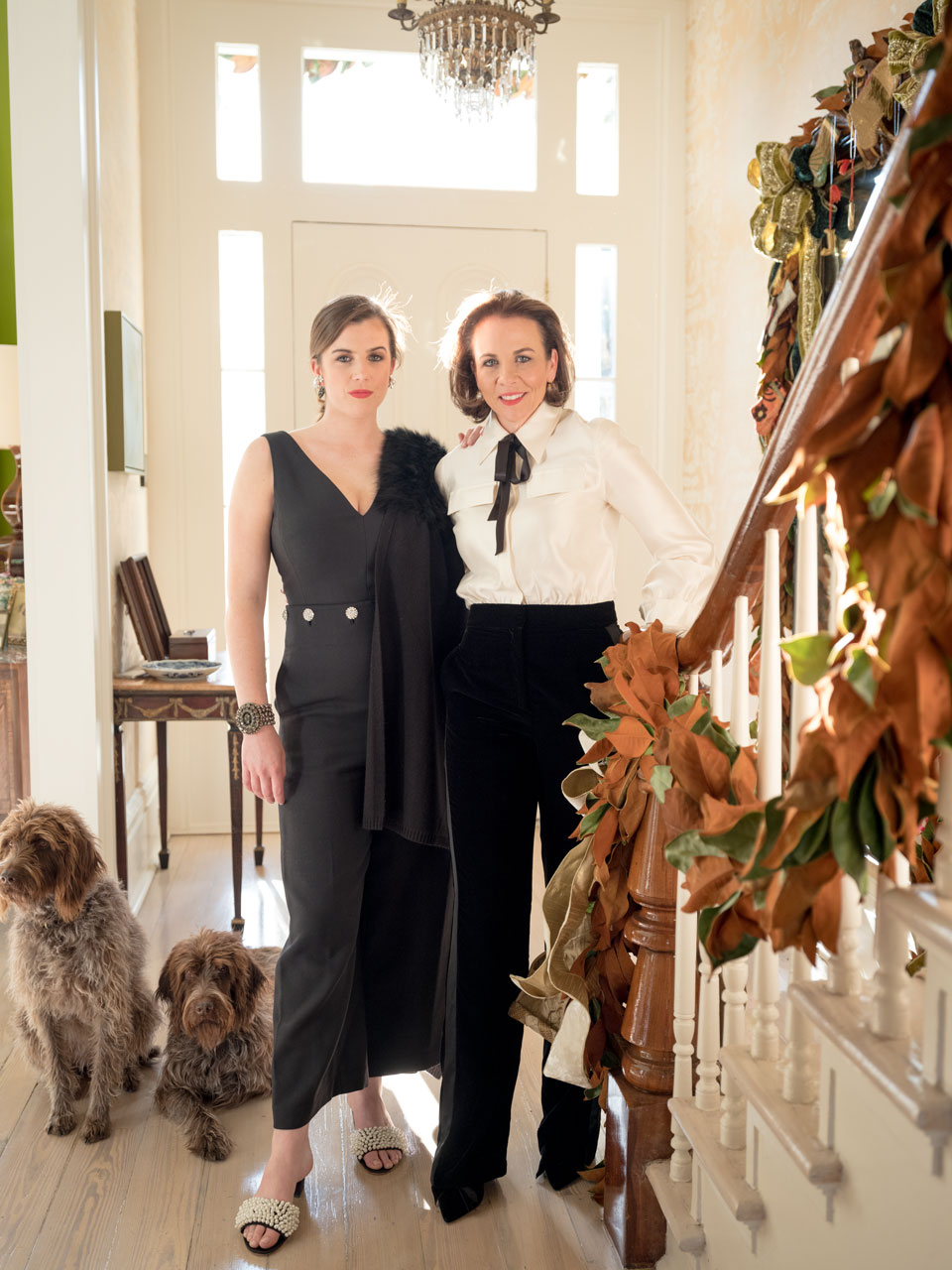 Bonfires along the Mississippi River, French 75s, seafood gumbo and lots of magnolia… Jane Scott Hodges, founder of Leontine Linens, shares what the holidays is like down in New Orleans.
A New Orleans Christmas is like no other because…
New Orleans is a festive city year-round — we'll find anything to celebrate. We always jest that in January, when everyone's going on a diet, we're starting Mardi Gras. But at Christmas time, we take it to another level. The houses along St. Charles Avenue glow with lights strung from one oak tree to the next and even our streetcars are decorated with beautiful wreaths. This time of year, you can go caroling in Jackson Square in front of the St. Louis Cathedral, take in a traditional Reveillon dinner at Galatoires and enjoy French 75s at Arnaud's. You can even watch the bonfires light the way for Santa along the Mississippi River. While we don't have the snow and cold weather, our mild winter temperatures allow for the enjoyment of outdoor activities.
And what I love most about it…
I love house hopping in our Garden District neighborhood and visiting family and friends. It reminds me of my own Christmases growing up — my mother would host a big party with family and friends and friends' families. Everyone was welcome.
My holiday decorations include…
I've swathed the house in magnolia — from magnolia leaves up the banisters to magnolia wreaths, with traditional Christmas red ribbons, on the front of the house. This year in lieu of a tree, we decorated a grand mirror in the entry hall with more magnolia, pretty ornaments and Rebecca Vizard Fortuny mini stockings that I've collected through the years. We also hung these little letters that spell out "joy" — that's the name of my mother-in-law, who passed last Thanksgiving — as a reminder. On the chandelier, we hung these beautiful silver bells that my mother-in-law had collected. It's about tucking in those memories and creating new moments with the things we cherish.
Our holiday dinner includes…
Our New Orleans holiday dinner always starts with a seafood gumbo; it was the tradition of my mother-in-law. We welcome friends and family in with a bowl of traditional seafood gumbo and an old-fashioned, served in my collection of vintage silver julep cups.
My husband Philip and son Nalty take over the kitchen — we serve a standing rib roast, popovers and an array of side dishes ending with a croquembouche that the family has prepared ahead of time.
And when it comes to the table…
Setting the table is my favorite way to express a fresh holiday look. Traditional china and my grandmother's napkins mixed with modern square placemats creates a festive setting. Square placemats are such a wonderful piece for any table setting — they frame the round plates beautifully and allow you to fit more friends and family around your table. I also always recommend a felt liner under placemats, protecting your table and dampening excessive sound.
Favorite holiday flowers…
This year I really went with the magnolia. I love to do beautiful floral arrangements, but I also like the idea of artichokes on the mantle — more useful things you can also pluck out and steam for Christmas dinner.
Favorite holiday memory from childhood…
Setting the table, which I learned at the heels of my mother — polishing the silver with her and setting the table from a young age. I got the table-setting gene but not the cooking gene; I leave that one to my husband and son. This year I look forward to setting the table with my own daughter, Talley, who is home from college. Part of my mission with Leontine Linens is to talk about the notion of heirloom — whether or not you have a closet full of heirlooms is irrelevant. You can create memories and share them with friends and family. Every time, they become a magical moment.
Gifts I'm giving to my friends and family this year…
We have so many friends doing exquisitely talented things… I love to share what they are doing. My friend Jody Candrian has these magnificent, one-of-a-kind jewelry pieces — they make a bold statement and are always a hit. Fresh florals from Giverny Design — I love the idea of gifting holiday arrangements for friends that can work in with their holiday décor, something to enjoy for the season. Scot Style — these beautiful specialty bracelets come in an array of candy colors and are perfect for the everyone from the fashionista to the traditionalist. Rebecca de Ravenel's Les Bonbons earrings — I gave them to the girls in the office. And who can resist Tory Burch? The Dodie Lettuce Ware candle is just divine and I can't get enough of this season's rhinestone accessories!
And on my own wish list…
This year, for me, it's really just about celebrating family and being together, and all the memories we're creating for our children.