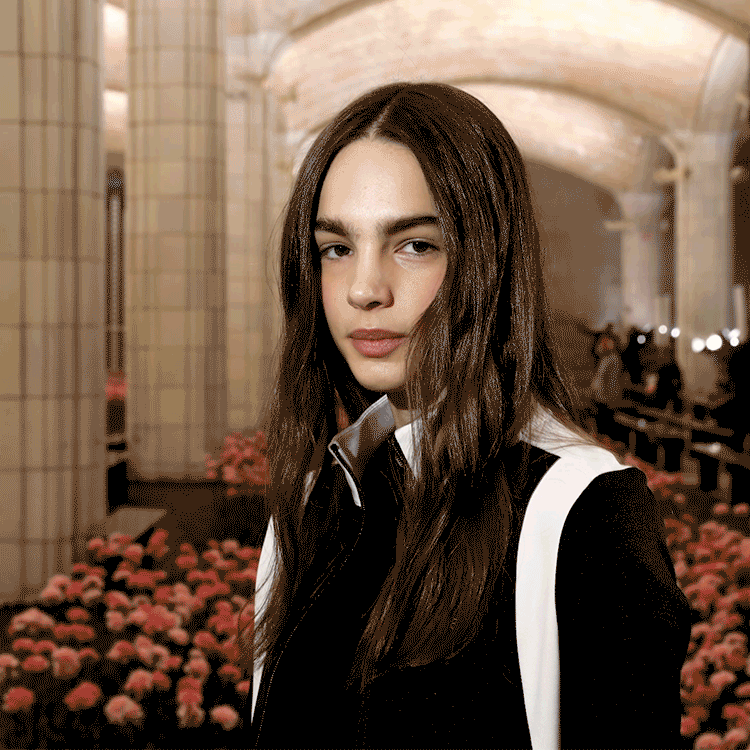 MAKEUP
Diane Kendal for MAC
The Look
Gorgeous, beautiful and fresh.
The Skin
Prepare the skin with rose water, moisturizer and then light-coverage foundation to even out the skin tone.
The Eyes
Curl the lashes and put mascara on the outer corner, and apply a little bit of white eyeliner to the inside of the lower waterline. This season, we made the eyebrows the focus, filling them in and making them stronger.
The Cheeks
With your finger, apply a cream blush to the cheeks for a soft flush, making them look really healthy.
The Lip
It's just lip balm. Use your finger to apply.
HAIR
Guido Palau for Redken
The Look
Super easy. Luxurious in its simplicity. Easy sophistication, easy glamour, loose movement in the hair.
Prep
Wash the hair with Redken Diamond Oil Glow Dry Gloss Shampoo — it's really important to get the hair really clean and healthy. Then, with hair still damp, apply Redken Satinwear Blow-Dry Lotion and blow-dry the hair to get it smooth first.
The Steps
To get the movement in your hair, using your iron, bend sections of the hair one way and then the other way. The movement is very slight. It's a very loose wave, but with a quick blow-dry, it builds effortlessly. Don't over-curl the ends — you don't want to bring too much volume to the hair. There's an ease to it. The look has a slight hippie vibe, a little bit of Seventies, very light, just great girl hair.
NAILS
Kim D'Amato for Priti NYC
The Look
All natural.
The Color
Priti NYC's Pearl Drift — it's a natural color with a tint of pink going through it, so the look is very fresh.
The Steps
Just one coat of Pearl Drift — fresh, clean, simple.
The Shape
We're keeping the models' natural shape, but keeping it short.
When it comes to nail care, don't forget…
The cuticles! Especially since it's still cold out — everyone's cuticles are all torn and dried out. Apply an oil to the cuticles, either at night or in the morning, like olive oil or our geranium-based cuticle oil. Geraniums are healing and it's an anesthetic that helps renew scarred tissue.