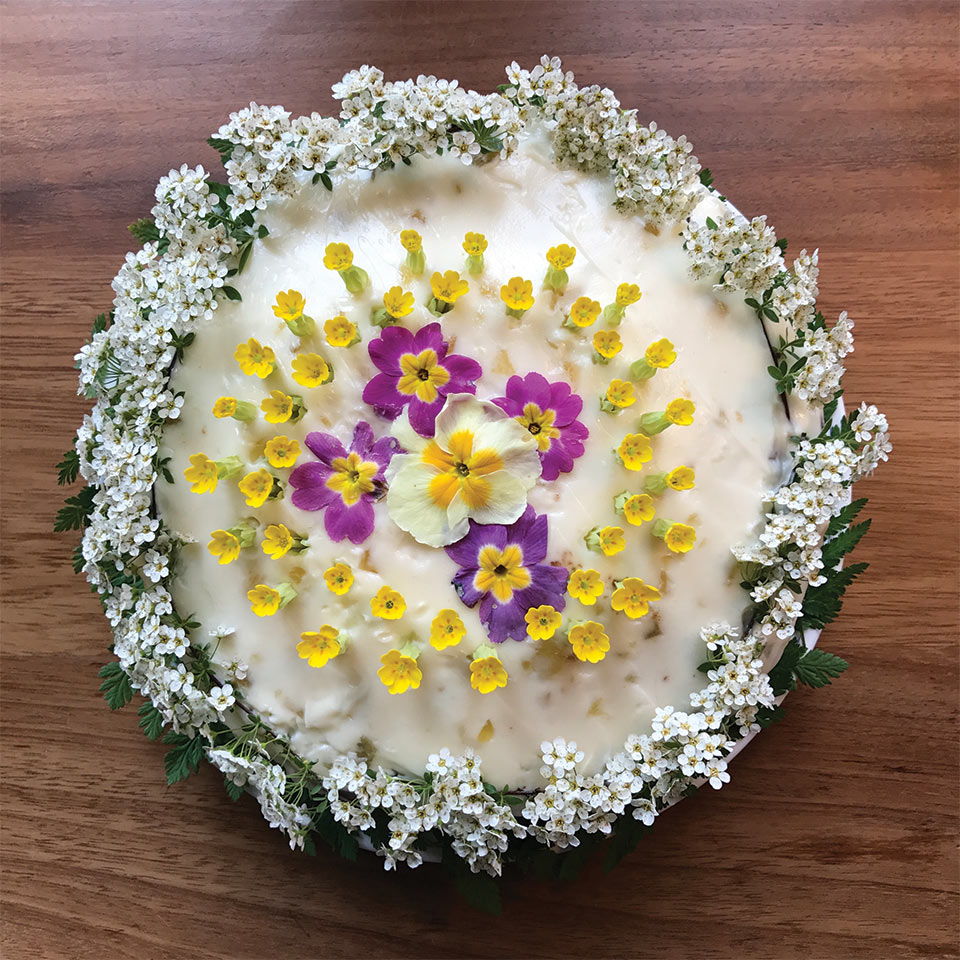 "My mom gave me my first Ina Garten Barefoot Contessa book for Christmas a few years ago, and I've been using it to learn how to bake. I tend to like old-school cake recipes, so I wasn't sure about the ginger mascarpone frosting in lieu of the usual straightforward cream cheese frosting for my Easter carrot cake. I also don't love raisins, so I omit them even though the recipe calls for them. This is the best carrot cake I have ever eaten, and it has become a unanimous hit with guests as well. I hope you like it as much as we do." — Amanda Brooks in Farm from Home
Carrot Cake with Ginger Mascarpone Frosting
Adapted from Ina Garten's Barefoot Contessa Foolproof
Serves 8 to 10
Ingredients
Cake:
2 c granulated sugar
1 1/3 c vegetable oil
3 large eggs
1 tsp vanilla extract
2 c plus 1 tbsp all-purpose flour
2 tsp ground cinnamon
2 tsp baking soda
1 1/2 tsp sea salt
1 lb carrots, grated
1 c chopped walnuts
Frosting:
12 oz Italian mascarpone cheese
4 oz cream cheese
2 c confectioners' sugar
2 tbsp heavy cream
1/2 tsp vanilla extract
1/3 c minced crystallized ginger (not in syrup)
1/4 tsp sea salt
Directions
Preheat the oven to 400° F. Grease two round cake pans, ilne them with parchment paper, and grease again.
Mix together the sugar, oil and eggs with an electric mixer on medium-high for 2 minutes. Stir in the vanilla. In another bowl, sift together 2 cups of flour, the cinnamon, baking soda and salt. With the mixer on low, slowly add the dry ingredients to the wet ones.
In a medium bowl, toss together the carrots, walnuts and 1 tbsp of flour. Stir into the batter with a rubber spatula. Divide the batter between the two pans and smooth the tops. Bake for 10 minutes, lower the heat to 350° F, and bake for 30-35 minutes more, until an inserted toothpick (or a fork) comes out clean. Cool in the pants for 15 minutes, turn out into a baking rack, and cool completely.
Meanwhile, make the frosting: With an electric mixer, beat together the mascarpone cheese, cream cheese, confectioners' sugar, cream and vanilla for about 1 minute, until light and fluffy. Add the crystallized ginger sand salt, and beat for 30 seconds more.
Frost the cakes and serve.
#ToryDaily