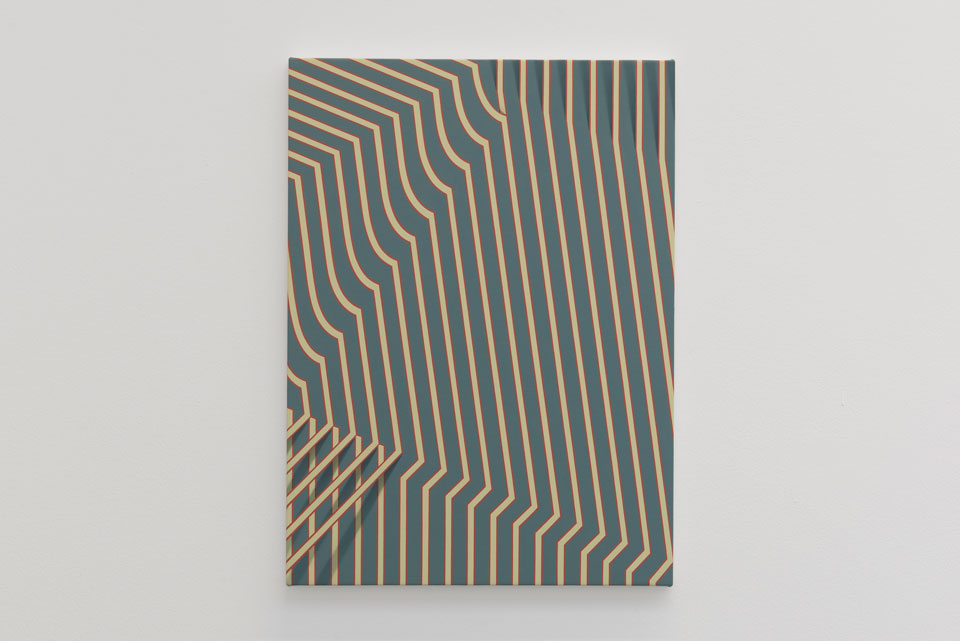 Tomma Abts' paintings pull you in. We're not talking just figuratively, although they do that too. Mostly sized at 48 cm by 38 cm, they're quite small — you find yourself standing closer and closer, until you're peering at the canvas, one on one. The experience is wholly intimate.Discover for yourself at London's Serpentine Sackler Gallery, which is hosting the largest show of the German artist's work to date. Sponsored by Tory Burch and open till September 9, 2018,
Tomma Abts
focuses on her relatively recent oeuvre, produced over the last 10 years. (Stateside art lovers will get a glimpse when the exhibit moves to the Art Institute of Chicago in October.)
Abts' paintings are abstract and graphic, filled with geometric elements — lines, arcs, angles, circles… Some feature origami-like folds; others, stripes that twist and turn. At first glance, they look almost digital — the byproduct of slicing up planes on a computer, pushing layers to the foreground and background, shifting, torquing and stretching figures this way and that. But once you're up close — and you will be — you'll notice the canvas is covered in hairline ridges, ghosts of shapes beneath the surface. Sometimes it takes Abts, who won the esteemed Turner Prize in 2006 — the first female painter to do so — years to complete a piece because she's constantly revising and repainting, repeating stroke over stroke.
"There are hardly any that don't get finished at some point," Abts once said, "because all the failures are in the stages of the paintings — the failures are on top of each other, on the same work."
The outlier of the group is Dako, from 2016. Instead of the usual acrylic and oil, it's made from aluminum. But even here, there are traces of the past: Dako is a cast from another painted canvas.
#ToryDaily