The Tory Daily editors choose their favorite books for the summer season. More selects coming later this week…
SOCIAL CREATURE BY TARA ISABELLA BURTON
Religion reporter turned thriller writer in the vein of Gillian Flynn and Paula Hawkins — with the release of Social Creature, that's Tara Isabella Burton surprising career trajectory. Intoxicatingly wicked (or is that wickedly intoxicating?), the novel follows Louise, a struggling writer in New York City, who becomes besties with Lavinia, also an aspiring writer, albeit one with fabulous wealth and society connections. Louise gets sucked into that world — all parties, all glitter, all Instagram primping. Lavinia gets validation from Louise; Louise gets the splashy perks. Everything's perfect — until it seems like one half of this friendship begins to lose interest…
You'll love this book if…
You're bewitched by New York's glamorous facade and want in. You related to Matt Damon in The Talented Mr. Ripley and Jennifer Jason Leigh in Single White Female. There's a restraining order out on you.
THE ART OF THE WASTED DAY BY PATRICIA HAMPL
Parents, teachers, bosses and society be damned. Being idle and resting on your laurels is better than the constant churn of do, do, do, achieve, achieve, achieve — at least according to award-winning memoirist Patricia Hampl. In her latest book, The Art of the Wasted Day, she argues convincingly for a thoroughly unplugged life. No list-making. No constant smartphone distractions. And don't you dare schedule in some yoga or meditation — because that is, as she points out, another to-do. "How about just giving up? Giving up the habit of struggle. Maybe it's a matter of giving over," writes Hampl, who also touches upon the heroes of leisure, from Walt Whitman to Michel de Montaigne. "Happiness redefined as looking out the window and taking things in — not pursuing them."
You'll love this book if…
You're a daydream believer. If the current TaskRabbit subway ads imploring you to conquer your to-do list are more stressful than stress-relieving.
EROTIC STORIES FOR PUNJABI WIDOWS BY BALLI KAUR JASWAL
As with her other novels, Balli Kaur Jaswal continues to explore the themes of identity and outsiderness in Erotic Stories for Punjabi Widows. Except here, as you might have guessed from the title, things take a, well, titillating turn. The story centers on Nikki, a British-Indian woman, who takes a job teaching creative writing to elderly women in London's Punjabi district. They're largely illiterate, to her surprise. But no matter. The storytelling flows as the widows end up sharing steamy fantasies to one another. The class grows in popularity and a delightful crack develops in the community's conservative veneer. To this, Jaswal injects an element of darkness and mystery — in the deaths of young women and the Brothers, a group of Sikh men described as the "morality police."
You'll love this book if…
You're the rebel in an immigrant family. The notion of double discrimination — from both those inside and outside your community — means something to you. The title already seduced you, hook, line and sinker.
THE HIGH SEASON BY JUDY BLUNDELL
Judy Blundell has written over a 100 books — and even nabbed a National Book Award — but they've mostly been in the YA world. The High Season marks her first adult novel ever, and it touches on familiar terrain for the author. The book takes place in the beachy environs of North Folk, Long Island, and features a museum-director protagonist, Ruthie. Blundell, meanwhile, spent the Nineties in nearby Montauk and is a familiar face on the art circuit (her husband is the executive director at the Long Island Museum). From there, the fiction takes over: Ruthie loses her job, is separated from her husband and needs to rent out her house for the summer to make ends meet. Goodbye, seaside abode when you want it the most. Hello, influx of moneyed Manhattanites…
You'll love this book if…
You're a New Yorker spending your summer weekends "out East." Or renting your house out to people who do.
NUMBER ONE CHINESE RESTAURANT BY LILLIAN LI
The first thing you notice when you crack open Number One Chinese Restaurant, the debut novel from Lillian Li, is the family tree illustrated on the endpapers: three generations of Hans, plus a guide to the rest of the cast. Be warned: This is one packed book — characters, conflicts and action — with storylines intricately threaded together. It spotlights the fictional Beijing Duck House restaurant in Maryland, and the Chinese immigrants who work there. The plots involve a second generation taking over (reluctantly), brotherly rivalry, a gangster uncle, kitchen romances… with Li casting her writerly gaze from the top of the establishment down to the busboys, dishwashers and waiters.
You'll love this book if…
You love family drama. You've toiled in the restaurant industry. You binge Fresh Off the Boat and are waiting for Crazy Rich Asians to hit the big screen.
THE MILK LADY OF BANGALORE BY SHOBA NARAYAN
The Milk Lady of Bangalore is a joy — and the charm only augments when you learn it's a true story. Journalist Shoba Narayan (New York Times, Condé Nast Traveler, Wall Street Journal) returns to India with her family after nearly two decades in the U.S. The memoir tracks her reintroduction to her heritage and delightfully frames this tale of assimilation around the country's worship of the cow and her friendship with Sarala, the owner of a bovine the author discovers in her apartment elevator "angled diagonally to fit." (Practically every chapter title includes the words milk, cow, udder and so on.) The result is as informative as it is entertaining.
You'll love this book if…
You long to reconnect to your roots. You love to soak up other cultures. You are not lactose intolerant.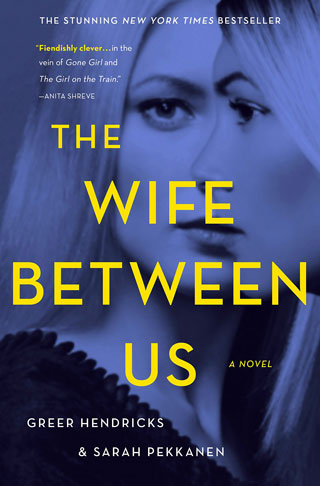 THE GUILTY PLEASURE READ: THE WIFE BETWEEN US BY GREER HENDRICKS AND SARAH PEKKANEN
Because sometimes you just want a dishy and delicious summer book filled with surprise twists and turns… The Wife Between Us, which revolves around a love triangle, a jealous ex-wife and the PYT replacement, is one such guilty pleasure. Bonus: It's been snapped up by Amblin Entertainment and is coming to a screen near you. Here, we chat with the authors, Greer Hendricks and Sarah Pekkanen.
The initial inspiration behind The Wife Between Us came from…
Greer Hendricks & Sarah Pekkanen: We wanted to explore how memories are colored by the lenses through which we view our worlds — and how people can share an experience but carry away from it markedly different perspectives and emotions. This is a pretty lofty idea, but we were determined to wrap it into a fast-paced, gripping novel. We brainstormed for weeks and weeks before we wrote a word — creating and rejecting and fine-tuning the best way to tell our story in an accessible, relatable way.
Favorite line in the book…
GH & SP: "I was happy, I think, but I wonder now if my memory is playing tricks on me. If it is giving me the gift of an illusion. We all layer them over our remembrances; the filters through which we want to see our lives." We struggled over this line, and, like every other sentence in our book, it is a true collaboration. We talked through it together, each adding words and thoughts, until we were through crafting it.
My own guilty pleasure reads include…
GH: I devoured the new Emily Giffin, All We Ever Wanted, just started Cristina Alger's latest, The Banker's Wife, and have been reading a lot of social psychology as research for our new book.
SP: I've got the new JoJo Moyes, Still Me, in the stack on my nightstand, along with a pile of screenplays for films like Gone Girl and The Girl on the Train. Since Amblin Entertainment (Steven Spielberg's company) acquired the film rights to our book, I've been gobbling up scripts to learn more about the process.