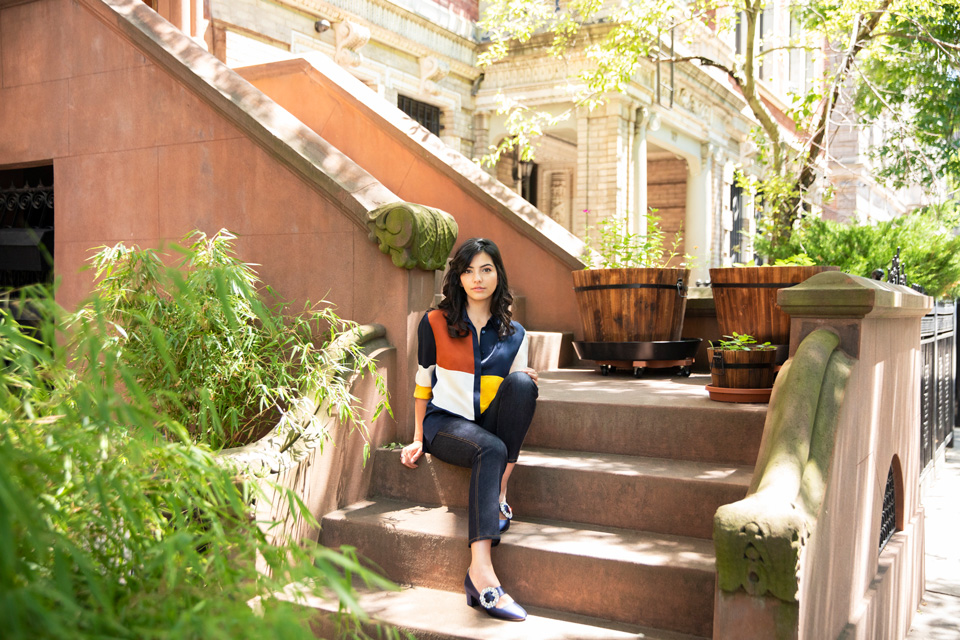 Fatima Farheen Mirza is having a very auspicious start for a young writer. Not only is she an alum of the Iowa Writers' Workshop — one of the premiere creative writing programs in the U.S. — but her debut novel, A Place for Us, was snapped up by Sarah Jessica Parker's new imprint with Hogarth Books — its first publication ever. A few weeks after its release last month, A Place for Us landed on the The New York Times Best Sellers list. And the reviews — they're absolutely glowing.
There's substance behind all that buzz — the book, which tells the story of a Muslim Indian-American family, is terrific. "I fell into A Place for Us with immediate and full-hearted certainty," says Parker. "I lost myself in the story of this family, and felt, and still feel, that they are living and breathing people. I felt certain a novel possessing this much power would resonate with other readers like me — readers who thrill to brilliant writing and crave transformative storytelling. When I closed the book, I was not the same person."
A Place for Us comes at just the right time, too. Mirza delves into the world of first and second generation immigrants — beautifully and richly so, beginning with a wedding and an estranged son — and explores the tensions of straddling the divide between cultural past and present. As Parker notes, "[It's] a moving portrait of what it means to be an American family today, right now, in all its plurality and difference." Here, we talk to the author.
A Place for Us has been percolating for….
I started it when I was 18. I was 26 when I submitted the final draft.
On whether details from my own life seeped into the novel…
The book is filled with shout outs — to my home team, the Golden State Warriors, or the The Lion King, which I was obsessed with growing up. When I was a kid, my Baba would order pistachio and almond ice cream and I'd copy him, wanting him to think we had something in common. In my earliest memories driving with my family, we are listening to Nusrat Fateh Ali Khan tapes. My mother once told me that when she was a little girl, she'd look out her window at a streetlight and it would comfort her. Sometimes, I think of the novel as a love letter to the details from my life or my community growing up, and weaving these details in was my favorite part of writing it — it felt like leaving behind secrets for the ones who would recognize them, and know it was for them.
My writing process for A Place for Us…
I always keep a journal on me. I made index cards for every section and mapped out different sequences to figure out the impact I wanted. I had a timeline that detailed what happened to each character every year, so I could refer to it whenever I entered a moment. And I loved the challenge of selecting the word that would best capture the character's mood and mind, or thinking of the rhythm of each paragraph.
Favorite love story in the book…
Hadia and Abbas Ali. Theirs was a love that they never spoke of, not even to each other, but I loved the tender and secretive ways they both made their feelings known.
Most challenging part about writing this book…
Certain scenes were emotionally exhausting to write. Especially when the characters betrayed one another or were cruel to one another, because I knew how they would never recover from those decisions, but in the moment they didn't know it yet. I'd feel as though it were happening to me, or as though I were condemning them, and my heart would break for them. I'd have to go for walks and it would be hours before I could shake the strange feeling. And any time I reentered the scene to edit it, I'd feel it all over again.
My pro tips to would-be novelists…
Read. Know your intentions with your story and work towards them. Love your characters, but above all, respect them. Even if you are uncovering dark or frustrating qualities about them, even if they are behaving badly, don't approach them with a judgment already formed, but try to understand them, or look for what you might not have considered about their motivations.
I combat writer's block by…
Sometimes I truly would be stuck, and calling my brother to talk through a scene or going to a different café helped. Other times, I'd tell myself that it was a lack of stamina and focus that was keeping me from just sitting and doing the work. I'd re-write quotes by Muhammad Ali talking about his training on Post-Its and I'd stick them around my desk. It helped remind me that the important thing — more important than imagining a character or selecting the right word — was developing the endurance and concentration necessary to realize my goal.
Book I always give as a gift…
Recently I've loved gifting We the Animals by Justin Torres. It is such a gorgeous, heartbreaking novel. Also: Bluets by Maggie Nelson, Look by Solmaz Sharif, and Peter Pan by J. M. Barrie.
Book I'm reading now…
I am reading Whereas by Layli Long Soldier and American Sonnets for My Past and Future Assassin by Terrance Hayes. I just finished the novel Motherhood by Sheila Heti and I'm excited to start The One Who Wrote Destiny by Nikesh Shukla.