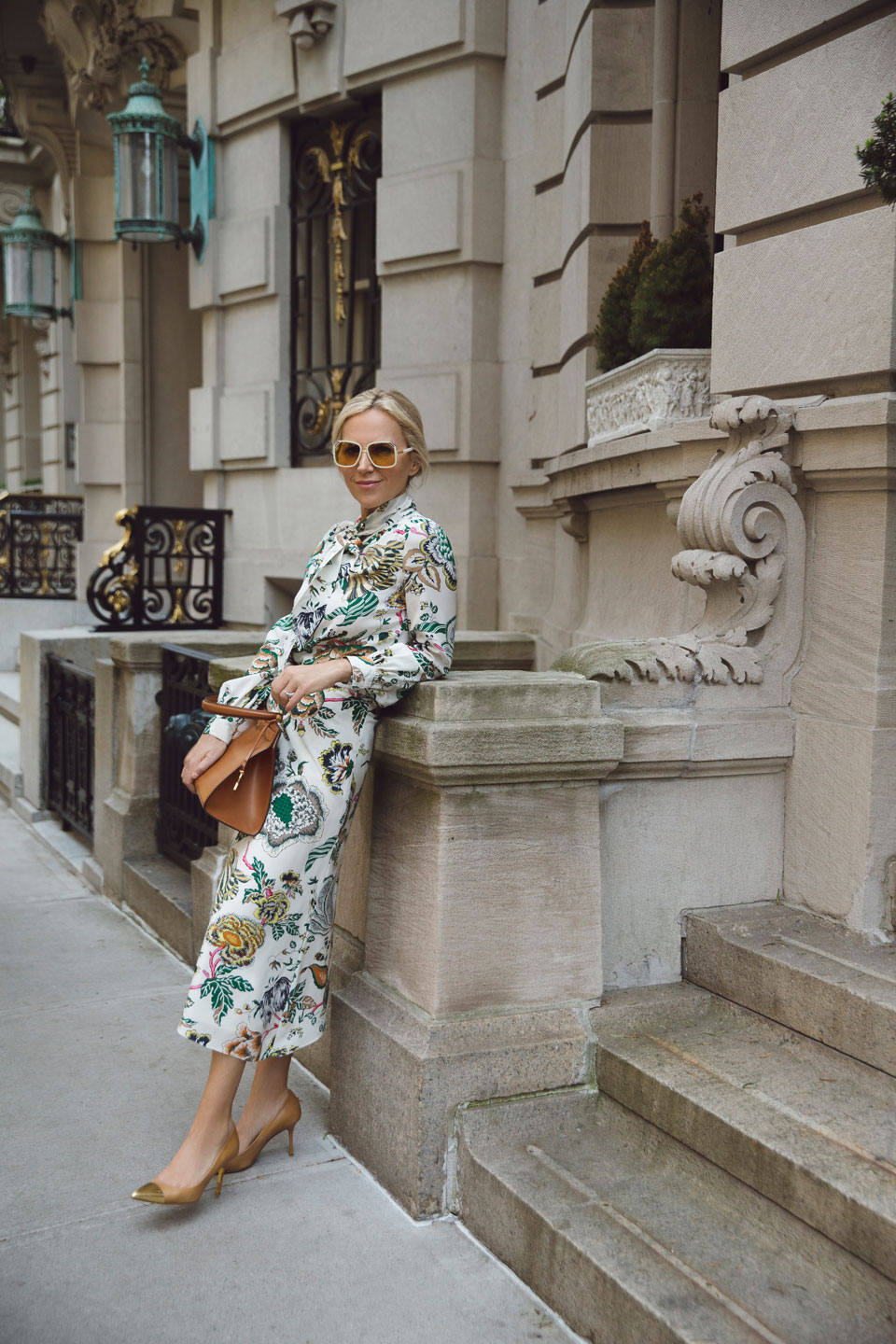 Tory opens up about the new Fall 2018 collection.
What was the inspiration?
I was inspired by the idea of "happy times," a phrase that evokes beauty, strength and eternal optimism. There's a romantic mood throughout, with influences ranging from a field of carnations inspired by the drama of Pina Bausch's Nelken to Lee Radziwill's effortless style. Our main print for the season, a romantic wallpaper floral, is called Happy Times, a nod to Lee's 2001 memoir by the same name.
Could you tell us about this print?
It's a beautiful floral that features variegated carnations. We did it in a number of colorways, against a pale pink, ivory, ice blue and black… It looks very different in each way so I thought it was an interesting focal point for the collection. The pink one also subtly references Bausch's pink carnations, which happened to be the inspiration behind our runway backdrop, too.
How do you define happy times?
I define happy times in so many ways — by my family, for instance. Traveling with my parents. Spending time with my boys and playing tennis. When I got engaged. But, really, it's being present in this moment and to recognize when times are good. I always try to remind myself that even when it's not the best moment, take a step back and find the good in the bad and to appreciate what I have.
What do you love about carnations?
They're humble but also elegant. And they have a deep history. I love how carnations are thought of today versus what their historical reference meant in Old Master paintings. We will be exploring the carnation's history on Tory Daily later in the season.
What about the accessories of the season?
There's the Lee Radziwill satchel, our take on the classic frame bag with special lock-and-key hardware, and the James, a saddle bag named after my youngest son, James Sawyer. And we have a great color-blocked shoe, the Penelope, that comes in slingback, d'Orsay and pump styles. It's super-chic and comfortable — I wear it from day to evening.